Oh Clock, an alarming app with voice commands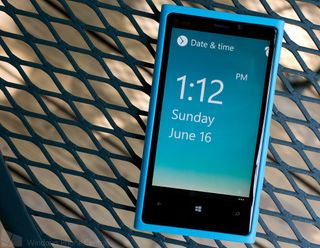 Oh Clock is a Windows Phone app that is a collection of time management tools that includes alarms, a stopwatch, and a countdown timer. To help make setting an alarm or starting the stopwatch/timer easier, you can use voice commands with the Windows Phone 8 version.
Oh Clock doesn't have many bells and whistle but does provide a user friendly interface the covers your time management needs rather pleasantly.
The main pages of Oh Clock are laid out straight forward. You have a page displaying the current date/time, a page listing your alarms, your stopwatch page and a countdown timer page.
Up under the three-dot menu you'll find options to access the settings, rate the app, access the help or frequently asked questions, view the about page, and report bugs/suggestions to the developer. Settings cover your theme choice, ringtone selection (there are eight of them) and data collection/background task settings.
Setting an alarm can be done one of two ways. First tap the time display, adjust the alarm time accordingly, and tap the check mark at the bottom of the screen. The other way is to use voice commands if you are using a Windows Phone 8 device.
Tap/hold the Windows Button on your Windows Phone to pull up the voice command prompt. Then say "Oh Clock set alarm at (insert time)". If you're Windows Phone's time format is set to 12 hour format, you'll need to add the AM or PM to the command. If your using 24 hour format, then you won't.
You can add custom messages to alarms and set the frequency of the alarm (once, every day, only on a set day of the week, month, etc.). You can also turn off the alarm without needing to delete it.
The stopwatch is activated by tapping the screen or with voice commands saying "Oh Clock, start stopwatch". You stop the stopwatch by tapping the screen again or with voice commands by saying "Oh Clock, stop stopwatch". To reset the stopwatch to zero, tap/hold the watch display. Oh Clock's stopwatch does have a lap function that is controlled by tapping the "+" button at the bottom of the screen. The lap function does not have voice command support.
The timer is just as easily set by tapping the screen, adjusting the minutes, hours or seconds and tapping the check button at the bottom of the screen. Once you tap the check button the timer will begin to countdown. If you need to stop things before the clock strikes zero, just tap the timer display. As with the alarm and stopwatch features, you can control the timer with voice commands to start the timer and stop it.
Again, not many bells and whistles with Oh Clock but it does what it does rather agreeably. There is live tile support to alert you if the stopwatch or timer is running but alarms are not listed. While that would be a nice feature, as is, Oh Clock is still worth trying if you are looking for an alarm/stopwatch/timer app.
Oh Clock is a free app for your Windows Phone 8 and 7.x device. Just remember that voice commands are only supported on the Windows Phone 8 version. You can find Oh Clock here in the (opens in new tab) Windows Phone Store.
George is the Reviews Editor at Windows Central, concentrating on Windows 10 PC and Mobile apps. He's been a supporter of the platform since the days of Windows CE and uses his current Windows 10 Mobile phone daily to keep up with life and enjoy a game during down time.
Voice commands to start and stop a stopwatch seem of little value if you want any degree of accuracy

Feature request: Make the alarm stop by yelling at it. Something like "Oh Phone Shuttup!"... just an idea :)

I would like such a feature :P

That would be so awesome!

We would need voice commands without pushing the home button for this. Kinda like on The One. Windowsphone Oh Watch stfu

Uhm ... No, I would never wake up with this feature.

Android you can say snooze and stuff. So bit more full feat.

There really needs to be a way to alias app names for voice commands. Talking to your phone is awkward enough without addressing it as "hey DJ" or "oh clock"!

I was hoping it would show the time on the live tile like the htc exclusive app i want that on my ativ s :(

Sorry to say, but unless we can have custom tones in these apps, (I use a rooster one), non-stock alerm apps are liitle more than useless.
Dear Microsoft, are you listening?

You can add any mp3 as a system ringtone by drag and drop into the 'ringtones' folder when connected to PC. Learning that has made WP alarm options slightly more tolerable for me.

Custom alerm tones are available to only the default alerm app.

Voice commands suck, don't know of its this app or my phone

If you have a lumia then its the phone

Hi,
i use a german Lumia and its working only when i switch to english speech input.
Otherwise the phone is only going to search the web.
Perhaps the language is your problem, too.


how to you setup the alarm volume at WP?

Just set it with the phone's volume.

I cannot get voice commands to work. Every time, it just starts a search for "o'clock set timer for five minutes"
anyone else having the same problem?

Yep. But I think its a phone issue

Why do people think voice commands are a phone issue? Has no one in the thread tried them until now? "voice timer" app is flawless. Granted I speak English.

switch to english speech input, worked for me

The question is, can this app (or any app) turn on my 920 when it's switched off?... No?... Sigh

Why would you want to do that?

It's habit really from using a blackberry for two years. Instead of staying up late using bbm or tweeting etc and regereting it in the morning, I set it to automatically turn off at 10pm and turn on at 6am or whenever the alarm comes on (it still does that but now I've got my nokia to distract me). Small feature but helps to maintain discipline. Also, if i have an alarm on and turn off my nokia the night before, well, there's a problem. I'm not really fussed about it as I still have my blackberry for backup but all previous nokia (symbian) phone I owned would have the alarm still work when the phone is off, and sometimes even ask if I still want the phone off or turn it on.

Sounds awesome but i prefer the alarm on the 920 still

I like the appearance, but did they release an alarm clock app without a repeat "every weekday" option?
That is sort of alarm clock 101, isn't it?

I hope this will be the answer to yours questions.
A more customized alarm repeat is planned for the version 1.5 (the 1.4 is already submitted).
The time on the live tile is not possible because I can't update the live tile more frequently than every 20/30 minutes, only OEM as HTC or even Microsoft itself are allowed to do it.
Because the ringtones of the phone are not accesible the choice is reduce to the ringtones installed in the app. Understand that if I add others ringtones, the size of the app will be bigger.
The live tile and the dynamic lockscreen will be more complete in the next version, available in the next days. And the clock will be also a world clock without any internet connetion required.


Thanks for info and a well working app, but i think voice commands currently are only possible when english is the speech input language, right? If so, are you planning to add more?

Yes, you're right the voice commands will only work if the language set is English or French, that's how work the voice commands on WP8 (only working with language supported), but I plan in next version to add Spanish.
Windows Central Newsletter
Get the best of Windows Central in in your inbox, every day!
Thank you for signing up to Windows Central. You will receive a verification email shortly.
There was a problem. Please refresh the page and try again.