OnStar's RemoteLink 2.0 gets a rare update and a new UI for Windows Phone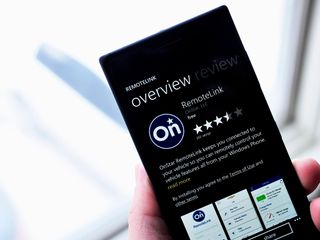 GM has finally pushed out an update for its RemoteLink OnStar app for Windows Phone. The last time we wrote about this app was when it was released way back in August 2013. Yesterday (we're a little behind), version 2.0 landed on the Store and with it a new UI, some bug fixes, and a few new additions.
For those who do not drive a Cadillac, Chevrolet, Buick, or GMC, OnStar (OnStar.com) is a smart system for vehicles that does everything from safety (Advisor, roadside assistance) to remote starting, trip planning and even managing your OnStar Wi-Fi, hotspot. The key to the system though is the smartphone app that lets you control all of this remotely.
RemoteLink 2.0
With the launch of OnStar RemoteLink 2.0 for Windows Phone, we will no longer support several features previously offered for electric vehicles. We apologize for any inconvenience and hope our electric vehicle customers will still enjoy access to RemoteLink features such as remote engine start, door unlock and vehicle diagnostic information, among many others.
Contemporary new design makes navigating RemoteLink faster and easier
View data usage for 4G LTE Wi-Fi hotspot (if equipped)
Bug fixes
Perhaps the most obvious change is the new UI, which is much flatter and more minimal than the old version. Indeed, RemoteLink now looks like an app for 2015, and it now matches the app on iOS and Android. We are not sure what is up with dropping some support for electric vehicles, but the rest of additions to the app hopefully make up for it. Numerous tips from readers suggest that this new update is pretty darn good so far.
If you have OnStar, make sure you grab and set up this app. If you were thinking of getting a GM vehicle with OnStar, hopefully this refresh of RemoteLink pushes you closer to that decision.
Thanks, everyone, for the tips!
Daniel Rubino is the Executive Editor of Windows Central, head reviewer, podcast co-host, and analyst. He has been covering Microsoft here since 2007, back when this site was called WMExperts (and later Windows Phone Central). His interests include Windows, Microsoft Surface, laptops, next-gen computing, and arguing with people on the internet.
Go first dive in the river Ganga! And say to GOD I'll never comment in Windows Central ever asking about everyapp to be available in India! Stop bragging Aman.

I believe he was being sarcastic.

We need a sarcasm font cause some people are completely clueless :)

He did include /s\, hahah

I thought that was a road, but I did get the sarcasm.

Does it work with Corvette C7?

Glad it got updated! It worked fine for me before but now it works great! New UI is a much more simplistic design and I like it! Tested everything out with my Buick Regal n everything runs smooth! Now if we could just get all the other devs to make their WP app on par with their ios and android versions life would be grand!! Lol

Good news Springs214. I dont' have OnStar but it does look good.

As an EV driver (Chevy Volt), it looks like the only thing they really 'left out' was being able to change the 'Charge Mode', which frankly once you set in the vehicle you usually don't ever change it. The new app looks very nice. When I asked them on Twitter, shortly after the iOS update to the app, if they were going to be pushing a new version to Windows Phone, they replied that they had updates planned for the year on the Windows platform. (UApp??). They certainly delivered so far.

How does this connect? I drive a lot of rental cars (often a Tahoe or Impala), I'm wondering if I can use it on them.

I doubt a rental company would allow access to the remote features of Onstar on a vehicle. In fact, most rentals probably do not have these features.

It's a subscription-based service. You have to link your actual car to that subscription and then log into the application. It's an outstanding service, but I can't see it being worth it for a rental if you have to call OnStar all the time to deactivate and activate new cars all the time. I'm not even sure they would let you attach your own service to a car you didn't own, that would be quite a security issue.

Thanks, that makes sense. I was thinking that maybe it was some simple sync done within the car.

About the only way to get a gm vehicle without onStar even installed is in fleet versions, which is what most rental companies buy.

Not in my experience. The cars I rent aren't base model "fleet" vehicles. As a matter of a fact, I'm not sure there even is such a version for the Tahoe.

Now all they have to do is release the my link

When they updated the Android/iOS version GM Authority said they had promised a Windows Phone update in a few weeks. I was a bit wary it wouldn't get updated, but glad they did.

This will be great for my wife's 2014 Buick Enclave. I wish they'd make it work for the older ones though like my 2006 Lucerne. If I can call them on the phone and ask to unlock my car they should be able to figure out how to let the app do it.

I guess I'm going to find out what's been neglected. I have a 2014 Volt and love both the car and the app in its original form. Remote start is the best thing ever.

It looks like the only thing they changed was ability to change the Charge Mode from within the app. Everything else looks to be intact! 2013 Volt owner here. Love this car!

Doubt this will work on cars released outside of the 2010s so my 07 cobalt Lt is out.

I just cracked up my wifes car and she now has a rental Chevy and the first thing she noticed was that the bluetooth sounds better than her car and the contact pic's show up when someone calls are texts.. her face lite up when she saw that so I'm sold on purchasing a chevy equnotex. and the onstar is a bonus becasue we were running the viper app but it sucked but did the job. sweet to see chevy supporting windows phone... in a way... :)

Good job GM app looks and works great on my 8X and my other 2 Nokias. Posted via the Windows Central App for Android

Nice. Works and looks great.

good now we need AAA to get their app on the windows platform, both on Windows and Windows Phone

Got the update. But I can't find where to set it for the car (Chevy Volt) to send me a text when it's done charging. To me that was the most useful feature of the previous version. Tell me they haven't done away with that feature...

I got one yesterday, but now that you mention that, I don't recall seeing an option to change that. I just checked and no. Its not there.

Ok, I looked at the RemoteLink page on the OnStar site. Apparently what they have done is retained the notification feature (text and/or email alert when your battery is charged) for iOs and Android versions of the updated app, but eliminated the notification feature for the Windows Phone version of the app. Not good.

So after using this app yesterday I can confirm that it does support EVs. I talked to my volt friends and they say that the IOS and Android versions of this new app initially didn't support EV related information, but it was added back in. Since Windows Phone was late in getting the update I guess it was already included.

It supports EVs in that it will show your battery charge level each time you ask it to (by manually refreshing). But the auto notification ability -- where you can have the app automatically text or email you whenever your battery reaches full charge -- has been stripped out. That feature was very useful for me. I share a charger with other EV drivers at work. When my car is done charging, I have to move it out of the space. I used to be able to relax and forget about the timing because the app would let me know when the car was done. Now I'll have to keep manually checking. Not the biggest deal, but a step backwards in functionality. And GM seems to have kept the auto notification for Android and iOS users.
Windows Central Newsletter
Get the best of Windows Central in in your inbox, every day!
Thank you for signing up to Windows Central. You will receive a verification email shortly.
There was a problem. Please refresh the page and try again.