Official OnStar RemoteLink app for Windows Phone now available, lets you start your car and check oil levels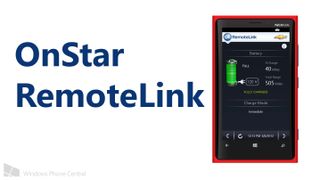 Another week, another official app. We've literally seen a big app or two hit the Windows Phone Store every week for the past 7 months. Drive a 2010 or newer Cadillac, Chevrolet, Buick, or GMC? You might want to pick up an OnStar subscription for your whip now that there's an official app for Windows Phone.
OnStar RemoteLink allows drivers to connect to their vehicles in a variety of ways. For example you can control your vehicle remotely and do things like lock, unlock, remote start, cancel start, activate the horn and lights, and stop the horn and lights. You can also monitor a variety of vehicle stats like tire pressure, oil and fuel levels.
Yours truly drives a certain car from a certain company in Bavaria, so I can't check out OnStar RemoteLink for Windows Phone. Although it does look extremely similar to the iOS version – including UI elements. So performance may be hit or miss. If you have a vehicle and subscription to take advantage of this app be sure to sound off below. We're all looking forward to how this app works.
Good day for Windows Phone and the automotive world. Earlier today we saw an official Viper SmartStart app join the Store.
OnStar RemoteLink is available for either Windows Phone 7.x or 8. It's free, but you'll need a car and OnStar subscription. Grab it here in the Store, use the QR code below, or swipe to the right in our app.
Thanks for the tip Jackson W!
Windows Central Newsletter
Get the best of Windows Central in in your inbox, every day!
I don't own any of those cars and the app isn't available on my 920. Even so I couldn't trust an app to do something like that.

Not available for your 920?
Must be your region.

Its an OnStar app, so it just links to your OnStar account. OnStar can already do all that stuff remotely, this just makes it easier. Nothing really dangerous in it.

Wow. Um, welcome to the 21st century. We're already there. Lol

Oh no! You're a Bimmer driver!?!?

Sorry, can't hear you over the sound of my ultimate driving machine ;)

All that road noise? Actually I like road noise, and that damn slogan but I don't like many of their vehicles. The upcoming i8 is slick, and the newly renamed M4 is always great.

Which one do you drive. My 545i w/sports package is getting a little old but still drives like an "ultimate driving machine".
Btw, I owned an escalade esv a couple of years ago that had OnStar, but now it's dead and I am disabled :(
I replaced it with a Dodge Durango Citadel with a 5.7 HEMI. Smaller than the Cadi, but love it.

I got a '04 545i too. I'm starting to get tired of little niggles here and there where all kinds of warning lights keep popping up on the console like passenger seat belt sensor going bust or fuel tank cap sensor malfuntioning or check engine keeps coming back even after checking n resetting multiple times or transmission shift errors in computer although actual transmission is fine etc... I spent thousands of $ to not see any of these error, but no can do... but yeah, it still drives like the UDM though... Not sure if I'll stick with a Bimmer for my next car after being loyal enthusiast for 14 years.
anyway I digress, I downloaded this app for the heck of it. Can you believe you need to scroll like 15 pages down *twice* to Accept the user agreement before even the logon screen appear. The UI looks terrible though, straight port out of iOS or Android app. but hey at least you got an crappy ported app instead of nothing for those OnStar users

I'll take my SS camaro over your ultimate driving machine any day :P

It's ok everyone makes mistakes. I tell that all the time to those M3's I see in my rearview.

They are a certain breed. You can make a lot of assumptions about a person just by knowing he drive a BMW.

Yes you can. Say the Mercedes Benz driver :)

LOL
I drive a Dodge truck right, but I've had 3 Mercedes. Big Benz enthusiast.

Oooh, thank you...I think.

It's becoming apparent that Microsoft works on these app releases in related groups with the Viper app yesterday.

Yup. This pattern has happened before many times. Noticed it as much as a year ago

Official apps lend legitimacy to the platform; maybe (and hopefully) that Nokia exec was right about almost all major apps coming to WP by the end of the year.

Sooo true an observation ;-)

Come on Mercedes give us the MBrace app

Yeah, I'm wanting the MBrace app to come too! The new CLA looks so sick! Although as of right now I'm ready to sell my kidney or become a gigolo to get the M4. Droooool.

Someone is working OT tonight. Nice story Sam. Excited for this on my car.

Play with the app and let us know how it works out! Enjoy!

Awesome! I just bought a Volt and I have been asking for this app! Great news!

How do you like the volt?

Just picked up a Volt about 2 months ago and love it! Recently got 48 miles on a charge (commute to work and back). Tip: put it in mountain mode for long trips and switch to normal when you get where you're going.

Love the Volt. Best car I have ever owned. The ride is amazing! I have owned many luxury makes and none can compare in the drive this Chevy has. Electric driving without transmission gear changes is weird at first but you get used to it. Its glides through the streets.

I agree. I've had my Volt now for 2 years and the only thing I've done is take it in for a two year oil change. And have the tire rotated.

A bi-annual oil change? That's insane!

How exactly does this work without any hardware.? I drive a Chevrolet beat 2010 (the one featured in transformers..yes its a cool car.. B) not very expensive though :P).. So i am interested in getting this to work with my car, but i don't understand how this works..anybody care enough to explain..?? Thanks. :)

You need an ONStar Substription. i dont know what you can do with your car but for a Volt, I can unlock/Lock my doors, remote start, check my batteyr level, have it text me when my battery is fully charged if I am at a chrging station, total miles per gallon (Currently at 185mpg :) ), total gas miles, electric miles, etc, etc. Its nice!

Ohhh..that sounds awesome. But i am guessing onstar already has some collaboration with these brands and installs certain hardware in these cars to enable such use, right..??

Right. My car has a cellular device with access to the computers within the car which inturn allows for for the app to gather all the data. Its really cool.

Fuck..thats amazing..chev volt is the hybrid electric one..right..?? 185mpg is a really cool number.. :D mine gives about 13kpl..which is about 40-45mpg..runs on petrol..i doubt that my car has that cellular device in it..it isn't that high tech.. :( though runs like a dream and i love it.. :D

It is a Hybrid but not in a traditional sense as a Prius. This car runs strictly on the electric drivetrain. The gas "engine" is actually a genrator that generates electricity to keep the car running when the battery runs out. My daily commute is 30 miles +/- so I have gone for 5 days straight on multiple occasions without a drop of gas/petrol. Just shy of 1300 miles on 7 gallons. I purcahsed the car on 07/18 and will need to fill up for the 1st time soon (9 gallon tank). The electric ride is like no other and there are no gears to shift its just the most amazing drive I have ever had.

That is insane..!! Ofcourse in a good way. I hope i get this soon. If you don't mind me asking, how much dis you have to shell out for it..??

The start at 34,000k now for the 2014 plus you get 7,500 worth of fed Tax credt, 1,500 state credit. It will be less than 30k if you include the tax breaks. http://www.chevrolet.com/volt-electric-car.html
Ohh and I get to drive in the carpool lanes by myself :)
280 lbs of torque is nice too.


Damn..awesome..and yep..280lbs is nice..i'll have to check this car out man..thanks.. Enjoy your volt.. :)

No manual , and you call it the most amazing drive you ever had ?
C'mon!!
Hey, where's the guy who read Road&Track ??

Considering it is one gear what use would a manual be?

Dude..he means that manual cars are more fun to drive..he doesnt mean this should be a manual..and I kinda agree..i prefer manual to automatic..i am soon going to kit up my beat..passat on the other hand is good just the way it is.. :D

I know it's a single speed transmission And yeah, drags !! ;)

To each their own mate..he probably prefers it cuz he drives around in the city more..some people prefer the hassle free drive of an automatic inside cities where traffic is sort of slow..compared to on highways..or drag races.. ;)

Yes, OnStar has been installed on every GM vehicle for a while now. I think they work with other manufacturers too.

But not everywhere and on every model, right.?

OnStar is available only in the USA, Canada, and I *think* China. There's also a variation of the brand in South America. They do make OnStar FMV (For My Vehicle), which is just a rear view mirror with a cell phone connection, but I'm not sure if it works with the app. See: https://www.onstar.com/web/fmv/home?g=1
For those curious, they usually use (now) Verizon Wireless for USA OnStar equipped vehicles.
And it's just the GM brand, so Chevy, Buick, Cadillac, and GMC in the USA. Used to be you could get OnStar in a Subaru or VW, but that partnership ended in 2005 or so.

hi id like to use this app but unfortunatly it doesnt support my phone ( Nokia Lumia 920) what should i do ?

I dont know why you are having that issues. I am on ATT with my 920 and it works just fine.

Sweet my Camaro has been waiting for this

And i have been waiting for my camaro. :'( :D :P

Can't wait to test it in my Chevy Silverado. Great timing as I bought it last week.

Now all we need is ford and Toyota to come to the party

Yes! You would think since Sync is a Microsoft product that it would already be available! Where's the updated Ford Sync app??

Works on my AT&T L920 with my 2013 Chevy Silverado. Been waiting on this app a while. :-)

Yay! About time. Although the app could be a little more WindowsPhone and a little smoother, I'll take it. Now for some SiriusXM and I will be a happy clam.

App works exactly like the iPhone app! Great addition GM. Now I need total connect for home security and I'll be good

YES! I've been pestering the poor person who runs Onstars Facebook page for years to get us an onstar app! Works brilliantly on our 2012 Chevy Equinox!

I've been pestering the individual known as JM on Twitter who seems to respond frequently for their OnStar precense. Glad it's finally here. Have a 2012 Equinox myself. Have always enjoyed the Equinox line.

I'd gladly take iOS lookalike apps if it meant getting the app on the platform. They can refine it to make it more unique later on.

Finally!!! This made my morning. This is the ONE official app I've been anxious for. To be able to send directions directly to my car from my phone or unlock it/lock it is a big perk to having a subscription.

I just started my camaro from work. Tee hee.


Still waiting on Toyota Entune

It's Official❕❕❕.... Keep em coming❕

Anyone know if this works with OnStar FMV?

Works on my 2012 avalanche, but when I tried to lock the doors....it says "in progress" but nothing has happened for the last 30 min. Rest of commands work fine. Will uninstall/reinstall to see if that will fix

Why doesn't this app work on my Chevy Vega?

All joking aside. I can't say I'm a fan of this movement. While it certainly is convenient this app is another step towards puttings all eggs into one basket. Kinda sucks if your battery drains, or your phone gets stolen. Especially when your phone gets stolen. Also there is the hacking angle to worry about as well. I think I'll stick to my Honda for the time being.

Also dunno about GM, but there is always some inaccuracy when it comes to tire pressure, and oil level. Nothing is more effective than checking the pressures, and levels yourself.

Its not really putting your eggs in one basket. You are still going to have your keys. If your phone dies, just use your keys. The only concern is the phone stolen. I'm sure there is a way to deal with that. I would imagine, if its stolen you could call them (on another phone) and have them invalidate either the login session or the password. Either way they wouldn't be able to use it.

You can set the app so that it requires a password before each use if you want the extra security. However my phone is password protected so I just have the app set to remember me. Besides it is a car, not Fort Knox. If they want to get in it and steal it they will regardless of this app. Also the way remote start works is the engine starts but the doors remain locked and and the car essentially remains "off". What I mean by this is even when the engine is running and your heat or air conditioning is working, all the controls, dashboard, gear lock, steering lock remain in the same state as if the car is off. Only when you get in the car and "start" the car (inserting the key and turning to "run" or hitting the start button while depressing the brake) will activate the vehicle. So knowing this, the app is not designed to replace your keys. It is only meant to remote start to begin heating or cooling or get you into your car should you lose your keys. You will not be able to drive anywhere solely by using this app. Of course if your car is in a underground parking garage you are totally screwed as the signal from the sattelite will not reach the vehicle. The app is quite convenient and maybe this explanation changes your stance on being a "fan".

This app works perfectly on my Nokia 920 and my '13 Cadillac ATS. Remote start, lock and unlock all work as advertised. Even get stats such as MPG, Oil Life, Fuel Level and Tire Pressure at a glance. Best of all, I can look up a destination on Bing Maps and send it to my car where it is waiting for me before I even get in the vehicle. This app is awesome. Thank you GM and Onstar! Honestly with this app and with Onstar, I don't know why anyone would get a navigation system that is outdated as soon as the disk is loaded in your car. I intentionally ordered my car without Nav as with Onstar, all you do it push a button, tell the operator where you want to go and voice prompted and on dash turn by turn directions are immediately sent to your car. Even with the yearly service charge (first year free in all Caddys), 6 years of service is still less than in-dash built in nav and it never is out of date. Until car Nav systems utilize the mapping capabilities of smartphones, Onstar and their equivilents from other makes is really the way to go.
Off topic, anyone looking to get into a BMW 3 series or an Audi A4 should take a look at this newest small RW drive creation of the ATS. This is not the cheap interior and poorly built old man car of yester year. I am quite happy with it and being in southern CA, it's great to drive something that stands out from the sea of european cars that everyone out here seems to have.

Glad to see it working well for you! I do like the designs of the some of the newer Cadillacs.

I had all but given up on this app. When it was announced on WPC on April 1st, then nothing for months, I just figured it was an April Fools joke. Nice to have for my ATS using my 1020.

Great news! but not quite as stylish as the App from Volvo. But at least it an official app.
And where are those for Mercedes and BMW?
Windows Central Newsletter
Thank you for signing up to Windows Central. You will receive a verification email shortly.
There was a problem. Please refresh the page and try again.