Official Viper SmartStart app now available; take control of your car thru Windows Phone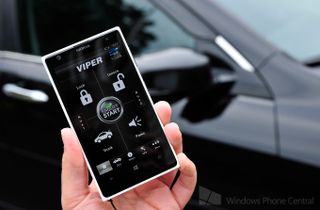 Have a car? Ever wanted a remote start system for it? If so, we may have just found the missing link to get you to buy one as the official Viper SmartStart app for Windows Phone 7.x and 8 has become available in the Store.
The Viper SmartStart is a two part system that relies on hardware (the remote start equipment in your car) and the software (an app on your smartphone), creating a powerful combination to make your car "smart" for 2013 (or make it possessed like Christine, whichever). The hardware isn't cheap, starting at $399 for the basic system plus installation, with optional addon modules like GPS, Bluetooth and security to further enhancement.
In short, with the basic system you can push a virtual button on your smartphone to start your car, lock the doors or pop the trunk. For some of us up north, this is a nice feature for the winter. Down south, it's a great way to cool down your car before you get in. Throw in the alarm system and you can enable/disable that, use the panic button and more. Have more money to spend? Toss on the GPS system to enable social-media checkins (seriously), lockdown alert (tells you if your car moved), vehicle location, speed and more.
On board features:
Free app includes SmartPark parking spot finder, parking meter reminder, and guest membership in Viper Motor Club.
When combined with a Viper SmartStart module in your car, you can start, lock and unlock your car from virtually anywhere. Receive push or text notification if your car alarm goes off (when installed with a Viper security system). You can even control your compatible home security system in one convenient, easy to use app.
When combined with a Viper SmartStart GPS module, you can also locate your car, share activity on Facebook (because your car needs friends, too), and set safety notifications if your car is speeding or goes where it's not supposed to go.
It's no doubt a pretty crazy system, one that we would really not have considered before today. But now with an official Windows Phone app, which suspiciously looks iPhone-ish, we're reconsidering.
An initial review of the app is highly positive though there is room for improvement. For instance there is no doublewide tile with status information nor can you pin the remote-start button to your Start screen. That latter one seems like a real missed opportunity, though we suppose being a v1.0 of the app, we could see some forthcoming updates to address these shortcomings.
If you have a Viper SmartStart system, go and grab the app right now in the Store. If you don't have one and want to learn more, head to www.viper.com/SmartStart for more information.
Viper SmartStart is compatible with Windows Phone 7.x and 8. Thanks, Geri G., for the tip!
Windows Central Newsletter
Get the best of Windows Central in in your inbox, every day!
Daniel Rubino is the Editor-in-chief of Windows Central, head reviewer, podcast co-host, and analyst. He has been covering Microsoft since 2007 when this site was called WMExperts (and later Windows Phone Central). His interests include Windows, laptops, next-gen computing, and for some reason, watches. Before all this tech stuff, he worked on a Ph.D. in linguistics, watched people sleep (for medical purposes!), and ran the projectors at movie theaters because it was fun.
Nice for an official app. care smart typo btw.

One more app off the hater list lol btw fuck google.

My we have come a LONG way! I can finally use the full potential of my system. "Protected by Viper stand back"

Nice one (imagined DMX voice just now)

O.M.G. COULD IT BE!?!?! A OFFICIAL WP8 ANNNNNND WP7 APP released at the same time

Nice to see apps like this come to WP. Still waiting for some Time Warner apps!

Fantastic that this app has come to WP, but that iOS UI is hurting my eyes.

I thought it was just me, I'm sure their going to correct that soon...atleast i hope

I didn't want to say anything and just be greatful we got a cool app like this even though the system is expensive as heck.

I seriously doubt they'll change the UI. On their website, both their iOS and Android apps have the same UI so there would be no sense in changing it just for WP.

The 'sense' is that many people choosing WP (especially the kind of people who would also use this system) do so because it's *not* iOS or Android, so giving them an iOS UI is a bit of a slap in the face.

"Slap in the face" seems like a bit much. Would I prefer a more WP interface? Sure. Do I expect every single company making a niche app to completely overhaul the interface for all three operating systems? No. I think this is a case where we should be thankful there is an app at all.

Maybe I'm more sensitive myself because I'm a WP developer? I know the work involved to build a new UI, but it's worth it for the user experience. You're already rebuilding everything else, so you should also put the time into design to go along with it. Personally I hate using apps with bad UIs. UX is just as important as functionality in my book. I refuse to use PhoneGap apps or ones that have iOS or Android UIs.

Oh, so what apps have you deved?

A slap in the face would be denying us the app altogether. It doesn't matter if the UI doesn't match up with whatever phone OS you choose to champion and defend to the death (because seriously, that's all these petty complaints about "not being metro" come across as), as long as it's functional then there shouldn't be a problem.

I beg to differ. The Modern UI design language is one of the largest, most striking and most unique aspects of Windows Phone. Sure, some people don't care about it, but app producers should.

But is there a kit for motorcycles?

No. Just cars and bicycles.

Awesome to a more niche thing like this to come to WP.

Another official app!great! Hope they work on the ui, later on. Something, is better than nothing right now!

This is big. The family mobile has the viper system.

Now i have a phone and this app... Where is my viper?

It comes with the app via in-app purchase ;)

He just won the Championship Last night so probably resting up before Raw. ;)

Wow, I can't believe WP 8 actually got this app. This is awesome.

Very interesting service, but I have massive security concerns about it. What if somebody hacks their servers? Can those criminals then start and unlock cars all over the world? For this to be safe it has to be peer-to-peer, I guess it is not.

I can't wait to use this app. I have been holding off on getting a system installed to see which company came out with an app first.

Woohoo I sent in the tip!!! But I have to give my gf credit for telling me about it. Anyway, yea it works according to her but definitely has a lot of room for improvement. Can't wait to see what changes they make.

did we retured to 2007 UI design :/

That's the unfortunate side effect of having apps ported from old, outdated looking iDroid, rather than them being created using the best WP design tools... Tha sad thing is that iDroid's don't see what you're seeing...

Very very nice I've been installing dei electronics for over 14 years. ( viper,python,avatal,clifford

Awesome! Wells Fargo, Viper, keep them coming! Now if only ATT could release the fuggin Amber update!

I might finally pull the trigger on buying the system.

Noah didn't build the ark in a day,, but it got built..

I have been waiting years for this. Viper said it was in development about two years ago and my wife will be getting the smart start module for Christmas now.
Windows Central Newsletter
Thank you for signing up to Windows Central. You will receive a verification email shortly.
There was a problem. Please refresh the page and try again.