OOTP 21: Leading PC baseball simulation game release date revealed
No word on whether banging on trash cans will be a new feature.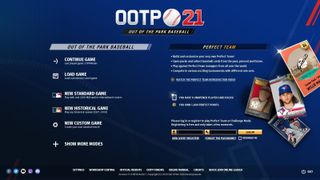 (Image credit: Out of the Park Developments)
What you need to know
OOTP 21 will release worldwide on March 20.
New features include a Ballpark Construction Kit, reminagined scouting and drafting, and an improved Perfect Team mode.
Pre-orders are already underway over on OOTP's website.
There's nothing like getting lost in a great sports sim, and baseball fans know that the Out of the Park Baseball (or just OOTP for short) series has been the best kind of rabbit hole for years. Its annual releases are always highly anticpated, and OOTP 21 is no exception.
In the words of the great Hubert Farnsworth, "good news, everyone": OOTP 21 has revealed a March 20, 2020 worldwide release date for PC, Mac and Linux, and pre-orders are available now with a 10% discount and early access that begins on March 17.
"It's been amazing to be part of the success and growth of Out of the Park Baseball," lead developer and Out of the Park Developments CEO Markus Heinsohn said in a press release. "Our fans have enabled us to build the game we've dreamed of, with a robust roadmap for the entire calendar year and beyond. We are thankful for our amazing community, our partners, and our friends - OOTP 21 is the biggest and best version we've ever made, and we are just getting started!"
For its 21st edition (fitting, that), OOTP 21 boasts the largest number of improvements and new features in series history. Headlining the new additions are Game Flow, a guided experience that should prove extremely helpful to newcomers who might otherwise be paralyzed by the ridiculous amount of things to do after starting up the game.
If you fancy yourself the type of visionary who would be good at building your own baseball stadium, the 3D Ballpark Construction Kit will allow you to indulge those whims. This much-requested feature will let you put together the dimensions of the field and other architectural elements just the way you want them, and will receive live updates throughout the 2020 season.
Scouting and drafting have received a lot of attention this year too, promising a lot more control and, let's face it, a lot more time you might spend digging into finding exactly the right players for your team. And Perfect Team — think of it as the OOTP version of an Ultimate Team or MyTeam mode — has been given a complete refresh as well.
The TL;DR summary is that OOTP 21 will let you sim baseball on your PC exactly the way you want to with more features and options added to what was already a dizzying selection. And thankfully, the wait to begin exploring them all isn't that long.
Get the Windows Central Newsletter
All the latest news, reviews, and guides for Windows and Xbox diehards.