Opera refreshes official Windows Phone app to reflect rebranding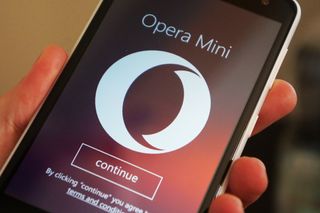 A new release of Opera Mini is now available for Windows Phone. The latest version, bumping the app itself up to 9.0, implements some minor visual changes to better reflect the rebranding Opera is currently undergoing.
While no changelog has been shared by Opera, we've managed to spot some improvements, and so have a few watchful readers. You'll notice the new Opera logo used throughout the app (though the Windows Store still needs to switch things over), as well as the refreshed central menu, which now resembles the hamburger.
The new hamburger icon is a vast improvement over what was previously there, and we appreciate the more consistent approach with the new Opera logo for the Live Tile. Overall, a neat update that will surely please fans of the browser. You'll be able to enjoy this new look by upgrading your Opera client through the Windows Store.
Download Opera Mini for Windows Phone
Windows Central Newsletter
Get the best of Windows Central in your inbox, every day!
Rich Edmonds was formerly a Senior Editor of PC hardware at Windows Central, covering everything related to PC components and NAS. He's been involved in technology for more than a decade and knows a thing or two about the magic inside a PC chassis. You can follow him on Twitter at @RichEdmonds.
Why Opera mini mobile browser doesn't support flash content....?

It's "mini" dude, that's how it's supposed to be.....

Look like Vodafone / Vodacom logo.

I thought the same thing....

To expand on what has been said, mini browsers work by heavily compressing the webpage on the vendor's servers and sending it to you, so for example, when you are using Opera Mini, you are actually only communicating with Opera's servers.

Because it's 2015 and nothing should use Flash anymore.

Because flash season 2 is coming

File downloading is not working in my opera mini from last version.. It shows error everytime like downloading fails when i tap on "save" button.. Need help guys.. Reply asap

1. Clear cache (Settings>Clear browsing data) 2. Uninstall Opera Mini 3. Restart your Phone 4. Install Opera Mini again This helped on my friends' phone, he had the similar error.

There's no way to turn off data savings in this is there?

Tried to find this option too, but as the name sugests, I don't think it'll be possible, unfortunately!

If you don't want to save on data use Explorer. The whole point with Opera is to save data. Although the option not to save really should be there

Ie is pretty garbage though. Mini runs very smooth.

New version is smooth than previous...!

I really wish Opera would release a Universal App so that I can use it on my Windows 10 laptop.

Firefox should make a universal app now.

Why don't they made same like Android ?
Still lacking on my Lumia 730..

Do you have any problem with downloading in opera mini..? When i tap on save button it directly fails to download... Do you have this problem in your 730?

Yes I also facing the same problem...

I have no problem with my downloads (730), just tried it

Still no exist button... Small bugs

Finally! Landscape mode is back!

I appreciate the efforts of the Opera team. I hope they improve scrolling performance because it's not very smooth on my 735.


Same here, I haven't tried the new version yet but the previous one scrolling was horrible

Scrolling has improved drastically

It is still far from smooth as they have on other platforms, but yes, it is improved

Available for windows 10 Mobile or not?

Yes, im updating it. I have to replace the terrible edge.

Wish edge could at least as stable as this opera

Im surprised that they didn't replace it with the chome logo

But they included the c in their new Logo :D

They've added a QR scanner in the Search menu. You can select Google or other search providers on the right side and the QR scanner on the left side. Not sure what the slider in the middle is for.
Also, it crashes when I try to open a new tab. Might need to reinstall or something.

The Slider is there to move cursor around address bar. It make is a little bit easier then in traditional way using small handlers provided by OS.

We don't have any proper browser, I missed IE 11, the edge crashes ..

Then don't use pre release software?

I love the Data Saving feature of Opera Mini, it's actually a huge saving. But I had to remove it from my L640 because it burned the battery.

Thought i'd give it a try again since Edge is faily sucky on W10M. Nope insta-uninstall. Nothing loads on the first threee pages I browsed to. They should bring the full browser too.

Still no Opera Account syncing?! Howcome?

I wish Google would release its Chrome browser for windows phone, I still prefer the Chrome in PCs, extensions are so great, the browser has all the features.

Still the same shitty app, no improvement in the slow animations at all.

I find chrome unbearable on 10. You could make lunch whilst a tab opens. The last two have done this to me. The one on my tablet is getting just as bad! I've tried allsorts to speed up. It seems to be an ABP issue. Would be nice to try it on W10M though

Friends
I am in India 3g faster connection
I have 730 and 430
Candy crush saga not download
But all applications are downloaded WhatsApp temple run Subway surfers.....and all Please reply me

need a way to set it as default browser

The update got more cats in it! Im downloading!

That new logo...One browser to rule them all.

It appeals more to me now.

Opera mini is a fantastic browser. For those on Windows 10, It remains the most (if not only) stable browser to rely upon.
I just wish it could be possible to individually control the rate of the data saving. This is very import considering that some carriers in developing world do not allow the use of Opera mini. And for people like me who are happy with the browser, it is really a hindrance.

Almost like Vodafone's logo

Looks exactly like a "Doordarshan" logo.. Indians will totally agree with me ;)

Live. Die. Repeat...
Live. Die. Repeat...!!!

Opera​ should launch Opera Mobile for Windows Phone which supports HTML5

Still google search as default and no way to completely get rid of the google virus from it? I'll have to pass then... maybe some day opera will be a decent browser again, but it hasn't been for what feels like a very long time now. Going chromium was the worst decision they've made.

Any browser going chromium is a mistake. Chrome is not a very useful browser. Comes to a crawl, when there are too many tabs open(10).
Hopefully the Windows store will never have chromium. Mini still needs work.
Come on Firefox!!!!

It's not available anymore in the store...

Does it have an add-blocker?
Or is there any other reliably browser on Win10(m) with adblocker?