The original Halo Wars is coming to Steam on PC
Halo Wars 2 is battling it out on Xbox One and the Windows 10 Store, but soon, Steam users might be in for a taste of the action.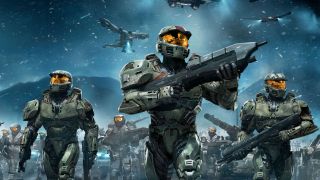 The original Halo Wars launched back in 2009, exclusively on Xbox 360. It was the last game put together by Ensemble Studios, famed for their line of medieval real-time strategy games — Age of Empires.
Halo Wars was simplified for use with a controller, sidestepping some of the complexity enjoyed by a full-blown keyboard and mouse RTS titles such as StarCraft. Still, it remains a wonderful effort to bring the genre to a potentially fresh audience, and Halo Wars 2 continues that legacy with some stellar gameplay, visuals, and depth.
The original Halo Wars recently got treated to a definitive edition, bringing mouse and keyboard controls to the game for the first time. It was available as an extra for Halo Wars 2's Ultimate Edition (opens in new tab) on Windows 10 Store and Xbox One, but now, it looks as though Steam PC users will get a taste of the action as well.
Owing to leaked screencaps (via CyberRakan, cheers!), it seems the original Halo Wars is making its way to Steam in the future. Our own sourcing gives us reason to believe this information is genuine. Expect to see Halo Wars on Steam in the near future.
Image 1 of 2
The move to place Halo Wars on Steam shouldn't be too surprising. The game has likely done all the sales it can through Microsoft's own channels, given the availability of Halo Wars 2. Microsoft isn't a stranger when it comes to placing games on Steam, considering Age of Empires II HD still receives updates, and State of Decay also enjoys a dedicated fan base on the platform. A standalone version for Steam could indicate that Halo Wars DE will be getting separated from the Halo Wars 2 Ultimate Edition on the Microsoft stores as well.
It remains to be seen whether Microsoft will decide to bring across some of its more modern, heavy-hitting games such as Gears of War 4, Forza Horizon 3, or indeed, Halo Wars 2. But for Steam fans who might be interested in playing those games, this is certainly a positive sign.
As always with rumors of this type, take it with a pinch of salt until we get official confirmation. We're digging for more info in the meantime, but until then, let us know what you think in the comments.
See at Microsoft Store (opens in new tab)
Windows Central Newsletter
Get the best of Windows Central in your inbox, every day!
Jez Corden a Managing Editor at Windows Central, focusing primarily on all things Xbox and gaming. Jez is known for breaking exclusive news and analysis as relates to the Microsoft ecosystem while being powered by caffeine. Follow on Twitter @JezCorden and listen to his Xbox Two podcast, all about, you guessed it, Xbox!
I hope not, as much as I hate exclusives they do help move people to new platforms if they're good enough. I feel like this undermines their efforts to push Play Anywhere and UWP.

look at it from an other perspective: if you like the 1st one, you will buy the 2nd too which is only on W10

no. You will wait until the game is released on Steam too. Like Quantum Break or Halo Wars and probably Gears, Forza...

Not necessarily. If you like a game you're not waiting forever.

We're talking about some month not years. And just take a look at Quantum Break.

I don't understand why it's not already available on the Windows store

it is... It released before Halo Wars 2 on PC.

I think he is talking about standalone version. Right now it's available only for those who bought Halo Wars 2.

thanks. I thought it was already available for all.

Good move to bring old Microsoft games to steam

"it seems the original Halo Wars is making its way to Steam in the future." Wait, so is the "original" Halo Wars making its way to Steam or is it the Definitive Edition? Either way, I think it's a huge mistake: the Windows 10 Store will never take off if Microsoft keeps undermining it by gifting away its exclusive content to its main competitor. "game has likely done all the sales it can through Microsoft's own channels" Not really, seeing as how you can't buy it separately in the Windows 10 Store yet.

the Windows Store is already dying. Thanks to MS. It was a nice idea but hey it's MS. Zune and Windows Phone were good ideas too.

So basically the Windows Store is dead. Well done MS well done...

And for Windows 7 too. LO f*cking L
Microsoft should just allow win32 in Win Store. It's clear as day that UWP initiative is failed. Even as a fan I can admit that.

Make WS available for Win7? Why should MS do anything for Win7? They want to replace Win7 with Win10. The end of the support is near.

Well, the image in article clearly shows Halo Wars running on Windows 7 as win32 application. Why? Because there's a market for it. Because there are still people who didn't upgrade to Windows 10. You think when official support ends then everyone upgrade to Windows 10? That's not going to happen.

yes of cause. But you can use Steam for this. No need to bring the Store to Win7.

How about keep games in your own ecosystem and not share 30% with someone else? I don't want Microsoft to go third-party route. They need to compete against Steam, not being friends with them and lose exclusives. I get your point though. WS will never be available on Windows 7, but win32 should be allowed in WS. Then the games will flow. Even EA's Origin has more third-party games than Windows Store. This is just pathetic. Developers not interested in UWP.

Win32 actually is part of the Windows Store. And Scorpio will run the same games as the WS. That's pretty good for the developers. They don't have to make two separate games.

Win32 actually is part of the Windows Store

Only if it's converted to UWP. Otherwise, no.

They don't have to make two separate games.

So far developers didn't really care and ignored WS( except infinite Warfare, Resident Evil 7 and Shadow of War, but Microsoft clearly moneyhatted these games). I'd like to believe that Shadow of War marks the beginning of Play Anywhere greatness but let's not fool ourselves.

They'll still making games for the XboxOne (Scorpio). And soon the same games will run on WS and XboxOne without any changes. Therefore there is no need to put extra effort in the UWP platform because they will use it anyway. If you publish a game on XboxOne in the future it will be an UWP game. Not just a Xbox exklusive. So why not bring it to the Store too when you don't have to change anything at all?

Halo Wars:DE wasn't even released separately on Windows Store. This is dumb.