Our Windows Phone community has smashed 1 million posts!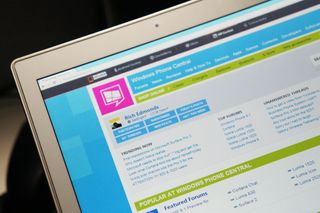 Attention all Windows Phone fans! We've just passed the 1 million post marker on the Windows Phone Central community forum! The forum is the backend of the overall website experience, just like other Mobile Nations technology blogs. Not only do they provide a centralized location for folk with similar interests to band together and engage in conversations, but also receive support, share tips and more.
From the newly announced Surface Pro 3 to the Nokia Lumia 1520, we've got categories and forums to cover products within the Microsoft ecosystem. We'd like to offer a massive thank you to each and every member of the community forum who have made the bulletin boards what they are today. One million posts is an incredible achievement and we're excited to see how quickly we can reach two million.
If you haven't already done so, we strongly urge you to head on over to our forums and join in the action. Forum member Indistinguishable managed to capture a screencap of the milestone being reached.
Check out the forum post below and share your thoughts:
Thanks, Indistinguishable, for the sreenshot and heads up!
Rich Edmonds is Senior Editor of PC hardware at Windows Central, covering everything related to PC components and NAS. He's been involved in technology for more than a decade and knows a thing or two about the magic inside a PC chassis. You can follow him over on Twitter at @RichEdmonds.
Woo! Tons of great content in the forums. Love going there to see fellow folks with good technology tastes ;)

How long has wpc been around.

Since 2009 but back then it was WMExperts.

Yeah... I'm still finding bookmarks labelled WMEperts..

Thank goodness storage is cheap.

So, everyone besides me equaled up to 500k post??❔❔

The forum is REALLY helpful. Congratulations guys!

Agree. This is my favorite site for Windows Phone & Windows information. If I see the same subject at different tech sites, I usually come here first to read about it. The guys here bring a lot of energy & enthusiasm to their articles, and make it fun to be a fanboy. :)

WPC.....and winsupersite.com

Yep. Anytime that I see a new headline about Windows, WP, or Xbox, I come to WPCentral and Winsupersite to get the real scoop.

I like it because all the other tech site boards have turned into steaming piles of fan boy bullshit and nazi moderators pushing narratives.

The [happy] tears forming in my eyes reading comments like these!

Congrats to the Mobile Nations\WPcentral crew!

No way. Congrats to us all. The forums are community, everyone is responsible for its success!

But, without WPcentral, Windows Phone would be alot less popular!

Meaning, I stick to my original congrats and a Thanks to you guys for all your hard work. :)

True, but we're all equally awesome. Without you, there'd be no us. Without us, there'd be no you... well... here anyway. Dammit. Sounded right in the mind!

And if you're not already, MS needs to put you guys on its payroll.

Congratulations to the Wpcentral crew!! You've made such a great job with the increasing community and know that you'll be getting things better.

Congratulations WPCentral!

The milestone post was a comment that read: "seems faster"

Seems fitting for this site. ;)

I was about to comment that half of the million were posts saying"seems faster", but... seems like you were faster than me...

To be honest, I wouldn't want it any other way. :-)

Rich Edmunds❕❕❕❕❕❕
...............
So, for perspective can you tell us approximately where the iDroid sites sit???? That one million number means nothing to me, and maybe others, if we don't have anything to compare it to..
Please?

We do not compare ourselves to others. There is no comparison though Phil Nickinson tries repeatedly to take down Dan Rubino in the Last Man Standing match each day. And for that i applaud you sir. *golf clap.

Ok, back to reality... I want some hard, raw, numbers damnit❕❕

42, the answer is always 42. How many times do you have to fold a piece of paper to reach the moon? 42. It's not a coincidence.

We haven't compared communities, but I'd imagine we're at the top of the charts for fastest growing community. Especially since the forums only really took off a few years ago.

Great and congrats. Now can we start a petition to get Amazon to update the Kindle app for windows phone?

First things first, WhatsApp, official FB and many important ones.

LOL, I care about my books more than the ones you said. Plus, we already have so many messaging apps. But let's hope all of them will be updated! :D

Congrats! Love WPC.. Keep up the good work u guys.

Thanks to everyone who contributes and helps out in the forums. The moderators and ambassadors, and the managers, deserve great appreciation. I also have to thank the guys in the post challenge, as we are the majority of those posts. :P

I was never been a blog reader bt after installing wpcentral app to my windows phone it has became an often use app for me most of the day i read blogs from wpcentral... Thx to the crew. And special thanks to @daniel @sam @edmonds great work guys and all rst of the team

Thank you for your kind words. It's a real team effort here!

1000,000 and first!!! (wonder how many "seems faster" posts the have been?) :P

The million posts are in the forums. The count doesn't include the parts of here on the blog.

The relevance of Windows Phone Central is just as important as CORTANA is to Windows Phone.

Must have forum for wp users, bad you don't have an Spanish site, a lots of people who can't speak English and owns a WP

lol screenshot is chrome.

Nope. It's Internet Explorer 11. Thanks for playing, though!

But it's on Windows 8. 8-)

Ah, I thought we were talking about the screenshot I took . Shame on you for using Chrome, Rich.

No surprises there. Everybody I knew uses chrome, especially if you stream content like football (soccer) matches.

Congrats WPCentral crew! This is my favorite site for Windows Phone news. Keep the good work!

That's thanks to Rodney haha

Do I sense a two million post challenge thread? }:)

you and Sahib should get your own thoughts thread :P

Well, we can't have a celebration here without sahib... He hasn't been replying to himself for nothing!

Why do I somehow feel we were responsible for this?

Probably because the 75k thread made almost 6.667% of those posts.

because we don't stop blabbering in the forums :P and special thanks to Sahib :P and sd card lately

And people say windows phone isn't growing. Those in the know, they know. Windows phone for life brothers & sisters!!

Great news to hear! This is the only sure I come to for Windows phone news. I like this community as a whole.

Tipping my hat to you, good sir!

:D ------------------------
thanks for making WPC part of my daily life!

This app should be installed by default on all windows phones with a nice large tile. It is tricky for the newcomers and the information here helps so much!!

Love WP Central. Great site and app.

Congratulations!!!! I remember coming to this site and reading the forums just waiting for the day I purchased my own Windows Phone. then it happened and I've been happy ever since. One thing I like about this and sister sites is the lack of rivalry and bitterness. My daily driver is Android and Chrome OS, so of course I'm all up in Android Central, but never have I read a bad word from either site, Thanks.

Thank you for your kind words. That's exactly how we're building the network! With the new Newsroom team (which yours truly is heavily involved in) with cross-platform coverage, it's awesome to be a part of the Mobile Nations community. :-)

Whoo hoo!!! Now that's pretty awesome! :)

You guy are our staple for all our tech needs.

The millionth poster should get a free gift from WPC

Nice, keep up the good work

Congrats Team.....Without you people am just lost in the moon

You're actually inside the moon? :-)

*Slow claps* Proud of you, WPC guys and fellow members!! Keep up this wonderful work!!

Congrats! I have been here since my htc trophy 3 years ago & now my 1020... you guys are awesome!!

Congrats to the Mobile Nations\WPcentral. It may go beyond 2 million very soon, because windows phone has lot of problems & bugs.....

Microsoft should sent all of us some goodies cause we are big fans of the ecosystem of windows and the big support for WP since the beginning

Is that your gorgeous Acer Aspire S7 in the picture, Rich? Lol

It is indeed! :-P It's finally working, well, the replacement is anyhoo!

Great milestone ! Congrats everyone ! :)

Yay Congo to all people who made this possible including WP central.

Congrats and great work, guys!

Congratulations to the greatest community EVER. :)

Keep going WP Central....

this a awsome site great work wish more site was like this work great on my nokia

WP awesome
WPCentral awesome
WP fans, yeah awesome Great site, thank you so much.

Is it true that WPC has more posts than the other Mobile Nations sites?

Clearly we are a more talkative bunch :)

Yeah! Woohoo! Never mind..I have slow data you know :P
Windows Central Newsletter
Get the best of Windows Central in in your inbox, every day!
Thank you for signing up to Windows Central. You will receive a verification email shortly.
There was a problem. Please refresh the page and try again.