Overkill 3 for Xbox now available on Windows Phone, features 'cutting edge console graphics'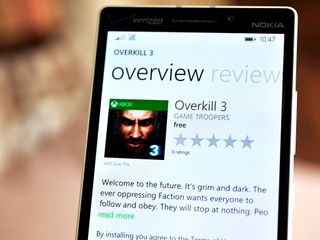 For those looking for a console-level third person shooter for Windows Phone, we may have just found your game. Overkill 3 is now available for Windows Phone 8 devices as previously announced, and it features some outstanding graphics and exciting gameplay.
Published by Game Troopers, Overkill 3 is the latest game from the developers who brought us 'Tiny Troopers' and 'Make it Rain'. Like those games, this is an Xbox enabled title, something that should excite many gamers.
From their game description:
UNPARALLELED GUN CUSTOMIZATION WITH TONS OF GUN UPGRADES AND ATTACHMENTS
"Arm yourself with massive arsenal of fully customizable guns ranging from classic shotguns, assault rifles, sniper rifles and machine guns to super-powered futuristic firearms."
VARIED AND EVOLVING GAMEPLAY
"Travel through ever-changing environments, from hostile deserts to abandoned cities and industrial complexes. Fight against loyal Faction soldiers, heavy assault squads and snipers. Use new tactics to win each battle. "
CONSOLE QUALITY GRAPHICS
"Experience console quality right on your device. Beautifully rendered world, incredibly detailed gun models, ragdoll physics and special lighting effects are all part of the Overkill 3 experience. "
EPIC BOSS BATTLES & CINEMATICS
"As you grow stronger and more dangerous, the Faction will do anything in their power to stop you. Prepare to face dreadful robots and mechanical horrors straight from your worst nightmares. "
3RD PERSON SHOOTING WITH EASY CONTROLS DESIGNED FOR MOBILE
"Get comfortable with easy to use controls designed for mobiles and focus all your attention on shooting. "
STATE OF THE ART NANO-SUITS
"Get the protection every soldier deserves! Kickstart the Resistance's armor research to protect yourself with futuristic bulletproof Nano-Suits."
Overkill 3 is a rather massive game, weighing in at 475 MB, so make sure you have some room to spare. Additionally, because of the quality level of the game it, unfortunately, will not play on devices with 512MB of RAM. The developers even released a statement on this issue:
Overkill 3 is a free download, and it looks to be an outstanding addition to Windows Phone. Watch the teaser trailer above or just follow the download link to get it for your phone.
A Windows 8.1 version of the game should also be due soon. We will follow up with a separate article when that becomes available.
Download Overkill 3 for Windows Phone (Free)
Daniel Rubino is the Editor-in-chief of Windows Central, head reviewer, podcast co-host, and analyst. He has been here covering Microsoft since 2007 when this site was called WMExperts (and later Windows Phone Central). His interests include Windows, Microsoft Surface, laptops, next-gen computing, and for some reason, watches. Before all this tech stuff, he worked on a Ph.D. in linguistics and ran the projectors at movie theaters, which has done absolutely nothing for his career.
Downloading.. Looks great and with Xbox Live.. Thank you Game Troopers.

Downloading, too. Definitely going to give this a review.

I hope we can move around and not stand in one spot when shooting.

You'll be disappointed then.

I'll download free good looking games lol

Not for Windows 10 phone?

Let me be very clear on this: NOTHING is for 'Windows 10 phone'. That OS is not finished and the SDK/APIs are not out yet, so please adjust expectations and wait until that OS has been released.

I have 1520 with windows 10 and it says I don't have more than one Gb of ram

I had that same issue with my 1020. Had to hard reset my device and not recover from back up for store to recognise that my device was 1gb+. I think that there is a bug when you hard reset win10tp and recover from backup.

A soft reset worked for my 1320. Might help others too.

Can't install with network data!!!
Too bad for me......

Ok, im really going back to 8.1

This is a bug involving 1gb ram phone on tech preview, sometimes a soft reset fixes it

Agree with Daniel. Just roll back today from windows 10. Few apps doesn't work properly. Even I can't sign in many apps including WC. +520

Open the app up on windows phone.com and download off that on your phone for those having problems on win10 tech preview

Time to upgrade. Trust me...it's worth it to go 1GB or more.

Me too I Love my Lumia 720

Good luck then, just don't expect it to run demanding games. Btw, I really liked the 720 design, but I like the 730 even more.

I love ya GameTroopers. Will be trying this game out.

Man, there is such heavy use of "massive, incredible, beautiful, and gorgeous" here...kinda annoying when they do this.

I think we can do better than critiquing the game's description rather than game itself. Seems to be setting the bar quite low.

Downloading.
around 500mb..

Games troopers will add support for 512 I'm pretty sure!!

I'm sorry, but graphics intensive games were never meant for low memory devices. You should upgrade to a Lumia 640 or 730.

"console...excuse me....CONSOLE QUALITY GRAPHICS"
hey they never specify which console....

It looks a lot better than my Atari 2600.

Java China fake handheld game console

That's the best kind of games console

BTW may want to thank unity (I guess) for the game engine

Amazing! Really love the team at Game Troopers! Keep 'em coming guys! :D

Is this a "pay to win" title??

The game is free and also features Xbox live. It'll be really interesting to see if it's not plagued with IAPs. But I doubt it is.

An FPS that is Xbox-certified and is free?! Score!! Thanks WCentral :) and of course, the developers for supporting Windows OS! :)

It's a third-person shooter.

Console quality isn't good enough.

"This title does not SUPPORT* 512 mb devices"
Please correct that small typo in the banner, Rich? :)

glad to see so many English teachers here in Windows Central but this banner discussion has been discussed before, I just can't find that comment. maybe someone from WC can rejustify the "SUPPORTS" usage in the banner.

Lol, of course I knew I wasn't the first one to point it out. Although its a tiny mistake, I sent them a mail anyway :P

Definitely support Game Troopers WP users. They're doing a fantastic job.

I'm confused. The article says it's a first-person shooter, but the screenshots are all third-person. The features list even says, "3RD PERSON SHOOTING."

Xbox enabled game + quality graphics =freakin awesome...This just got my hopes ao high for Windows 10 and DirectX12 support for phones...Combine that with the Unity and Unreal engine...and we could get mind blowing games on our phones !!!

Lol it's not first person shooter, it's third person shooter :P

Actually, both are wrong: it's "first-person shooter" and "third-person shooter".

Now everyone should upgrade to 1gn ram devices. Stop complaining now . Plaese

Overkill III (Under The Influence) is a great song :):):)

Glad to see more games coming from Game Troopers, who seemingly care more about Xbox gaming on Windows Phone than Microsoft Studios does. However, I'm worried about the state of Abyss. They announced it a long time ago and have released several other games that were announced after Abyss. Hope Abyss is still coming. That looks like their most promising game.

Why are you all hating on 512ram. It's what the phone was made to run and alot of people have 512 Ram more than 1gb phones. Low price phones 1gb phones like the Lumia 530 is not good for gaming because it can run the game but it will lag and the experience may not be good has having a phone with better processer. Having good processer good ram Microsoft has making phones with the same hardware has a 2 year old phone with 1gb But those hardware work better with 512ram

Just shut up, upgrade to 730/535 and learn a bit of English. Believe me, my life is a lot better now after I bought the 730.

Why why why why why why why PS there is a hack to play 1gb games on 512 so hahhahahahaha and once I have it on my 630 I will.be posting a video subscribe to SquigglyMDV see Pla This game on my Lumia 630

All of android phones running 512ram can play any game so maybe in the future Microsoft or windows 20 they can fix this problem

Ya maybe android 20.2.1 with 16gb of ram will stop lagging and stop slowing down after months of usage and 0.00% of virus in mobile

Yeah sure but it depends sure they can. Asphalt 8 on Nokia Lumia 1520 it plays amazing like console graphics on 520 it plays on low settings and its the exact same game. How have the mange to do that

Not true... e.g. http://www.androidgamesroom.com/stand-alone-games/84985.htm This app requires 1GB of memory and an AP: Dual-Core Android games also sometimes have memory requirements.

We will do our best to support low memory devices in future ...That's what I call A support.Lumia 620( )

Damnit!! Another one of the rate times when I really hate these 512mb phones! Ohhh the frustration and on a Monday nonetheless! Note to Nokia/Microsoft..... Quit making otherwise awesome phones with 512!

They HAVE quit making 512mb phones.

For Xbox Now!!?? (sounded like a new device or service) :D

Good thing its free,but its not what I thought.