Pac-Man, Ms. Pac-Man, Galaga, and Dig Dug are now available on Xbox One and Steam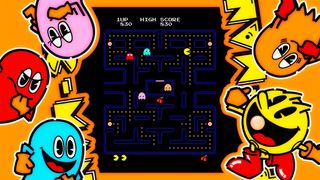 Bandai Namco has released four arcade classics, bringing Pac-Man, Ms. Pac-Man, Galaga, and Dig Dug on Xbox One and Steam. Each individual game costs $3.99, and there's an arcade game bundle (opens in new tab) that offers Pac-Man, Galaga, and Dig Dug for $7.99. The port allows you to play the arcade titles as they were originally intended, or you can customize the sound settings based on your preferences.
Pac-Man
Ms. Pac-Man
Dig Dug
Galaga
You guys looking to pick up any of the classics?
Windows Central Newsletter
Get the best of Windows Central in in your inbox, every day!
Harish Jonnalagadda is a Senior Editor overseeing Asia for Android Central, Windows Central's sister site. When not reviewing phones, he's testing PC hardware, including video cards, motherboards, gaming accessories, and keyboards.
Just had that nostalgic feeling. Back in the days, I played these games like crazy. BioResearch & Games.

I get that nostalgic feeling when I play these games on my Atari. Fighting with imprecise controllers is half the fun.

Yes! Just spent €7.99. Fairly cheap for a trip 35 years back in time to the local grill and arcade hall.

It's a no-brainer getting these. Would love to have 2 of my all time favorites though ... Scramble and Defender (the later for the fifteen fingered).

Keep in mind these four games all come from Bandai Namco (Originally just Namco). Scramble comes from Konami, Defender from Midway (someone else must own it now), and Lunar Lander belongs to Atari.

I thought Defender was from Williams, but you seem to know your arcade games, Paul, so could be wrong.

Midway bought Williams out in 1988, but you're right that Williams originally created Defender. :)

I would pick Joust and Defender myself

Two of my favorites! Plus Robotron (I think all 3 by Williams). Games were SO much faster then.

If you like Robotron, you should definitely check out Ultratron on Xbox One, PS4 and Vita, and PC. We reviewed it awhile back.

As mentioned in the comments. Ultratron is not even close to robotron except for being a twin stick shooter. the power ups and enemy ramping are completely unbalanced, and the visuals are too distracting unlike the minimal type in robotron. unless they make williams arcade backwards compatible, thats the one to wait for.

@Paul Acevedo and @​negative1ne, I should probably at least check it out. An interesting difference between coin-op and modern home play games is the intended time-to-play. Virtually all old-arcade games (Gauntlet was different) were intended to ramp the difficulty so that within 1-3 minutes, the game was over for nearly all players. If you wanted to play longer, put in another quarter (keep in mind these machines were sold to customers who bought them to generate revenue). Modern games, bought be by players not coin-op operators, tend to get easier as your get further, more power-ups, etc. following the old RPG theme that a more experienced character shouldn't be too easy to kill off. I've never played it, but could that be the challenge difference with Ultratron?

Ultratron basically gets more chaotic as you go on, but you get upgrades that help make it manageable. On the default difficulty it's pretty reasonable, and a skilled player can basically play forever. Anyway, you should definitely try it for yourself and see how you like it. The other Xbox One twin-stick shooters that I'm fond of are Crimsonland (my fave) and Tachyon Project (a bit rougher, but fun). They're not particularly arcade-like, though.

It's not a direct Robotron clone, but it takes enough obvious inspiration from it. The visuals (while perhaps not for everyone) are part of the appeal.

If anyone wants something like Robotron, please try Waves and Waves2 on Steam.

Yes (different company though -- Williams for Defender, don't recall who made Scramble, maybe Konami?). By amazing coincidence, I was just trying to explain Scramble to my young daughter a day or two ago after we watched Pixels as one of the games I used to play as a kid. I've not seen Scramble since around '83 or '84. Definitely didn't have the longevity or fame of many of these. By the way, that Pixels movie turned her into a Q*Bert fan. Does anyone know how the original Q*Bert game used to make that clicking sound when Q*Bert fell? It must have had some sort of mechanical device inside the game, but never had a chance to take one apart to see it.

I just said who made Scramble. Come on now. :P I used to like Q-Bert as a kid, but I find the challenge frustrating nowadays. The Vita game suffered from disappointingly imprecise controls, too.

Sorry, responded before I saw yours. :-) I haven't played these games other than on the original arcade boxes in most cases (I recall a horrible version of Defender on Atari 2600/VCS). I was never really much of a Q*Bert fan myself, but it had one unique feature which seems to have been lost in the new releases -- a mechanical clack when Q*Bert fell off the platform. It was quite disconcerting and made falling viscerally painful. Only mechanical sound effect in arcade history (not counting pinball), as far as I know.

I wonder why they didn't offer a bundle with all four games. Might be a licensing issue with Ms. Pac-Man, which also had to be purchased separately in Pac-Man Museum on Xbox 360. We'll review these ports soon.

Interesting and too bad not all are together. This is a case, in my opinion, where the sequel (Ms. Pac Man) really crushed the original in terms of game play, even if not in terms of sales. I worked with a guy (coin-op sales exec) who had Pac Man cuff links made from the first run systems.

Paul, please also review Atari Vault.

Thanks for the suggestion! I'll put in a request. If I don't review it within a couple of weeks, please remind me via Twitter or replying to my comment here.

I'm downloading this right meow!

Pac-Man, Ms. Pac-Man and Galaga were already available on Xbox One through Xbox 360 backcompat., Dig Dug was also available on the 360 but didn't get the green light for backcompat. yet. ​I hope this is not a sign that they'd rather force us to buy games again rather than just signing the backcompat. agreement. Especially for games where the Xbox One version obvisouly doesn't bring anything new... it's not like graphics and gameplay required the extra power for those.

These versions have new Achievements, and they're slightly cheaper than the old versions. Besides, it's faster and possibly more convenient to run games written natively for Xbox One over backwards compatible titles. Of course, the real reason these exist is because they're more likely to sell to Xbox One owners than the 360 versions, and that's fine. Me, I'd love to see lots more classic arcade games come to the 'Bone in the future.

Also, Pang is in the store. Rare blast from my past.

Pang Adventures seems great so far! I look forward to reviewing it in a week or two. :)

By crazy coincidence, I was thinking about Pang a few weeks ago. Happened to use Community Calendar yesterday and noticed it featured at some time in the future. Click on it and it took me to the store. Couldn't believe it, I used to love it. I think £7.99 is a bit pricey though. Amazing how so many games don't seem to get flagged up, then I go in the store and get a nice surprise. I look forward to your review.

Keep in mind it's a full, new game - not a rerelease. The $10 price in the US is appropriate for the level of content included in the game. I know UK prices tend to be higher though.

Fair point, well put. Now if I could get Supercars 2, I'd be happy. Or maybe not.... Some titles are better in memories.

Got all these and more with M.A.M.E (PC and Android) plus the original ROMs so no need to convert. Just need a universal emulator and we can have all these on any device...

Sure, but you don't own ROMs. When the product is commercially available and you choose to play a copy rather than buying it, that's software piracy - which we do not condone here.

I'd love to play Moon Cresta again. I put so many 10p in the machine in the café next to my school, I probably bought the machine!

Yes, used to play that down the chippy - loved it, 3 stacked ships!

I wish they could release these games as universal windows apps on the windows store so users of pc, mobile, HoloLens etc can enjoy them too. Posted from my awesome new Lumia 640 XL with Windows 10 mobile.

All of these are available on Steam, so PC users can get them at least.

Thanks for the tip! I'll check it out. Mobile is always left out of the fun unfortunately. Just hoping this can change with universal windows apps. Posted from my awesome new Lumia 640 XL with Windows 10 mobile.

the steam versions are decent.

Q-Bert is also on XBoxOne and is darn fine port.

not really. it's a very clunky port, that has wrong sound effects, and doesn't play like the arcade. the extra men settings are worng. etc etc. its average at best.

Time for an 'old School' game list....love Pac man. Spent hours feeding one of those classic table machines!!! My kids going to get the right hump now! Like others, pixel reminded me of my youth, despite the fact that Adam Sandler was in it....Donkey Kong.... Other classics, that I loved as a youngster asteroids, Galaxians, bomb Jack, jet pack...happy days

When is Sega going to release Zaxxon??

Atari Vault on Steam is awesome. There were a lot of problems in the initial release but the recent update fixed most of them. Atari Vault has Asteroids, Asteroids Deluxe, Space Duel, Tempest, Centipede, Millipede, Red Baron, Pong, Lunar Lander, Crystal Castles, plus 100 Atari 2600 games.

ummm these 25 year old games exist in so many formats why would you pay for them now? I wouldn't pay a red cent for any of these, not even a bundle of them. They are so freely accessible its not even funny....

They're not legally free anywhere, especially not on consoles. We don't allow discussion of piracy here.

ok.....you're right. This (http://www.theverge.com/2014/11/2/7147505/the-internet-arcade-puts-900-classic-games-right-in-your-web-browser) doesn't exist. Also....(http://www.retrogames.cz/) I'm sorry.....I'm gonna go now.......and play jungle hunt and qbert, and dig dug, and pacman for free.... My simple point was, you shouldn't be paying for these games, they are old, and have exhausted out their price, and *should* be free. You're basically spending money on something is available in other formats, and its just somebody cashing in on the same idea, from 25 years ago.

Let me know when one of those sites allows you to download and keep the games legally. Also, the second site doesn't appear to be legally distributing those games as far as I can tell. Nor would any streaming arcade emulator solution allow console players to properly experience those games. And that's to say nothing of your loose interpretation of copyright law. As I said, no piracy discussion (or lobbying) here, please.
Windows Central Newsletter
Thank you for signing up to Windows Central. You will receive a verification email shortly.
There was a problem. Please refresh the page and try again.