Pandora, Vevo, Bravo and Telemundo Xbox One apps launched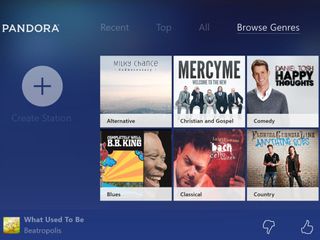 Microsoft continues to add to the library of apps made for the Xbox One console. Just a few days after it added the Khan Academy and Popcornflix apps, four more apps have been launched: Pandora, Vevo, Bravo Now and Telemundo Now
Here's a quick look at each app:
Pandora. Great music discovery is effortless and free with Pandora on Xbox One. Just start with the name of one of your favorite artists, songs, genres or composers and we will do the rest. It's easy to create personalized stations that play only music you'll love. Pandora for Xbox One is available to Xbox Live members in in the United States.
Vevo. Vevo offers the largest collection of premium official music videos. Start watching your favorite music videos and catch daily video premieres by downloading Vevo for Xbox One today. Discover exciting new music videos, original shows, and live music performances from your favorite artists. Vevo on Xbox One is available in Australia, Brazil, Canada, France, Germany, Ireland, Italy, Mexico, Netherlands, New Zealand, Poland, Spain, United Kingdom and the United States.
Bravo Now. Bravo Now is your one-stop destination for full episodes and video from all your favorite Bravo shows. Just sign in with your TV service provider login information and you are ready to watch your favorite Bravo programs whenever you want. Bravo on Xbox One is available in the United States.
Telemundo Now. Watch full episodes of the best Telemundo Novelas, Shows and Specials as well as exclusive content like interviews, behind the scenes and more! For the best viewing experience log in with your TV provider's user name and password. Telemundo Now on Xbox One is available in the United States.
Source: Xbox Wire (opens in new tab)
Yay. Pandora. Was just thinking about it

Wow Microsoft is nailing they are bringing all apps good glad I got an Xbox instead of ps4

Just in time for more Cubans.

Still hoping for a Spotify app

4 apps? that's it? If they had opened the SDK to app hub developers, today you would have seen 40 new apps. MS needs to stop trying to roll back the clock. Open App stores are a key to success. I'm glad MS isn't a force in mobile or you'd have 10 apps in windows phone today and probably cost a fortune on top of pulling favors with MS insiders to get a shot at making one app.

Hmmm... Interesting... Hope you have/having a wonderful day :)

They will with Windows 10

Is that what Android has: If that's the case, then NO THANK YOU!! I enjoy being able to download an app and not have to worry that it's going to send my info to Russia or North Korea.

Lol "4 apps? That's it?" What an ungrateful negative Nancy...

Your comment makes no sense. No console has ever had an open SDK for apps on it. You're basing this on literally no evidence what so ever.

If we could only get Pandora for Windows 8.1

Yeah, Pandora was the first app I looked for when I got my HP Stream 8 and I was shocked that it wasn't already in the store since it has been on Windows Phone for a long time already. What's the hold up on releasing a Windows 8.1 app?

Xfinity app, please. The Comcast UI, for On Demand is horrible.

Comcast everything sucks except their internet speeds. It's been 8 years since I was a customer and their guide is still the same lol

Slacker Radio and MixRadio would be nice too. Also, a way to mute TV while listening to the snapped Xbox Music app or use Xbox Music in the background with games would be great features.

Now that is an interesting use case I had never thought of. You want to have TV playing - with the music app snapped or playing a game so that Xbox music can play over it. I can see while playing a game, I personally don't see a use case for music in the background while watching TV - but the games scenario is interesting. I wonder if they could "mix" the two so I could hear low game sound with a slightly louder music volume.

The option is under settings, called audio mixer, i believe. You can adjust the balance of whether the snapped app or main app is louder. I wish it was easier to access though. It should be able to be brought up at any time.

Oh wow! Thanks for the tip! I overlooked this when I was trying to find an option while watching the ball game last week.

See that shit. Way to go funky general!

Go to Xbox setting, Display & Sound, under the volume column is a sound mixer setting. This lets you set the volume between main app and snapped app.

Ability to play music in the background is probably the most requested feature X1 doesn't have yet.

A Deezer app would be nice...

Omg....VEVO. I hope it's the latest version with Music Channel selection and in HD.

Why don't I see these? Nevermind, hard restart updated store.

What about for the 360 users, I'm tired of using slacker radio

Sorry for an unrelated question. Does anybody know when Yupp tv app will be released for Xbox one?

Apps make a platform. Good to see Xbox beating it's competitors in that department.

Yet, there's no Windows 8 app?

fucking love pqndora. now we need iheartradio

Yes! Doesn't even work in the browser. :-(

I am still waiting for twc app

Vevo for Xbox One appears to have some serious issue, every time I open it, it always tells me some errore occured, and then kick me out. I haven't seen any MV ever since I downloaded it, may as well use youtube app instead. Does anyone have the same problem?
Windows Central Newsletter
Thank you for signing up to Windows Central. You will receive a verification email shortly.
There was a problem. Please refresh the page and try again.