Pandora Windows Phone app Radio Controlled back in beta, working again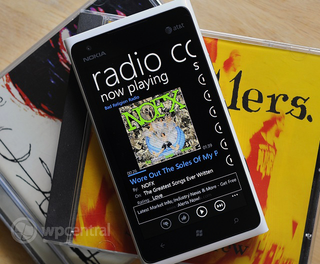 Two weeks ago we mentioned how Pandora altered their APIs resulting in all the unofficial Pandora apps for Windows Phone not working. At the time we mentioned that devs should be able to fix the issue with an update to their apps.
Although it's taking a little longer than expected, we're streaming Pandora just fine on Radio Controlled (beta) and we expect the same for the other apps eventually too. The developer of Radio Controlled, Greg Wenograd, let us know about this latest fix:
So stand by Pandora users as your fix should be coming soon. You can grab Radio Controlled here in the Marketplace and wait for the new, working update to appear in the next few days.
Windows Central Newsletter
Get the best of Windows Central in in your inbox, every day!
Daniel Rubino is the Editor-in-chief of Windows Central, head reviewer, podcast co-host, and analyst. He has been covering Microsoft since 2007 when this site was called WMExperts (and later Windows Phone Central). His interests include Windows, laptops, next-gen computing, and for some reason, watches. Before all this tech stuff, he worked on a Ph.D. in linguistics, watched people sleep (for medical purposes!), and ran the projectors at movie theaters because it was fun.
Metroradio needs to be back up too.

Yeah need my Metroradio back...

Pandora sux just give up people lol last.fm is better and now tune in radio is awesome plus iheart radio

I love how people like you come on here and tell me that something sucks, and that I should be using something else. As if I couldn't think for myself. Thanks for nothing.

Since moving to my Lumia I havent installed any of the Pandora apps. Not the devs fault but cant be bothered with all this faffing about when alternatives exist. Not one to support a company that seems this intent on blocking WP users.

I have metroradio installed but since its down, I've been using last.fm and I think it's fantastic. Scrobbling is great and its fast, elegant and reliable. The only thing I miss is being able to tap on the playing song and be directed to the marketplace. Other than that it picks some really good songs both old and new.

I emailed Pandora yesterday. Here is the reply I got.
Thanks for writing and for the feedback. Thanks also for your interest in having Pandora on Windows Phone 7. We are not developing an app at this time, but we will definitely keep it in mind while planning our product priorities for the future. We know that our recent release has broken most unsupported Pandora clients, and we do apologize for the surprise and inconvenience that undoubtedly caused to your listening experience. At a basic level, third-party applications are violating our Terms of Use and are obviously not authorized to sell (or give away) something that fundamentally derives its value from our product. Beyond the boilerplate, though, the fact is that--while the use you are writing in about seems designed mainly to help folks listen to Pandora in their own way--some folks do use third-party unsupported client libraries in a harmful way, and so we make changes when we need to prevent this. Regrettably, we have no way of targeting changes towards some unsupported clients and not others--some are respectful of our business, but unfortunately we can't tell them from those that are not. Even disregarding attempts at malicious use, we do of course still have to continue to upgrade our software, and unsupported clients have been broken by these sorts of routine changes many times in the past as well. We definitely do recognize that our actions limit the options available to well-intentioned listeners who do not want to use any of our endorsed clients, and we're genuinely sorry for the inconvenience this brings to our enthusiastic listeners like yourself! We really appreciate your support of the service and respect the DIY spirit, but our hand has been forced on this issue. Thanks so much for your understanding, and thanks again for reaching out.

That's a great response. Thanks for sharing it!

We appreciate your support of your service my butt. Just make an app already.

Been a long time pandora listener, from BB 5, to WebOS, Android... But I'm not going to use Pandora "some days" and other days have to scrounge for an alternative. I'm going to use Last fm from now on. Nice job Pandora, you're screwing yourself over with this 2% community! ;)


There are Zune pass, iHeartRadio, Last.fm, Spotify, Slavker radio to replace Pandora.

Yup ... Last.fm and Tunein is my combo, too. Up until WP7, my wife and I were Pandora users. Pandora pales next to these, IMO -- wish I had discovered them sooner.
My only wish is that their buy links gave me the option of Zune Marketplace, where I buy all of my music nowadays ... usually 10 to 20 songs/mo.

Slacker Radio + TuneIn Radio (For live radio) is the winning combo for me. Pandora just doesn't matter anymore. It's not even better than the other services so I'm not sure why people get hung up on it. iHeartRadio, Last.fm, Slacker, etc. all can do the same thing, and arguably better in some respects.

Pandora apps would be nice, but last.fm meets my needs

I understand that you guys are @$$es Pandora. You won't make a WP app, but you do have lots of time to 'accidentally' break the 3rd party ones.
Up yours Pandora.

Ok, so my MetroRadio app does not work, and I cannot find any "Radio Controlled" app in the marketplace. What am I doing wrong?

None of the unofficial Pandora clients are working on my Phone, the application runs but no audio output. I have tried all MetroRadio Radio Controlled WpFandora What could be the reason

helo any one know a good internet radio app for J-POP? iwaz using pandora but i cant seem to get radio controlled to work? it sai that i failed to login, please try again later? any help wood be apreciated, plz send email @ minorukokabunjii@yahoo.com
thanks.

nevermind. metroradio is back online, but radio controled is still down.
Windows Central Newsletter
Thank you for signing up to Windows Central. You will receive a verification email shortly.
There was a problem. Please refresh the page and try again.