Pandora for WM: It's getting there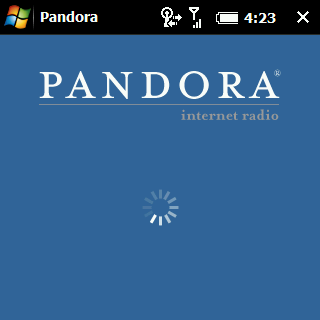 Last we heard about Pandora on WM was from Phil at the begining of December, who gave a great overview of this popular program. Back then it was working, but wonky and not many devices were supported.
Today, well there are still only a handful of "officially" supported devices, but by most accounts it is working quite well on many e.g. Moto Q9c, Treo 800w, Treo Pro, Touch, Mogul, 700wx, Diamond, Touch Pro, i760 and Tilt.
Recently I took version 1.1.4 of the program for a spin (1.1.10 is out now) and notwithstanding a few glitches, it's quite the killer program on WM.
Read below for a smattering of screenshots and my experience.
The installation involves a 788kb .cab file and is pretty straightforward. Upon launching, you are asked to either create an account or use an existing one. At least on my Treo Pro, attempting to create an account resulted in an error regarding my lack of suitable zip code. Unfortunately there was no spot to enter a zip code that I could see, so that was a no-go. Instead I jumped on the PC, navigated to pandora.com (opens in new tab) and just created an account there, then logged in on the WM version. Worked like a charm.
From there the interface and setup is real simple: select a band or artist that you like, enter it and off you go on the Pandora wagon.
Audio is roughly equivalent to a ~64kb stream: not bad, not great and it depends or your connection. CPU speed varied from 20-50%, so yes, this is a battery killer. Leaving my Treo Pro plugged in to the AC though I was able to re-charge and stream with no issues. Stereo BT (A2DP) also works just fine Pandora too, which is great.
Once playing, your soft key areas become "thumbs up/thumbs down" keys where you can rate the song. If you give it a thumbs down, it skips that tune and hops to something different. You can also go back and forth between the various songs/artists and rate them later. There's also a bunch of menu options (see below) for you to customize your playlist.
Overall, I'm quite impressed although the latest version has some glitches on my phone (cannot create a playlist?) and there are some Microsoft "ads" that pop up on the device. The ads are to be expected and they are not really intrusive plus they can be dismissed by pressing "q".
But hey, Pandora is a pretty cool service, it's free and it works pretty darn well. Plus the important part is that Pandora is releasing updates and improving upon the service, so give it a shot.
Get the Windows Central Newsletter
All the latest news, reviews, and guides for Windows and Xbox diehards.
George is the Reviews Editor at Windows Central, concentrating on Windows 10 PC and Mobile apps. He's been a supporter of the platform since the days of Windows CE and uses his current Windows 10 Mobile phone daily to keep up with life and enjoy a game during down time.
Doesn't seem to be letting me download and install from my touch pro. I navigate to pandora.com from Opera and it says my device isn't supported. I tried PIE and Skyfire too... :(

I've got a Vogue which it runs great on. It's a solid little program. I use it every now and then, but still find myself gravitating back toward streaming stations via Kinoma.

I do get a kick out of how there's always a Windows Vista banner on there (have never seen another company listed.) It's not an obnoxious ad at all, but sort of like preaching to the choir as I already like and use Vista.

Yes, the article is incorrect, no Touch Pro, 800w, Treo Pro. Not sure where those came from. If you go to Pandora's site (http://www.pandora.com/on-windowsmobile), they clearly specify only 5 smartphones: 1) HTC Mogul on Sprint
2) HTC XV6900 on Verizon
3) HTC Touch on Sprint
4) Motorola Q9C on Sprint & Verizon
5) Samsung SCH-i760 on Verizon

@Levi Wallach Article is 100% accurate. Officially, Pandora only supports those devices; unofficially they work on many others. Case in point, all those screen shots are from my Sprint Treo Pro and 800w. Also, if you follow the ppcgeeks link, you'll see the running list of WM devices it is currently running on. Sometimes you have to look deeper than what companies suggest ;-)

Thanks Malatesta, although maybe you could have said something like this in the post to clarify? IE - people who don't have these phones will need to download the cab from ppc geeks? Unfortunately even though this is available for my phone (The Touch Pro) because it is full VGA, it still doesn't work right, which indicates to me that while I can install the thing, the official lack of support corresponds to an ACTUAL lack of working! ;-)

This is still not working for my Diamond...When it starts I dont see anywhere to enter a username or password and then just says sign in failed. Anyone figure out how to get the text boxes to show up?

@Bakk, try the 1.1.4 version at ppcgeeks linked to in the article--that one works around this problem

My issue with the review is that while you mention the bitrate being lower, honestly I think it sounds like absolute crap. It really just hurts to listen to. I do have nice earphones that are very revealing, so that's partly it, but really you can hear the distortion from the low bitrate on almost everything, but especially on both the high end (cymbals) and the low end. If you're right with your estimated 64kbps bitrate, the desktop version is double that of the WM version, and it shows.

It works perfectly on the Samsung Omnia I910 for verizon. I can even stream while driving my car and listen through AUX jack. I won't need XM anymore.

It's nice they finally got around to supporting Windows Mobile (since for how long has WinMo existed before the iPhone?), but the scant amount of devices is shocking. How hard is it to get it working on different phones? The controls don't seem to be overly complicated (if you don't have touch, you'd just need a d-pad and the left/right click buttons). So what's holding them back? Here's a list of current devices: http://www.pandora.com/on-windowsmobile

The program is QVGA, @quikboy... That's the only thing. It works on my Dell AXIM x51 just fine. It's not devices per se, it's resolutions they need to work on.

Really like your view. Some real matter's are discuss in here. Thanks for sharing with us. The information which you have provided in here in utterly important. __________________________ Nick From Amaderblog

Using that same 768kb cab file I do not get any fields displayed where I can enter sign-in information.
Do you know how this is done?

You are awesome for choosing bad religion as your band for the post pics lol they're the shit and i still cant dl it for my touch pro wtf?

I actually wrote to Pandora support about getting this on my HTC Imagio with WM 6.5. Here, for your pleasure, is the exchange: Hi, I have an HTC Imagio phone that is running Windows Mobile 6.5. I used to have a Motorola Q that I really enjoyed using the Pandora mobile application on. Since I've had the Imagio, I have been told by your mobile web site that my phone is not supported. The Imagio is the "latest and greatest" Windows Mobile phone that HTC markets, so I was wondering if/when the software will be allowed to be loaded onto it. My carrier is Verizon Wirelss, and as I said, the phone is the HTC Imagio running Windows Mobile 6.5. Thank you for your time, and I really DO love your web site and miss it a lot on my phone. --- Hi Duane, Thanks very much for writing. Supporting more Windows Mobile devices is definitely something that's on our radar, but for several reasons, it's among the more tricky smartphone platforms to support. Unfortunately we can't do everything we'd like to do at once. It will probably be some time before we support additional Windows Mobile devices. If having Pandora on your phone is a key feature for you right now, perhaps you'll consider one of the devices that is currently supported here: http://www.pandora.com/on-the-go Thanks for your patience in the meantime. Best, Jed Pandora Listener Support -- I am curious. Why is it about the Imagio that makes it not supported? This is a new phone, and I will have it for a while, so I'm just curious. Thank you.
Duane. -- Hi Duane. Every device is a bit different, even if it seems to have the same operating system or even the same model number. Buttons, display sizes, internal hardware and capabilities, as well as support software functions, can be completely different. The carriers configure these devices specifically for their networks and often install different software on them too. We're specifically looking for platforms that offer a clear path for development and certification, a strong likelihood of being able to re-use our code, and a robust platform lifespan. We only offer Pandora as a downloadable application to devices that we have fully tested, so as to ensure the application will work correctly and won't cause any problems with functions of the device. We are working on a lot of different devices, but Windows Mobile became too problematic to support given the resources we had at our disposal. As I said, we do hope to support more Windows Mobile phones in the future. Hope this is helpful.