Paper Monsters updated, now available in Brazil, Russia and other regions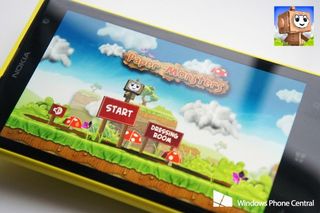 It was a little over a week ago that we showed you boys and girls a new game for Windows Phone called Paper Monsters. It's a popular game on Android and iOS, which means we're pretty happy to see it join the platform. We spent some time playing with it and walked away very impressed. It's a beautiful game with a superb presentation. Let's check out the update it just picked up.
Head to the Windows Phone Store and you'll see Paper Monsters sitting at version 1.0.0.1. Which means this isn't a huge update with new features or anything, but it's one our friends in Brazil, Russia and other countries will appreciate.
The game has been updated to include PEGI and ESRB ratings. This means it should be open to download in more markets.
Want to get in on the action of Paper Monsters? It's really, really fun. Grab it for $0.99 in the Windows Phone Store. (512MB devices supported)
Thanks for the tip ME!
Get the Windows Central Newsletter
All the latest news, reviews, and guides for Windows and Xbox diehards.
I'll try this one. Looks nice.

Great! Where's Guilherme to celebrate?

Can't tell if sarcastic, but if I were a developer or Brazilian I would know how to get a game on the store due to him :)

I'm not being sarcastic. I'm Brazilian too and I really appreciate Guilherme's efforts to help the Brazilian community :)

Thanks guys!! I'm here!! ;)

Lol gotta love em. I'm half Brazilian and im always happy to hear about their progress. Thanks for the article Sam.

first thing I thought too, haha

Thanks Sam. I would try this. Tons of praises on the app page. Woohoo!

Yup, I'm getting this. Been interested but wanted to know more about it. I do wonder if they noticed they left the mouse pointer in the trailer or is that suppose to be part of it's charm.

Dude its so boring. Most of the appeal is in collecting and you have to restart a level if u miss one.

I saw it on Steam for way more than 99 cents. Making me consider getting WP version, but no achievements.

Looks lovely, thanks for remembering of us fellow brazilians! :D Sadly, I'm not one for smartphone platformers, but I really do like the looks of it...

Meanwhile, Xbox is slowly dying.