Paper Monsters invites you to a world of paper, cardboard and a few cotton balls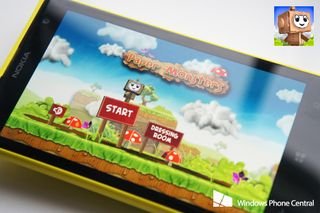 There are a number of cute games available on the Windows Phone Store, a perfect example being ilomilo. Should you be looking for a cute 3D platformer, look no further than Paper Monsters. The title, just released on the platform by Mobot Studios, is a solid game worth purchasing. When you have a few minutes to waste on your Windows Phone, allow Paper Monsters to teleport you to a world of paper, cardboard and a few cotton balls.
The aim of the game, much like any standard platformer (think back to the likes of Super Mario), is to progress through each level, traversing past obstacles and destroying (or avoiding!) enemies along the way. What Paper Monsters does superb is presentation - the game is nothing short of beautiful. There aren't any simple graphics here, Mobot Studios has done a stunning job on the visuals, bringing the somewhat strange world to life.
You've got all the 2D elements you've grown to know and love and some 3D magic injected into the works. To polish everything off are adorable characters the player can connect with as he (or she) progresses through the selection of levels. But what would a video game be without music? The soundtrack to Paper Monsters is fantastic. It's good enough for us to agree with the developer and strongly recommend a good pair of headphones to truly appreciate the immersion offered.
Levels? There are 26 to choose from, spread across 6 unique worlds. More than enough content to keep you occupied for some time. Then you have the multiple game modes available.
Environments in the background can be explored through tube-like portals, enabling you to explore hidden locations to collect paper clips and buttons. Talking about buttons, there are both silver and gold buttons to collect on your travels. The latter coloured buttons can be spent in the store on optional accessories for your character. Some are humorous, while others are just hilarious. There are even underwater and flying power-ups to obtain on your travels.
The best part about Paper Monsters are the controls, which are easy to use and help keep the UI clutter-free. Regardless of age, you'll be able to pick up and enjoy the game.
It sounds like we're hyping Paper Monsters up, and rightly so. It's a solid game and certainly worthy of your arsenal. You can download Paper Monsters from the Windows Phone Store for $1.99 (Windows Phone 8 only - 105MB / compatible with 512MB RAM hardware). Paper Monsters is currently on sale with 50 percent off to celebrate the release on Windows Phone, so be sure to grab the title today!
Thanks, Mohamed A., for the tip!
Windows Central Newsletter
Get the best of Windows Central in your inbox, every day!
Rich Edmonds was formerly a Senior Editor of PC hardware at Windows Central, covering everything related to PC components and NAS. He's been involved in technology for more than a decade and knows a thing or two about the magic inside a PC chassis. You can follow him on Twitter at @RichEdmonds.
Looks pretty cool. Might give this a spin.

I had this on Android, nice to see it arrive on WP.

Nice to see YOU arrive on WP :)

WTF are you talking about, I ditched Android ages ago but thanks for jumping to conclusions!! FYI I've been using Windows Phone since its initial release!!

Maybe you should read the post above mine first as that one wasn't particularly nice either, was it?

Whether you arrived recently or years ago is irrelevant to his statement welcoming you here.

Calm down dude,he just made a light and funny statement/joke based on your comment,no need to blow off your head.

Um, I wasn't being mean. I was trying to make a light-hearted comment thanking you for making the switch over from Android. But okay.

Which is why I didn't understand his attitude towards your remark.

Thank you. At least you understand. Haha

Agreed. I don't think he meant any disrespect.

OK, as an example if I write "If you think about it..." it's just a sentence that doesn't mean anything. If I write that same sentence as "If YOU think about it..." then just capitalising that word changes the entire meaning of that sentence.

Understood. No harm done, right? I apologize for all this commotion. I didn't mean to cause discomfort amongst the crowd.

Only the best of the best make their way on to my phone, and thus game doesn't quite make the cut.

By that I guess you mean Xbox only!!

The games hub in WP 8.1 would beg to differ!!!

I have this on my android tablet- my kids ( and I) love it and play it all the time. its super cute.

It supposed to be 1gb? Not 105mb right? . :)
Edit: owh, never mind. My bad.

Yaa man where's gta? Long time now

Mobot Studios, please make this game available here. I can help with the process.

Sorry, Brazil. You can upload PEGI or ESRB certificates to make it available here. Just upload one of these in the place of the Brazilian one (DJCTQ) and choose a game rate that matches your certificate, select Brazil and its done.
If you want you can send me an email to guilheremanso at outlook dot com and I will help you.

That's odd, I already uploaded the ESRB certificate and I thought Brazil was available by default... but I've got a PEGI rating too, so I'll try to update soon and let you know when it's published! :)

You have to upload one of these certificates in the row of the Brazilian certificate (DJCTQ).

We're submitting an update today, so hopefully it will be available to download in Brazil within a few more days...

Oh, great! Please let me know when becomes available so I can spread the news with the Brazilian guys.

Should be live in Brazil and Russia now, thanks for letting us know!

It kinda reminds me of little big planet

Off topic : what happens to nokia pimp my raindeer contest? Did Nokia have announce the winner yet? Or am i missing the announcement or something.

I'm showing .99 not 1.99. Sale maybe or was this a mistype?

Good game, but I really want clash of clans!!

I really don't want clans but want it for wp ppl.

Great game and super great to see more apps making their way to WP. Shame not xbox certified but that's most likely to do with microsofts "wonderful" certification programme and the costs involved. #savexboxwp

Thanks for the all the feedback everyone, we definitely saw a nice spike in downloads from this article which was aweseome! Feel free to tell more of your friends about the game too. :) Several people asked about trials and we're looking into the easiest way to implement a trial option for Paper Monsters right now. Because the game is build with Unity 3D it seems to be a little trickier than if it was a pure C# and XAML app, but I'm sure we can figure it out and put into a future update.