Paper Plane! is a frustratingly addictive game for Windows Phone, iOS, and Android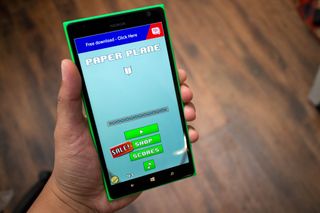 If you like games that make you want to throw your phone out the window, we found another one for you. It reminds us a little bit of Flappy Bird, but we assure you, it's different. 'Paper Plane!' is a difficult game with the simple goal of avoiding incoming platforms as your plane flies downwards into the unknown. What's also cool about the game is that it was launched along with versions for iOS and Android.
We've installed 'Paper Plane!' on our green Lumia 1520. Go watch our gameplay video.
Controls are dead easy. The paper plane is automatically flying downwards. Tap and hold the right side of the screen to glide right or tap and hold the left side to glide left.
There are moving platforms or beams that you'll need to avoid. The game ends if you crash. A simple click of a button brings you back to the beginning, so this game can get addictive.
Don't worry about your plane's wings touching the beams. It doesn't end the game. An easy guide to follow is to not let the middle of the planes touch anything. That will end the game.
You earn coins after passing through barriers, which seems like a new feature for this kind of game. Coins you earn every time you play build up and you can use them to buy new planes. The paper plane that costs the least is only 200 coins, so you'll be able to update quickly.
If you don't have the patience and really want one of the other planes available, you can purchase coins with real money. For example, 1,000 coins cost 99 cents.
Paper Plane! is a free download from the Windows Phone Store. There's an ad that takes up the top of the screen, but it doesn't get in the way of gameplay. Go check it out if you have some free time and let us know what you think!
Windows Central Newsletter
Get the best of Windows Central in in your inbox, every day!
Good to see simultaneously launched on all major platforms :)

One day, apps will firstly roll out for WP and other os es will follow

Unfortunately, then our eyes can't see our phone's screen anymore and we're walking with sticks and rollators. But it's good to dream :)

Frustratingly addictive.....gotta get that one right away lolol

Cool! We could use more of these games available on all platforms. Though I've gone to only downloading XBOX games on my phone...still cool

Nicely launched across all platforms, but those kind of games give me nerves!

Almost like WarioWare's plane game (of the same name, I think)

This looks really similar to an old downloadable DSi game.

I think it's actually from the game WarioWare, which came way before DSi

Odd little game. Music totally at odds with the style of game play, but good to see a three way release.

Opens and immediately crashes on my 1020.

The game has been updated! The crash is gone now.

Guess what? Isn't available here in the Brazilian WP Store. Devs, I can help.

It is now available in Brazil!

Oh, great!! Thanks a lot!

Why does this game require music and photo libraries???

Did anybody else play this on their graphing calculator during school? Haha

Someone please bring pocket tank to wp...plzzzzz

Not available in Brazil... WHY??

I'm still holding out for hope to get Cat Physics on Windows Phone. But in the meantime, I'll check this game out.

The game has been updated!

Not working on L820, it opens and then crashes. Edit: - Working now, besides i am not able to clear it

Isn't this similar to CHICKENS CAN'T FLY ??

I hate games that don't have an ending. Why do people like playing games without progression?
Windows Central Newsletter
Thank you for signing up to Windows Central. You will receive a verification email shortly.
There was a problem. Please refresh the page and try again.