First alpha version of the ParkMe Parking app for Windows Phone is now available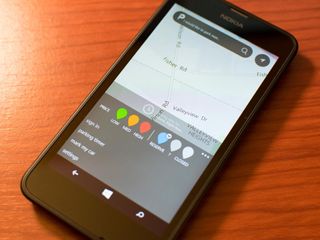 The first public alpha version of the ParkMe Parking app (Parkme.com) for Windows Phone is now available in the Windows Phone Store. The app has been designed to help folks find an open public parking space for their car in over 500 cities around the world.
Before we get any further, keep in mind this is a public alpha release of this app. In other words, it will likely have lots of bugs that will, hopefully, be fixed in future updates. So you are downloading this app at your own risk. With that out of the way, here's is what users can expect from the ParkMe Parking app:
View informative maps of parking lots and garages in your area.
Check parking rates, see prices laid out on the map and compare costs.
Set our parking timer to help you avoid overstaying, overpaying or getting a ticket.
See real-time info on exactly how many spots are open in a particular garage or lot. (Select markets only)
When you decide on a lot or garage, get directions to the nearest driveway -- not just the street address.
Although apps showing up on the Store in alpha releases are a little discomforting, the upside is developers are excited about getting their apps out ASAP. Fact is that we see a nice little surge in official apps, so let's take it in stride.
Give the app a go, leave a comment on how good it is and don't forget to give the developer some quality feedback to make ParkMe Parking better!
Thanks, Kyle S., for the tip!
It's impossible to make this app for India. :/

Are you serious? Do we Indians care where and how we park?

Thanks for stereotyping Indians. 'We Indians' is a very big domain, not all of us are like that.

I agree that there are a lot of us who are responsible. But unfortunately we're very less in number. And our streets are examples of it.

Yes, it is like a domino effect one misplaced or rather misparked car is enough to break the tandem, given the way our streets are designed.

(1) Go to the website linked in the article to try it out (2) Alternatively, download the app and try it out (3) Profit (or not)

Either way he would have an answer.

It 'technicallly' works it only shows up the maps and dispalys-No lots available. Please select a different date. I searched for parking in Trivandrum(Capital city of Kerala). But no chance of parking.

The incident that took place with the TheChive app stops me from trying this out. :/

So no more apps for you then.

Nope, that hasn't have to be that way, I'll just wait a while until it is safe to proceed. My app and messaging backup are broken and MSFT hasn't yet fixed them, if something like that happens to me, I have to start all over again.

What incident with TheChive app? Please explain.

I don't know the exact problem, but for some users hard reset was the only option. But for me it will be devastating, because my app and messaging backup is broken, even after trying out suggested solutions.

Wow really! I haven't had that problem yet, I may go delete that app.

Installed. It shows me all the parkades and parking lots and lots of details like price, hours, max height, handicap stalls, covered parking, etc. But it doesn't tell me how many spots are available or how to get to the entrance ramp.

It does say "in select markets" in the article

Downloaded and signed up....App then kicks me out and won't start up.

Same, where do we give feedback also? One thing i think developers do not use enough is the ability to sign into services through facebook using the app rather than the website! Means we dont need to log in each time!

Press the ... And it should pop up with a send feedback menu

Maybe its just me, but not sure I wanna be forced to use google maps. If there's a way to use another service it would be a plus for sure. When I had android, stopped using maps for waze. Maps would fail to locate, crash, or just not load sometimes. Was definitely happier when I switched to waze. Now that I'm on WP, I enjoy using HERE. Or when I go on my trip, ill use the Copilot app that was reported on recently. Either way, I'd prefer one of those 3 over google maps.

I like Waze too but not to burst your bubble but Waze uses Google's map data.

No I understand that. But the google maps app itself would constantly stop working. So when I found waze I was like "wtf? It works here".
And no bubble burst. I'm not one of the criers on WC

I see. I'm glad to hear that.

Thanks Daniel and ParkMe. I'll try this app out for a while and get back to you. Living in LA, saying I need this app, is like saying fish need water. Thanks again.

I've been waiting for this app ever since I switched from the iPhone! Woohoo!

This is a must have for a guy who lives near Philly!

It force closes after signing in. Haven't actually managed to try it out.

Closed immediately on opening. Running on 635 with dev preview.

Same with me on Lumia 830 Denim, just wont load

This app is not valid in India as you can park anywhere there.

Cant open it after first use..
Windows Central Newsletter
Thank you for signing up to Windows Central. You will receive a verification email shortly.
There was a problem. Please refresh the page and try again.