PayPal Here to get public SDK with Windows support later this month [Updated]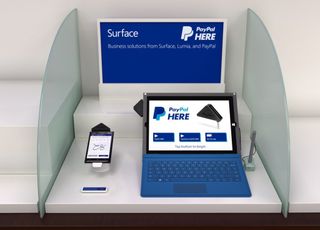 PayPal announced today that an SDK with Windows support for PayPal Here, which is a point-of-sale credit card service akin to Square, will be launching publicly later this month.
The news was originally detailed by TechCrunch, which says:
We previously reported back in November that PayPal was expected to debut a PayPal Here app for Windows and Windows Phone in early 2015, and it looks like the company is set to deliver on that.
Update: And just like that, PayPal has an official announcement ready:
Update 2: Added promotional video to top of post.
Sources: TechCrunch, PayPal
Windows Central Newsletter
Get the best of Windows Central in in your inbox, every day!
Dan Thorp-Lancaster is the former Editor-in-Chief of Windows Central. He began working with Windows Central, Android Central, and iMore as a news writer in 2014 and is obsessed with tech of all sorts. You can follow Dan on Twitter @DthorpL and Instagram @heyitsdtl.
We are here! We are here! We are here!

Horton hears a who! Yeah, I got that reference. lol

i dont see any good thing about putting my pin code where there is no side walls to protect from thieves

They are usually signatures when you pay on tablets and phones.

Hopefully this takes off as PayPal is my choice of making payments. I would bet "Square" develops a half baked app in order to slow down the momentum, but it will be too late! Love my Surface Pro 3, Microsoft Band, and Lumia 928!!!! Microsoft FTW!

No, Square isn't doing ANYTHING. They've said repeatedly to everyone who has approached them that they have NO interest in supporting Windows Phone.

Still need check deposit...

Yay Paypal!!! I'm all for supporting a company/business that supports every platform. I'm looking at you Square! Oh and while we're at it...I'm also looking at you SnapChat!

Has this got any relevance to NFS transactions using windows phones?

Right? So much hype and potential for just nothing!

No, not really. NFC support in phones is used to make payments. This device/software is designed to accept payments. Basically, the blue accessory in the picture plugs into your smart phone and turns it into a credit card point of sale terminal. There is a slot on the device to swipe a credit card through. I guess it might also be possible for a phone with NFC and running the PayPal software to accept NFC payments from another phone, but as far as I know that doesn't exist. The main goal is to accept credit cards.

I wonder how relevant these types of services will be once mag stripes are out.

Seeing as the us is the last market to adopt chip id say in 50 yrs.

Hehe plenty of time then:D

America - using yesterday's technology today, for a better tomorrow.

I remember when I traveled to the us when td fully rolled out chip visa's most stores/restaurants had no clue that if it wouldn't accept the stripe they were supposed to use the chip reader

Trust me, they still don't

"EMV Card Reader Support for EMV transactions will come ahead of the U.S.'s October 2015 deadline that requires card issuers to move from less secure magnetic stripe cards to EMV-based chip-and-pin cards, the latter which are already widely used in other parts of the world, including Europe. In early 2013, PayPal Here began supporting the European market with the launch of a dedicated hardware device designed to accommodate chip-based payment cards. Instead of a dongle, thishardware is a larger, handheld device which, like its U.S. counterpart, works with the PayPal Here mobile application. Now PayPal says this same technology will be made available to U.S. customers later this year, which will also include support for other payment methods beyond EMV. The updated Here Reader is being developed now. Currently, all new accounts will receive the new Reader hardware for free, while an additional device costs $15.00." http://techcrunch.com/2015/01/13/paypal-here-adds-windows-support-will-l...

Very nice. Looks like a separate device with Bluetooth. Thanks for the update!

Well, regardless of the relevance of mag-strip, Pay-Pal only would need to update the app to support a chip reading device, since the same device can be used with any mobile device that has a Pay-Pal app. So, I would worry too much about it.

Awesome I just got some of these at work with new packaging saying they work on Windows Phone now, so all stars are aligned!

I'll bet you a 6 pack Square comes out with an app now....

Email them almost every month always same reply of not even developing. Not a we are looking into it, but not even developing.

So support the company that supports your platform, and PayPal is known worldwide so you're not losing much from square.

I gave up on Square when I made the switch to Windows Phone. Now PayPal Here is coming to WP!!! Funny because I bet Square is now like "OHSHI- we need to develop a WP app now. PayPal is about to gain a bunch of customers on WP. We thought WP was pointless but PayPal thinks they are relevant. WE MUST DEVELOP NAO!!!" And I'm going to be like FUUUUUUUUUUUUU Square!!! Hopefully all WP users do the same. Not supporting a company who is going to wait for others to acknowledge us before they act.

Who cares now :) their loss

I'm not taking your bet because I'm sure to lose! :-)

Bull crap they need MS assistance to make an app for windows. I hate companies.

Nice after repeatedly asking square for support, and regularly being told no. glad to see PayPal jump in on it.

Kind of useless in markets like EUR/Canada.
Wonder when their going to update their Verisign 2 step authentication

Well, I guess my company will now accept credit cards on the go. Very nice indeed!

Very specific supported device list.

"...and other devices that operate on Windows 8.1". I think it works on any WP8.1 device. I'm guessing they just call out the 635, 830, and SP3 for marketing purposes. This is a press release after all.

Windows 8.1 not same as WP.

Good point. I misread that. Hopefully it's not limited to only those two WP devices.

It would be odd to work on Lumia 8:30 and not the 920 variants.

That swipe device that plugs into the Surface looked quite flimsy - can't see that lasting long and maybe snapping off where it's plugged in?

Wouldn't be surprised if it goes into the headphone jack like on the phones

That's what it looks like, but if you look at the video there is a big gap between the 2 devices, so I'm a bit worried that there'll be some movement ultimately leading to a snap of the headphone jack... ?

If it uses the headphone jack, just get an extension cable to avoid damaging the actual jack and port.

What is iConnectPOS? Point of sale? Piece of shit?

Everytime I try to use PayPal's current app to purchase something from a merchant it locks my account. Hopefully they've made a true commitment to the platform and we'll get some solid app support. Nice to see companies starting to come around.

This was happening to me at one point. I logged on via their website and changed my password then logged in to the app on my phone with the new password and now it always works. :)

So is Nokia going to go after PayPal for using 'Here?'

Well, PayPal will be getting my business now. Take that Square!!!

And this is the reason I am going to leave Windows. Been a supporter since CE! Just fed up with no support. Any good apps are always supported by Apple and Android. Looking forward to the S6 Samsung. No news on any kickash Lumias either.

Well as long as you're happy man. Hopefully you can come back again. Progress can sometimes be stagnant or competition is very stiff. Either way I think WP is here to stay ... I use Android simply because of my job. My personal choice would still be Windows. But I'm not afraid to point out flaws on any platform and you do make a solid point. It's developers fault really. They are the ones who decide for who to develop etc. And the fact that there are not many new and enticing phones is disappointing. Posted via the Windows Central App for Android

Replied in the wrong place...

These are the type of business apps that makes W8.1 better than Android and IOS.

Did Activision remove their apps from the app store? Can't find em anywhere!

Awesome, glad for the support. I use PayPal quite a bit

Awesome. love windows and paypal. well done, again:-)

How secure is it? What stopping thieves from stealing these unit in public places?

That surely puts them into the map..

Is it supported worldwide or not, or is it PayPal policy regarding regions, good to know, fantastic if so and it rhymes though hehe

PayPal needs to come up with something to compete with Apple Pay.

Merchants... Haha... Sorry... Been reading a certain book.

So quaint to see a card being swiped. People still do that?

Wonder how much those units are. This would be great for small businesses

They're free -- just need to sign up as a PayPal Business Account and request them.

First off l love the POS stand that is showcased in the video but I did notice that it did not have a charging port and cash till. Now my next question is I wonder if will offer a full POS experience and even allow cash transactions.if it does..... Ooooohhhh weeee it will murder Square hands down as the ultimate small business solutiuon!

Great news. I currently have to use my Android HTC One M7 to use PayPal Here. I'd much rather be using my Surface RT --- assuming it'l be compatible with the app as well.

I've wanted a PayPal Here card swiper since forever; good to know its coming. MerchantPlus doesn't need one, but it takes longer to clear transactions. How to decide?
Windows Central Newsletter
Thank you for signing up to Windows Central. You will receive a verification email shortly.
There was a problem. Please refresh the page and try again.