Perfect Note, a simple but feature rich Windows Phone note taking app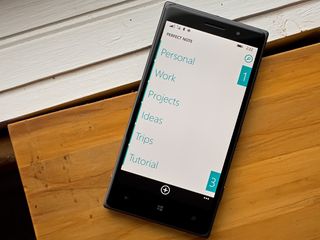 Perfect Note is, as you would guess, a Windows Phone app for recording and managing notes or tasks. While the app has a clean and simple interface, Perfect Note doesn't skimp on features with OneDrive integration and three security modes to protect your notes.
Notes can be categorized, organized and can be pinned to your Start Screen. While there is some room for improvement, after using Perfect Note for a short time the Windows Phone app comes across as a very capable option worth considering for your note taking and task creation needs.
Perfect Note has a simple layout with your main page listing all your note categories with a control button at the bottom of the screen where you can add more categories. The app does come with six pre-set categories that can be deleted by tapping/sliding to the right to reveal the delete option.
Along with your category listing and add button, you will also find a three-dot menu that will run throughout the app that includes options to:
View upcoming tasks
View any archived notes/tasks
Access Perfect Note's settings
View more apps from the developer
View the About Screen
Before I get into Perfect Note's settings, you'll want to take note that the last pre-set category is Tutorial. This is a collection of tutorial notes on the mechanics of Perfect Note. While Perfect Note isn't terribly difficult to figure out on your own, this is a nice category to have available just in case.
Now the settings - Perfect Note keeps things fairly simple with settings that include:
Turn on/off Sound Effects
Turn on/off the Tutorial Category (handy if you accidentally delete it)
Turn on/off the Shake to Archive feature
Set the Theme color
Choose a security mode (pin number, password or pattern)
Set up your OneDrive backup
The Shake to Archive feature allows you to shake your Windows Phone to archive all completed tasks. The security mode password protects the app itself and not individual notes.
Creating a note or task is straightforward. Tap on a category, tap on the "+" button the animated finger will point to and start typing. If you want a reminder for your note an alarm symbol will appear after you type the first character. By default, the alarm is off and when you tap on it to turn on the reminder, your scheduling options will appear.
Once created you have the ability to add sub-tasks or contacts to the note as well as sharing the note. To mark a task or note complete, just tap/hold the note banner and slide to the right. Tapping and holding on a banner will pull up a menu with options to pin the note to the Start Screen, delete the note and share the note.
Overall Impression
Perfect Note is an appealing Windows Phone app and there's a lot involved with this note taking title. Fortunately, the app is not overly complicated to pick up on. I like the "swipe to the right" action for deleting categories or marking entries as complete. The action lends itself nicely to one-handed operation.
I also like the free-form feel of Perfect Note that puts notes and tasks under the same umbrella of sorts. You determine the nature of your note as you create it as opposed to choosing a note or task section. You can jot down a quick note or create a to-do list with or without reminders from the same interface.
The only thing I wish the app had is voice support, a feature where you could dictate your notes on the fly. I did experience a few stability issues where the app would crash while saving a note. It didn't occur frequently enough to be irritating but enough to be noticeable. Otherwise, while I don't know if you could call Perfect Note the perfect note taking app, it comes close. The app is relatively new to the Windows Phone Store and at last check, it was pulling down a 4.5 Star rating, which we will not argue with, and plenty of positive comments.
Windows Central Newsletter
Get the best of Windows Central in in your inbox, every day!
George is the Reviews Editor at Windows Central, concentrating on Windows 10 PC and Mobile apps. He's been a supporter of the platform since the days of Windows CE and uses his current Windows 10 Mobile phone daily to keep up with life and enjoy a game during down time.
Even that I don't think there is an app that match OneNote, is good to have others options

"Match OneNote"? You must be talking about iOS or Android, because you wouldn't say the same about the WP one...

But OneNote is enough for me. I used to have Sticky Notes HD, which Windows Central also featured months ago.

OneNote as a multiplatform app, the desktop capabilities ahd integration with Outlook that it offers blow away any other competitor

One note for windows is spot on, one note for windows phone sucks

For me Office, Office Lens and OneNote are mainly for my work. Perfect Note and all other note taking app is to me, just to take a quick and short note, quick and easy.

If Chuck Norris was really amazing like everyone says he would bang my head against the keyboard, but I don't think he jdk dj nxogbxo nbdbnixf bjxndn

Wt do you mean : Shdkjfkfmdndkb or dlfb ds ksvskz

Just to mention ..... I have OneNote , InNote sometimes use MS-Word to save texts from internet source. Now this app is appealing to join my "Notes" livefolder

Luckily I got this for free. B-)

I have the app, and i absolutely love it and i am already using in my every day planning. Yes i do have OneNote, Notes+ Pro, but this app has different concept and i love it. Fresh air in the Notes Category. And to all others, stop saying things like "Oh this and this is better", "I use onenote, don't need this", etc cuz that is not helping to developer nor the future of WP. STOP comparing any new app to other apps, that is not polite. Instead, just see the app with open mind and bring your own experiances for the app only. Thank you!

I got this when it was free.... This has now replaced OneNote for all my lists and notes.

I just love the live tile but still there is lot more room for improve. One thing I missed in wunderlist is live tile. Good job Dev.

Love using fast note, will try this

I had this app coz I had downloaded Perfect Recorder. I had used Note Plus, One Note & Evernote also. This app is simple and it can be used if you need to do the grocery list or "to do" like items. This app is clean and beautiful. One suggestion is that the it should house Font size and background Changer in the Settings. Note Plus is the best app available out there if you have so many random thoughts going on in your head. I love Note Plus Nd I like Perfect Note.

I installed the app about 10-15 mins ago and got it for free. lol....

Does it have a "UNDO" text option? Because it is one of the options I miss in the OneNote app. Can count how many times I have deleted text instead of copy/pasting with no option of undoing that action.

What is needed in any text document is select all copy and paste.

Is good and beautiful, but I'm not paying a cent for taking a note, sorry

OneNote for me but this app seems to be a nice one judging from the review.

OneNote is enough for me.

Does this have a companion app for Windows 8.1?

One Note works fine for me except for 2 small things. I wish it had an undo option. And I wish there was an option to speak my notes, and it saves it as text and not a voice note. Can this app (or any of the others mentioned above) do either of these 2 things?

I think it's ridiculous they didn't make an undo option. I've accidentally deleted things (by over backspacing) and I couldn't recover that information (as they are often special codes). Ditto on the note dictation.

Woah, awesome article. Perfect Note seems like a really useful app. Now I hate to be THAT guy, but the dev doesn't allow for the app to be installed on an SD card, which is kind of a downside. I'll try it out anyway though.

Xnote is the best in the marketplace. Well, when he had English vers.

This is not a notes but a tasks app

Wouldn't this be a great so to be universal??

I use the Onenote as it integrates with my Surface as well. So does this App work on PC versions? Because I cant see it in the store of my desktop. Secondly, does it allow the Stylus? I don't think so. Good that it has a back up straight from the Onedrive. Nor a voice note. And then paying for it; doesn't seem fruitful to me.
Windows Central Newsletter
Thank you for signing up to Windows Central. You will receive a verification email shortly.
There was a problem. Please refresh the page and try again.