Today's AdDuplex HERO App is Phantom Frenzy, ghost busting from your Windows Phone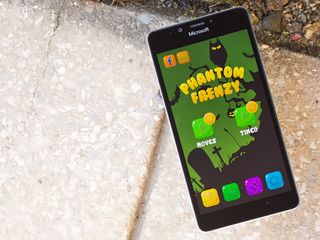 Phantom Frenzy is one of the many puzzle games in the Windows Phone Store where the solution requires you to find combinations of similar objects. Phantom Frenzy adds a slight twist on this gaming style and offers two gaming modes to keep you entertained. The Windows Phone title is also today's AdDuplex HERO App.
Being a HERO App, Phantom Frenzy becomes a part of a promotional campaign for Windows Phone and Windows developers on the AdDuplex Network. The campaign partners AdDuplex with AppDeals, TechRewards (opens in new tab) and Windows Central to deliver a host of benefits to the top apps and games each month. Our role in the HERO App campaign is to offer a little exposure to these titles by sharing them with you, our readers.
At first launch, Phantom Frenzy carries you through a brief tutorial on gameplay and then transitions to the game's main menu. The main menu for Phantom Frenzy offers the options to play the game, view your gaming achievements, visit the game's store, choose a ghost theme and access the game's settings.
The gaming store offers the option to pick up a few bonus items using coins earned during gameplay and in-app purchases if you need a quick fix of gaming coins. The gaming themes offer a variety of puzzle pieces to use during gameplay and require gaming coins to unlock. The themes include ghosts, monsters, superheroes, pirates and more.
Settings for Phantom Frenzy cover the basics such as muting the sound, as well as replaying the tutorial and choosing your language support. Options to visit the game's Facebook Page and WhatsApp page is also present on the settings menu.
Phantom Frenzy falls in line with the connect-three style of puzzle games where you search for objects (ghosts with this game) of the same style that are adjacent and connect them for points. Where most of this style of game requires a minimum combination of three, Phantom Frenzy drops that minimum to two. Connections can only be made vertically or horizontally, which eliminates the option to build your combo diagonally.
Phantom Frenzy has two gaming modes, Timed and Move Count. The Timed Mode gives you sixty seconds on the clock to see how many points you can score. The Move Count Mode provides you with thirty moves to see how many points you can score.
There are a few bonus items that run across the bottom of the gaming screen that can help give your score a small boost. These bonus items include a time or move bonus (adds five moves or five seconds to the game regulator), a target bonus that removes a single ghost and a perimeter bonus that removes the adjacent ghosts.
Along with these bonuses, tokens and bombs appear randomly during gameplay. When the token works its way to the bottom of the gaming screen, you earn a few extra points. The bombs have a timer that countdowns with every move you make. When the timer hits zero, the bomb eliminates an entire row of ghosts.
Overall, Phantom Frenzy is a nice member of the match-three styled gaming genre. It isn't the most taxing game in the mix and I would have liked stronger performance goals than simply seeing how many points you can earn. For example, eliminate 40 blue ghosts or score a set number of points in a game.
Phantom Frenzy is a free, ad-support gaming title that is available for Windows Phone. I'm not sure this is a game you'll sit down and play for hours on end, but for shorter periods of time Phantom Frenzy isn't a bad time waster to have available.
Download Phantom Frenzy for Windows Phone (opens in new tab)
AdDuplex HERO Promotion
AdDuplex is a fantastic resource for the cross-promotion of Windows Phone and Windows apps. AdDuplex's HERO Apps program is designed to help developers promote their apps even further with free access to various tools and resources from AdDuplex.
The HERO Apps promotion partners AdDuplex with Windows Central, AppDeals and Microsoft TechRewards (opens in new tab) to provide additional benefits to the top apps every month. These benefits are spread across four packages and include:
100% exchange ratio on AdDuplex for 1 month
$50-500 credits to run ad campaigns on AdDuplex
@AdDuplex tweet about your app]
Professional ad design (banner and/or interstitial)
TechReward Points
App quality review by the Windows Store
Free feature campaign on AppDeals
Review of your app on Windows Central
The rules to join the HERO Apps program remain the same. Every app that you start to cross-promote on the AdDuplex network will be able to apply for the program and receive one of the four benefit packages. You can find all the fine print and sign up for the HERO Apps program here at AdDuplex's website.
Windows Central is proud to be partnering with AdDuplex with the HERO Apps program. As with our existing partnership with myAppFree Deals, this is yet another excellent opportunity to promote both the Windows 10 PC and Mobile platforms.
Windows Central is already partnering with the myAppFree campaign and is proud to be collaborating with AdDuplex with the HERO Apps program. It is another great opportunity to promote the Windows platform.
Windows Central Newsletter
Get the best of Windows Central in in your inbox, every day!
George is the Reviews Editor at Windows Central, concentrating on Windows 10 PC and Mobile apps. He's been a supporter of the platform since the days of Windows CE and uses his current Windows 10 Mobile phone daily to keep up with life and enjoy a game during down time.
#betterthanghostbusterstrailer
Windows Central Newsletter
Thank you for signing up to Windows Central. You will receive a verification email shortly.
There was a problem. Please refresh the page and try again.