Samsung Galaxy Z Fold 5 and Flip 5 are official: Here's everything you need to know
Samsung's latest foldy bois are now available to pre-order.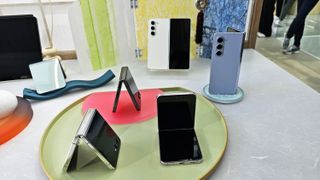 (Image credit: Windows Central)
What you need to know
Samsung has unveiled its latest line of foldable phones at Galaxy Unpacked 2023.
Both the Samsung Galaxy Z Fold 5 and Flip 5 feature a new hinge design that allows them to close without a gap.
The Samsung Galaxy Z Flip 5 includes a new full-sized cover display that's more useful than its predecessor.
Pre-order: Samsung Galaxy Z Fold 5 | Samsung Galaxy Z Flip 5
---
Samsung's latest line of foldable smartphones have been officially unveiled, and top billing for the new Galaxy Z Fold 5 and Flip 5 is an updated hinge design that finally allows them to close completely flat, without an ugly gap between the two halves. Additionally, the Galaxy Z Flip 5 now has a larger cover screen that makes it more useful than the Flip4's outer display.
The two foldable smartphones were unveiled at Samsung's Galaxy Unpacked 2023 showcase in Seoul, South Korea. Alongside the foldable phones, Samsung also unveiled new Galaxy Watches and Galaxy Tab, which complement the new Galaxy Z Flip 5 and Fold 5.
Image 1 of 21
Swipe to scroll horizontally
Category
Galaxy Z Fold 5
Galaxy Z Flip 5
Display
Main Screen: 7.6-inch QXGA+ AMOLED (374 ppi,120hz)
Cover Screen: 6.2-inch HD+ AMOLED (402ppi, 120Hz)
Main Screen: 6.7-inch FHD+ AMOLED (120Hz)
Cover Screen: 3.4-inch 720x748 AMOLED (60Hz)
Dimensions
Folded: 6.1 x 2.64 x 0.53 inch
Unfolded: 6.1 x 5.11 x 0.24 inch
Folded: 3.35 x 2.83 x 0.59 inch
Unfolded: 6.5 x 2.83 x 0.27 inch
Weight
8.92oz
6.6oz
Camera
10MP Selfie Camera
4MP Under Display Camera
12MP Ultra Wide Camera
50MP Wide-Angle Camera
10MP Telephoto Camera
10MP Selfie Camera
12MP Ultrawide Camera
12MP Wide-Angle Camera
Processor
Qualcomm Snapdragon 8 Gen 2
Qualcomm Snapdragon 8 Gen 2
Memory
12GB RAM
256GB/512GB/1TB Storage
8GB RAM
256GB/512GB Storage
Battery
4,400mAh
3,700mAh
IP rating
IPX8
IPX8
Colors
Icy Blue, Phantom Black, Cream, Gray, Blue
Mint, Graphite, Cream, Lavender, Gray, Blue, Green, Yellow
Price
$1,799
$999
Pre-order: Samsung Galaxy Z Fold 5 | Samsung Galaxy Z Flip 5
Of course, as is the case with all Samsung smartphones, these new foldable phones ship with deeper integration with Microsoft's "Your Phone" app, which enables exclusive features and functionality between Galaxy phones and Windows PCs that other smartphones don't get.
One such feature includes the ability to enable your phones mobile hotspot directly from the Wi-Fi control menu on Windows 11. These devices will also ship with a handful of Microsoft apps pre-installed, including Outlook, Bing, and SwiftKey, as is standard on Samsung devices.
Both the Galaxy Z Fold 5 and Flip 5 are available for pre-order starting today from Samsung.com and will begin shipping on August 11. Here's everything you need to know about the new Samsung Galaxy Z Fold 5 and Galaxy Z Flip 5.
Samsung Galaxy Z Fold 5
The new Samsung Galaxy Z Fold 5 introduces minor but important upgrades to the hardware. We've got a new SoC in the form of the Snapdragon 8 Gen 2, and an updated thinner hinge design that finally allows the two halves of the device to close completely flat.
The new hinge is the star highlight for the Fold 5, as it finally brings the device in line with other foldable designs from the likes of Xiaomi, Oppo, and Google. The ugly gap that has plagued older Galaxy Z Fold devices is no longer present, which also means the device is now slimmer when closed.
The overall shape and dimensions of the Galaxy Z Fold 5 remains the same as its predecessor, so it continues to be the only foldable to ship with a "TV remote" style tall and narrow cover screen. Other foldables like the recent Pixel Fold have opted for wider outer displays to make using the device when closed more natural.
On the subject of displays, the Fold 5 features a bright 1,750 nit foldable panel, making it one of the brightest foldable phones out there and easily viewable outdoors. Both the cover screen and foldable display are 120Hz, and the inside screen also supports S-Pen input like its predecessor.
In fact, the S-Pen case has been redesigned to be thinner, and the S-Pen itself is also thinner to accommodate this new case design. Now, the pen case shouldn't add much more thickness to your device, making it easier to fit in your pocket when the S-Pen case is attached.
On the inside, the Fold 5 is powered by the latest Snapdragon 8 Gen 2, which is more powerful and efficient than the Gen 1 SoC found in the Fold 4. The battery size remains the same at 4,400mAh, but because the new chip is more energy efficient, we should see a small improvement in battery endurance.
That brings us to price, which hasn't changed since last year. The Fold 5 costs $1,799, but as is often the case with Samsung devices, there are lucrative pre-order and trade-in discounts to be had if you order before August 11.
The Samsung Galaxy Z Fold 5 is the multitasking machine you need. It's perfect for work, play, and everything in between.
Galaxy Z Flip 5
The Samsung Galaxy Z Flip 5 is a much bigger upgrade over its predecessor, featuring the same improved hinge design as the Fold 5 that allows the device to close completely flat, but now also has a much larger external cover screen that can run a wider selection of apps and widgets.
The new cover screen is 3.78x larger than the cover screen found of the Galaxy Z Flip 4, and it can finally be used for more than "at a glance" things. You can use it to reply to messages, and make phone calls. It also supports graphical clocks and watch faces similar to the Galaxy Watch 6.
The cover screen can also run widgets, which will let users check on things like the weather and finances, and the cover screen also supports the ability to control phone functions such as Bluetooth, Wi-Fi, music controls, and more. Because the cover screen is so large, you can now use a full-sized QWERTY keyboard to reply to messages without opening the phone.
Samsung is also highlighting an improved camera system on the Flip 5, now featuring an improved selfie taking experience thanks to the larger cover screen. Plus, using AI, the Flip 5 now supports Nightography, which optimizes photos and videos for low-light photography.
The Flip 5 is also powered by the Snapdragon 8 Gen 2, which is a more efficient chip meaning the 3,700mAh battery should last a little longer than the Flip 4's did.
Like its predecessor, the Flip 5 costs $999 and is available for pre-order now, with appetizing pre-order and trade-in discounts to be had between now and August 11, when the device starts shipping.
Get the Windows Central Newsletter
All the latest news, reviews, and guides for Windows and Xbox diehards.