5 things you need to know about Microsoft's 'Your Phone' for Windows 10
Here are some intriguing things we learned about the "Your Phone" app this week at Microsoft Build.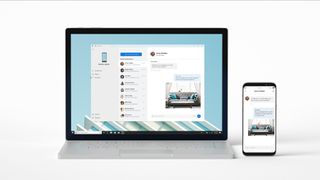 Microsoft this week took the wraps off "Your Phone", a new Universal Windows Platform (UWP) app headed to Windows Insiders in the coming weeks.
I sat down with Shilpa Ranganathan, Microsoft general manager of Windows, who oversees Your Phone along with the Microsoft Launcher for Android and other mobile projects. I learned a few details about Your Phone including its limitations, some unannounced features, and long-term plans.
Will iMessage sync and work with Your Phone?
No. Apple infamously locks down iOS for the iPhone making it nearly impossible to get reliable, consistent syncing to other devices. While there are unofficial "workarounds" to make this happen, Microsoft is only interested in sanctioned, non-hacking ways of getting devices to sync with Windows 10.
Microsoft is not against the idea of proposing to Apple a way to make such a system happen. That could happen as Your Phone rolls out, and the company has time to collect feedback and requests before approaching Cupertino, but such a proposal by Microsoft is not off the table. Ultimately, however, it's up to Apple to play ball.
Are there privacy concerns with Your Phone?
The idea of syncing your phone to your PC, or rather, mirroring aspects of it, could be a security and privacy concern, especially if all the data is being synced to the cloud.
But that is not what happens with Your Phone.
Your Phone relies on local connections through Wi-Fi (the iPhone also needs Bluetooth), but the system never takes your data and stores it on Microsoft's servers. When disconnected there is no maintained data, but rather a local cache on the user's PC for some items. Because of this technique, Microsoft will be in full compliance with the new European Union General Data Protection Regulation (GPDR) (opens in new tab) out the gate.
Your Phone only retrieves the last month of text messages and the most recent 25 photos, but it is not an exhaustive system to mirror your phone's entire contents.
What about making phone calls?
Currently, there is no support for handling incoming phone calls on your PC, but Microsoft is exploring the idea and would like to bring some support to Windows 10 through Your Phone.
Making and receiving calls through your phone's speakers and microphones may seem obvious, but there are a lot of mitigating factors to make such a system work. Dell knows this as its full-phone found in devices like the XPS 13 (9370) only works on newer hardware.
Whether Your Phone can and will handle phone calls remains to be seen, but like many things, its prioritization will be driven by user feedback and demand.
Will Your Phone replace Skype SMS relay?
With a more direct way of managing – and creating – SMS text messages you could see how Microsoft would abandon the Skype SMS relay project, which seems never to be ready. However, that is not the case.
Your Phone's SMS handling and Skype SMS relay (if it ever comes to Android) will exist independently. The Skype system relies on sharing your messages to the Microsoft cloud, resulting in privacy concerns for some. That system is opt-in and more comprehensive, whereas Your Phone is a more local, momentary way to make messaging easier.
As for the status of Skype SMS relay, your guess is as good as ours.
When will Your Phone be released?
There are two timelines: one for Windows Insiders, and one for the public.
Windows Insiders should expect a working version of Your Phone in the coming weeks, corresponding with the latest Fast Ring release of Windows 10 Redstone 5. While no firm date is set, Your Phone is also not some distant feature coming next year.
When the feature will hit all Windows PCs is a bit murkier. Like the upcoming "Sets" feature, Your Phone is on the same development path, with no formal launch date. Your Phone will go public when Ranganathan and her team feel it is reliable and ready.
Related: All the biggest news from Microsoft Build 2018 (video)
Windows Central Newsletter
Get the best of Windows Central in in your inbox, every day!
Daniel Rubino is the Editor-in-chief of Windows Central, head reviewer, podcast co-host, and analyst. He has been covering Microsoft since 2007 when this site was called WMExperts (and later Windows Phone Central). His interests include Windows, laptops, next-gen computing, and for some reason, watches. Before all this tech stuff, he worked on a Ph.D. in linguistics, watched people sleep (for medical purposes!), and ran the projectors at movie theaters because it was fun.
Any chance of support for Windows 10 mobile?

Windows 10 mobile basically always did this

It has done this since Win10 was released man!

Number 6. Does not support Windows phone

I'm not sure how it would help, as our W10M phones already sync nicely with our other W10 devices. I am really looking forward to the upcoming Andromeda / Win10ARM / Surface Phone, as the 950s and 950XLs that my employees and I all use are starting to show some wear, and we need an upgrade path (not a downgrade path to another OS).

Exactly, there's nothing really to add for W10M. You already have sync and pickup happening.

The Skype SMS relay is highly shakey.

Get X3. Excellent device.

You mentioned Bluetooth in the article. I'm curious if that's for initial sync, or if it will always be required. For example, if I leave my phone charging on my desk (connected to Wi-Fi) and go somewhere else in the building with my PC, will this work because they're on the same Wi-Fi, or not because they aren't in Bluetooth range? Thanks!

Bluetooth has had call, text, and phonebook function as part of its profiles for over 20 years. What Microsoft is proposing had been part of the macOS Address Book in early versions of macOS but was removed when the iPhone came out and didn't have Bluetooth support. Adding a Wi-Fi aspect adds a completely unnecessary layer of complication. It's also an edge case to say your phone stays still, yet your PC is mobile.

I've been waiting for something like this forever but the lack of iMessage support makes it hard for me to get excited about it. Hopefully apple will play nice because ultimately message syncing isn't gonna drive millions of iPhone users to macs but not having it could drive PC users to Android.

"hopefully Apple will play nice"... That's where the story ends... Apple only cares about Apple and that's it...

Maybe, but do you think MS would have been any different if their phone had took off, do you see another browser in the Windows 10 store?

Didn't they kill the cross platform chat endpoint they had for WLM back in the days, breaking compatibility with many third party chat applications?

Lack of browsers in the Microsoft store is a completely different story. That was due to Google, etc. not caring enough/hating Microsoft hence not putting their browsers in the store. I guarantee it wasn't for lack of trying on Microsofts part.

for example Apple music is available on Android, I hate Apple but it's a smart move to not exclude Android with Apple music.

That's strictly because while half of America has an iPhone, only 15% of the world does. Apple Music could not exist with even every iPhone user in the world having it, which of course they don't.

iMessage is encrypted end-to-end and messages are never on a server. Apple is supposed to be bringing out iMessage in the Cloud as part of an update to iOS, but there's very real privacy issues they are having trouble overcoming.

You can get the Your Phone app on the Store app for the Fall Creator's Update or newer, but it's so far just an app that takes you to the settings page of hooking up your phone to your PC, so when this app gets the Update that gives it the full functionalities it's going to have, will that imply for the Fall Creator's Update and the April Update too? Or is this going to be just for RS5 and later?

Apple don't play ball with no one, not even their pal Microsoft.

There IS a "Your Phone" app already on W10. I think it's just to establish a link between non-Windows phones and your PC, though.

So in reality Your phone is useless. No imessage, no call support, no ANYTHING. hell even dell has these covered in mobile connect. WOW. MS is trash at this point.

FYI, I can send and receive imessages to and from my dell computer, (not a 2018 model either), I can send and receive calls from my dell computer using mobile connect. The fact that MS says they cannot do this show how involved they are in the consumer space. Meaning, they are NOT. Well off to google and chromebook pixel. And might as well move all my services to google as well since MS is not interested in supporting consumers.

Microsoft can't really share your attitude. The PC market continues to shrink, and their consistent missteps with the Xbox One has made them a frighteningly distant second. Microsoft cannot survive as a company on Azure alone.

I'm glad you left Steve. Bye.

Don't let the door hit you on the way out.

that's it fanboys, bark your pathetic delusional mind out...

Yep. I love it. What is the point of this feature if it cannot do anything? Dell has mobile connect, it connects directly with my iPhone and I can make and receive calls, I can send and receive texts via imessage on it, I can see all notifications with it. You mean to tell me that YOU FANBOYS think MS is trying now? Come on. SERIOUSLY? If dell can create a little app to do this, I am sure as hell thinking MS could. But, in this article, they are like no messages, no calls, no …..ANYTHING. REALLY? Wake up fanbabies. All Microsoft is worried about is CLOUD CLOUD CLOUD. Which is fine, it makes them piss pots full of money every quarter. Good for them. It's why they are in business. But don't try to come in here, and state MS cares about consumers anymore. They don't. Why? they failed. Google is about consumer first. USERS FIRST. to paraphrase Cloud first mobile first. mantra of the beloved Nadella. Right now, you can do ANYTHING consumer based on Chromebooks. Faster, and better than windows. I may keep my 365 subscription since I cannot find a better solution for storage. (the thing that Nadella is worried about)...cloud connectivity. So, he wins, and I win when I move to google for my Consumer based computing.

bye then, and don't forget to take all your multiple accounts with you 🙄

I don't have multiple accounts there fanbaby!

righto 😉 - kojak says hi by the way

I don't know who that is...but Tell them I said hi back.... Another poor delusional fanbaby. Poor thing bonze, his brain is so mushed with fanbabyism, that he thinks everyone here has multiple accounts.

Oh dear Stevie Boy, you really ought to start making notes of what you blabber on about on here.

Fan baby crazed. I think I hear your mom calling you from upstairs. Your spagetti'os are ready.

If you are talking about the Office Apps, then yeah...for some, MS Office Apps cannot be replaced with the other offerings. If you talk about OndeDrive then you should really checkout GoogleDrive. I do not know about you, but the upload/download speed on GDrive is miles better than onedrive. Yes, you would have to pay separately for higher storage.
Everytime I wanted to browse my personal videos within the onedrive app on my phone/tablet and many times even on the web, it would stutter and buffer forever...Since I can do very well with other office solutions, I have no use for O365. I do not use Skype since Facetime, Whatsapp Video and Audio call and FMessenger Audio/Video call are 100 times better.

Office has been pretty stagnant for a while now. Lots of companies use Google Docs and have left Office behind. That was the entire point of Office 365: get people on a subscription to plug the leak.

Microsoft said they technically could make it work with iMessage, but it wouldn't be an official solution and they won't use hacks. Remember how that worked out with YouTube?

We don't give a crap about your iPhone. Ditch it and get a REAL phone if you want all of the features. Why would you want a phone made by a company that just now discovered wireless charging and still doesn't know what an SD card is? Bye, and don't hurry back.

Are you talking about the same phones that slow down after a week of use? Or the ones that don't have even the most common apps or any support? Which "real" phone are you talking about?

You'd be totally and completely alone about not caring about the iPhone. Apple is the most valuable and most profitable tech company in the world, and it's because of the iPhone. Apple is quite a bit smaller than Microsoft, and they make only a portion of the products Microsoft makes, yet Apple lands number 3 on the Fortune 500, while Microsoft lands number 28 (below Alphabet, *OUCH!*). You can bet your ass Microsoft cares about the iPhone.

I'm not saying that. I'm saying the version that's CURRENTLY on 17666 doesn't have much in the way of any features. It's probably a glorified placeholder for now. In fact, I'm betting it was the initial step of wresting the "connect your phone" setting from the main Settings panels into its own app. At least, that's my guess.

Hey kid it's time to go to bed Now

what I'd like to see is the "Nearby Sharing" feature working on the flagship Window"s phones. I looked for it to pop up today (after updating all devices to the April Update) and it did not show as an available device? I mean, I thought that was one of the main purposes of this feature.

That's a pipe dream. As far as Microsoft is concerned, they NO LONGER HAVE any phones, much less flagship. We will have to be happy with whatever features currently exist on our Windows phones.

Try the Connected Devices app on the Microsoft store. It basically does this for windows 10 mobile devices. I used it up until my Lumia 950XL gave out a few weeks ago and I am happy with how it works.

"there is no maintained data, but rather a local cache on the user's PC for some items. Because of this technique, Microsoft will be in full compliance with the new European Union General Data Protection Regulation (GPDR)"..... If I choose to sync data between devices Microsoft is compliant.

Let's put it out soon then keep adding new features along the way.

As much as we wish Apple would play nice and let iMessage work in anything but their products is a pipe dream. Apple wants Windows dead, they're not going to play nice.

In apples market space, Microsoft and windows are already dead. That being said, It will be a cold day in hell before I use a macbook. TRASH!

You know, there's more people with iPhones and Windows PCs than with iPhones and Apple computers. So this benefits Apple users too.

I am one of them right now Fdruid. I agree. However, if MS states you are not going to be able to make and take calls and messages, what the point? Dell can do this right now...As I type this my iPhone is connected to my dell notebook...I am texting/messaging my wife and have taken 3 calls via my computer. If MS cannot do this, there is little help for them. Thats what I am stating here. Oh, and Bleached. I get way better value for my money with 365. I looked into it and it would cost more just for google drive space than All I get from 365. So on that end, I have to stay put.

Microsoft said they could technically make it work but they won't use hacks. They have had issues in the past hacking other's APIs.

This is not a hack. It's an app that runs on my iPhone, and communicates with my PC. nothing "hacky" about it.

Just like the rest of their crap. The iPod Classic was the last good device they made.

What? Jim? You are insane

When will the feature hit w10? Is this a trick question? Ms announces stuff and then either never releases it or is so late that ios and android have a year head start.

It's currently available on Release preview, I have installed it but it has no functionality right now. The 'link a phone' option takes you to the Settings page and closes the Your Phone app. My phone is already linked but this app doesn't work as yet

useless junk...as always from Microsoon

I have noticed that when I use Cortana to send a text, I now see the full message history in the Cortana box, this wasn't happening previously. Whether that's to do with an update to Cortana on Android/Windows, or if it's the new Your Phone app, I can't confirm. It definitely wasn't doing that until a few days ago. Perhaps the app is doing some background stuff ready for full launch

6. W10M is left out again.

Yes, because windows 10 mobile IS DEAD!

it is not dead yet...and it will revive soon!

HA HA HA...delusion at it's finest there. WINDOWS 10 MOBILE IS DEAD. They may have some sort of quazi mobile hokey device, but it is not going to be running windows 10 mobile.

Too bad about iPhones. No messaging? Seems ridiculous that Dell can do this but Microsoft can't? And again, Dell can make and take phone calls but Microsoft can't? Good news, though, for Android users. Good reason to check out the Pixel 3 when it comes out. Google is knocking it out of the park these days. I/O was really impressive. I wouldn't be surprised if their consumer AI and IoT advantage turns into an enterprise advantage within a decade. Microsoft seems to be the new IBM and Google seems to be the new Microsoft.

From what they've said about Your Phone so far, adding support for voice calls is not a priority at this time. So what? If you want to make voice calls, use Skype. Right tool for the job and all that. Dumping on an unreleased product like Your Phone because it doesn't support a feature like voice calls right from the start is just as silly as saying something like "I can't watch Netflix in Microsoft Word, therefore Word is rubbish." There is no reason to believe that the Your Phone product team won't evaluate requests for features like this to be included in future versions.

NO, it's not the right tool...Phones are made for phone calls. Hence the name. You can link your phone to your computer as a speaker phone instead of holding on to your phone using dell mobile connect. It's great when your busy. Plus you can make calls too through your phone. Instead of having yet another number, and messing around with call forwarding to skype etc. Thats the Microsoft way of doing things...ok, we have a new device, it won't replace your phone but you can make calls on it. Then you can call forward your phone to this new device, then you can forward that number to skype to make calls at your desk using your computer.

Within a decade? Try the next two years. They are coming on strong and Microsoft is yet again sleeping.

anon, Might as well also check out the pixelbook while you are looking at the pixel 3. It's awesome!

"Your Phone only retrieves the last month of text messages and the most recent 25 photos, but it is not an exhaustive system to mirror your phone's entire contents." In other words, it is useless.

What is proposed by Microsoft to me seems to be massively underwhelming. A phone app which cannot make or take calls but may do if there is demand requires a high level of corporate humour. Or incompetence. However, does that justify the rudeness of some of the comments on this thread? Is there any need for people to be so unpleasantly personal about another just because of a divergence of views?

Using Your Phone without a Windows Phone. It is sad. I will miss this Windows Mobile metro/modern UI. I really feel disappointed when I look at basic Android and iOS UIs.

I have the bad feeling it will also be US-only again, since Microsoft is on the Trimp way to make Amerika great again and forget the rest of the world. Like Cortana never jumped to Android in Germany, so the Launcher is just half the fun.

Boo hoo like you don't have choices.

Microsoft is an American company and like all the others it always has, and always will, prioritise the U.S over everywhere else.

Yep. I am betting 99% of this is murica only.

She's pretty! Good scoop, too.

Can windows central produce a graph showing the time between announcement of new stuff and general release? I am interested to see if MS delivers on its projects and how quickly or if it is just hype.

What I know is that I would be taking next to nothing out of Build 2018. they are talking general nonsense and deeply secondary things.
https://software.informer.com/Stories/discover-whats-new-at-microsoft-bu...
Maybe I'm not getting something important, but that's my impression.

FFS, just develop a mobile Photos app that connects and Syncs with OneDrive, like everyone else has done... Starting to feel like Google is becoming de facto with Photos, at which point why bother using any of this.... Samsung Phones have DEX, which don't come with the security/privacy concerns and give full native access to everything... Was going to try to use MS ecosystem on Note9, but its painful with these massive app and service gaps: Music, Photos, terrible eBook experience, no Audiobooks or Podcasts, lackluster task manager, Cortana drains battery like no other, no Movies & TV app, etc. I think its overdue for them to just release an Android phone, at this point... Cause I am not seeing anything compelling about bolting them onto any other one; except maybe a fire phone (if you happen to still have one of those, and the apps are available).
Windows Central Newsletter
Thank you for signing up to Windows Central. You will receive a verification email shortly.
There was a problem. Please refresh the page and try again.