Dell XPS 13 9370 (2018) review: An outstanding Ultrabook gets even better
The new XPS 13 (9370) is an excellent 13-inch laptop with only a single significant drawback.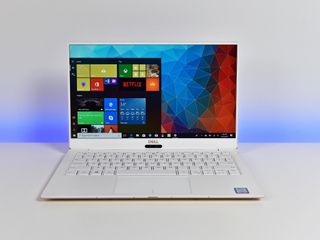 (Image credit: Windows Central)
When I recently reviewed the now "classic" Dell XPS 13 (9360), refreshed with an Intel 8th Generation quad-core processor, I noted the laptop felt a bit stale even if it was still one of the best on the market. Luckily, Dell changed that with the revised XPS 13 (9370).
While more evolution than revolution, the XPS 13 (9370) improves almost every aspect of the popular Ultrabook. Here is where it excels and where it falls short.
Revised design for 2018
Dell did not significantly alter the look or even shape of the laptop, but it did make many notable – and welcome – smaller changes. Here's what's new.
InfinityEdge display — The 4mm border is 23 percent thinner than the previous generation, resulting in an 80.7 percent screen-to-body ratio.
InfinityEdge display — This is the next-generation that can now go to 400 nits of brightness (up from 350), higher resolution 4K (vs. QHD), 100 percent sRGB color calibrated, and a new anti-reflective coating.
New ports — USB Type-C including two Thunderbolt 3 ports, and one USB 3.1.
microSD — Ditching the full SD reader, the 9370 now uses a microSD reader instead.
Now in white and gold — Dell is debuting an new alpine white woven glass fiber interior, but the original carbon fiber version is also still available with silver.
New thermals — Dual heat pipe and dual fan solution and the first to use GORE Thermal Insulation (silica aerogels).
Far-field Cortana capable — The XPS 13 responds to your voice from up to 14 feet away with four built-in microphones.
Windows Hello — The HD web camera is now in the middle (though still below the display) and supports IR facial recognition, and a second, optional, fingerprint reader can be added to the power button.
The alpine white woven glass fiber is fantastic. The soft-touch black carbon fiber is heavily prone to hand and finger oil, which requires frequent wipe downs. The new white woven glass is leaps and bounds better in this regard. The white woven glass fiber also feels more like a combination of linoleum and ceramic.
Besides aesthetics, the new material is also good at heat dispersion, never getting too hot under heavy processor load.
The white alpine option, however, is not free; users need to pay an extra $50.
Dell told me it is monitoring color choices and requests and may make adjustmenet in the future. That means a silver and white option could be possible. There are also some other minor changes including a new teeny 45W USB Type-C charger.
The new XPS 13 looks a lot like the old one, but in person, the changes are not trivial. The full specifications reveal a typical, but still powerful Ultrabook that fits nicely with the rest of the 2018 offerings
Dell 2018 XPS 13 (9370) tech specs
Swipe to scroll horizontally
Category
Dell XPS 13 (9370)
Processor
Intel 8th Gen Core i5-8250U
Intel 8th Gen Core i7-8550U
Display size
13.3 inch
UltraSharp 4K (3840x2160), 100 percent color gamut
FHD (1920 x 1080) touch display, 72 percent color gamut
FHD (1920 x 1080) non-touch display, 72 percent color gamut
RAM
LPDDR3 4GB-8GB at 1866MHz
16GB at 2133MHz
Native graphics
Intel UHD Graphics 620
Discrete graphics
None
Ports
Two Thunderbolt 3 with PowerShare
One USB-C 3.1 with PowerShare
microSD card reader
headset jack
Storage
128GB (SATA); 256GB, 512GB, or 1TB (PCIe)
Wireless
Killer 1435 802.11ac [2x2] + Bluetooth 4.1
Intel 8265 802.11ac [2x2] wireless for vPro + Bluetooth 4.1
Miracast capable
Biometric
Widescreen 720p webcam with four array digital microphones; Windows Hello compliant infrared camera; Far Field Cortana capable
Optional Windows Hello compliant fingerprint reader in power button
Battery
52WHr
Dimensions
7.8 mm to 11.6 mm x 302 mm x 199 mm (H x W x D)
Weight
Starting weight: 2.67 lbs (1.21 kg) for non-touch
Starting at 2.68 lbs (1.21 kg) for touch
Starting price
$999.99

(opens in new tab)

Availability
January 4, 2018, globably
Dell.com, Microsoft.com
XPS 13 9370's killer display
Perhaps the most significant change is the new 4K (3840 x 2160) IGZO display, which is a step up in both resolution and quality from the previous QHD+ (3200 x 1800) option. Putting a 4K display into a 13.3-inch frame was at one time considered extreme, but now it's common. The tradeoff – decreased battery life – is not nearly as severe as it used to be.
Dell is using a brand-new generation of Sharp IGZO panels in the 9370. Brightness can now hit 400 nits versus the older limit of 350 nits. Previously, Dell would hit banding issues at the brightest settings, but that is no longer the case. That means outdoor visibility is now a go.
The biggest change for me, however, is the addition of an anti-glare layer to the glossy display. Dell used to offer a matte full HD non-touch option and a glossy QHD with touch, but now the company has combined the best of both worlds. The anti-glare layer keeps the bright, color accurate screen, but significantly reduces room lights from reflecting.
Color accuracy is also present with 99+ percent sRGB and 79 percent AdobeRGB, which is excellent. There is no pen support, but the rest of this display is way above average.
First-rate keyboard and trackpad
Dell slightly improved the keyboard in the XPS 13 9370 with more in-depth key travel (1.3 mm vs. 1.2 mm). For those upgrading from a previous XPS 13, the keyboard layout is familiar. HP still wins out for the best laptop keyboards, though, running close with Microsoft.
There are two levels of the backlight keyboard (besides just off), and it works mostly well. The alpine white chassis delivers less contrast with the all-white backlit keys, which are brighter towards the function keys at the top, but it gets the job done.
Others may still not care for the small arrow keys at the bottom right, which are also used in conjunction with the function key (Fn) to adjust display brightness.
Dell added a fingerprint reader built into the power button on the upper right keyboard deck. Our review unit's power button is not entirely centered. The fingerprint reader is OK, but for speed, users will want to use the new dual-infrared (IR) camera for facial recognition. You can configure both and use either when logging into Windows 10.
Image 1 of 2
The trackpad uses Microsoft Precision drivers. Dell has been excellent about supporting Microsoft's trackpad endeavor, and that continues with this year's model, meaning it supports lots of gestures. The XPS 13's trackpad is nearly perfect with a soft, but smooth feel, a satisfying click, and outstanding performance.
New speaker placement rocks
Dell finally moved its dual speakers from the bottom edge to the sides of the XPS 13 (9370). While still not as ideal as being on the top deck, these new speakers and placement are far better than I had expected. The audio seperation, quality, and richness are very good.
The included MaxxAudio software is decent, but I rarely notice the changes with the equalizer and would have prerferred some presets to make it simpler to use.
XPS 13 9370 battery, heat, and performance
Featuring up to an Intel 8th Generation Core i7-8550U processor, Dell is not pushing boundaries with the XPS 13 (9370). For those looking to save some money, a Core i5-8250U is available, too. A lower-tier Core i3 model will become available later in 2018 but for now, those who want the lowest-cost XPS 13 can still purchase last quarter's model the XPS 13 (9360).
What Dell did right, though, is let the XPS 13 (9370) run unimpeded. The Core i7 does not throttle nearly as much after long durations compared other Ultrabooks in this class. That ability is due to the revamped thermals and cooling solution in the 9370 including the use of GORE Thermal Insulation (silica aerogels).
That's not to say the XPS 13 (9370) stays cool or quiet. Audible fan noise in the form of a whooshing is present when gaming or doing anything that requires prolonged processor performance. Temperatures on the inside also get quite warm. Luckily, the chassis – and the part that touches your leg – is never more than just slightly warm.
Dell has a history of coil whine – a high pitched noise emanating from the keyboard deck due to vibrating components and electricity. Unfortunately, the XPS 13 (9370) also suffers from this, and it tends only to appear when plugged into an AC charger with the OS set to "Best Performance."
Dell is not alone here. Most Ultrabooks with an Intel 8th Generation quad-core processor tend to have this anomaly. The effect is more noticeable today due to the extra quiet cooling fans, which are used less frequently than years ago, and super thin chassis design, which used to help mask it.
For performance, the XPS 13 (9370) is excellent, scoring 4,681 for single-core on Geekbench 4.0 and 14,816 on multi-core. Those numbers beat out the new Razer Blade Stealth and even Surface Book 2 for multi-core. The new HP Spectre 13t edges it out in single-core but loses by a hair in multi-core.
In my review model, the 512GB Toshiba solid-state drive (SSD) (KXG50ZNV512G) performed well for read speeds, nearing 3,000 Mbps. But write times were below 1,000 for sequential, which seems unusual. Users can replace the SSD by opening up the bottom of the XPS 13 with a few hex screws.
Finally, battery life. Dell cut the battery size from 60WHr in the 9360 to 52WHr in the new 9370. However, the company says due to the new motherboard design in the 9370 it can get the same battery life as the older version. Even with the new 4K panel, I was able to comfortably push almost eight hours of regular usage, which while not mind-blowing is still very good for a Core i7 model with a high-resolution display. Those opting for a Core i5 processor with a full HD display can likely tack on another two hours of runtime.
The weak camera persists
The most prominent drawback of the new XPS 13 remains its front-facing camera. While it is still below the display bezel, it's now centered. At least the company is throwing in a Windows Hello dual-IR camera for facial recognition. If you use a webcam regularly, either you will need something like the excellent 4K-capable Logitech BRIO, or you'll need to find another laptop.
The 720P webcam on the XPS 13 (9370) has excellent contrast and is not washed out, but the resolution is rather low, and if you keep your hands anywhere near the keyboard deck it will look terrible. If, however, you are like most people, the built-in webcam is an afterthought and rarely used.
Dell Mobile Connect is amazing
Dell includes its new Mobile Connect software with all laptops sold after January 1, 2018. The free software, which is a Universal Windows Platform (UWP) app, is a serious reason to consider this Dell if you use your smartphone a lot.
Dell Mobile Connect works with any phone running Android 5.0 or iOS 10 and higher. By pairing the app to your smartphone, you can:
Make and receive phone calls through the XPS 13.
Send and receive text messages.
View and edit contacts on your phone.
Mirror your Android device.
And it's great. Dell utilizes a combination of Bluetooth to pair, but Wi-Fi Direct for data. The result is you can use Dell Mobile Connect without being on a Wi-Fi network – nothing goes to "the cloud," it's all local. That's great for performance and security.
Image 1 of 2
By taking or making calls on the XPS 13, you can leave your phone in your pocket. Same with text messages. But by far, the most exciting feature is the ability to mirror your phone onto the PC. When enabled, you can launch apps, play games, or just use a software version of your phone while on the laptop.
Some of this is redundant with Windows 10, and other apps have done this in the past, but none have done it this well.
XPS 13 (9370) is a genuine winner
There's hardly anything to dislike about the refreshed XPS 13 besides the camera. I like this laptop so much I would not pass on it just because of that – unless you really use a front-facing camera constantly.
The display, keyboard, and trackpad are nearly perfect. I find Dell's softness in the spacebar a little strange, but it is something I can adjust to over time.
And that 4K screen is dazzling. With the even thinner bezels and now anti-glare feature, this Sharp IGZO is one of my favorites to date.
Performance is also excellent with the new Core i7 processor and Killer wireless. Battery life is not at the magic 10-hour mark that would be ideal but considering the display and processor, anything nearing eight hours is OK by me.
Image 1 of 2
For ports, Dell is following HP and others by omitting a traditional USB Type-A port, substituting it for two USB Type-Cs (both Thunderbolt 3 compatible, with full 40Gbps data with 4x PCIe). A dongle is included in the box to help ease the transition, but many will miss that Type-A port. I also lament the loss of the full SD card slot. There is a microSD slot, which while OK is useless for my needs.
You can't open it one-handed, there's no pen support, non-replaceable RAM, or no option for a 4G LTE modem but those gripes are more niche.
Image 1 of 2
Dell did not tinker with a winning formula for the new XPS 13 (9370). The new alpine-white model and display have made me fall for this laptop, just like I did three years ago for the first version. Going back to my previous review for the 9360, Dell addressed most of my complaints. Dell may have been conservative with its design, but the payoff is worth it. Pricing starts around $1,000.
Pros:
Alpine-white and gold chassis is gorgeous.
Strong performance and good battery life.
New IGZO 4K anti-glare display is best-in-class.
New Windows Hello IR camera.
Full Thunderbolt 3 USB C ports.
Cons:
Expensive.
No Core i3 model (yet).
Awkwardly-placed web cam.
Some coil whine when plugged in.
Windows Central Newsletter
Get the best of Windows Central in your inbox, every day!
Daniel Rubino is the Editor-in-chief of Windows Central, head reviewer, podcast co-host, and analyst. He has been covering Microsoft since 2007 when this site was called WMExperts (and later Windows Phone Central). His interests include Windows, laptops, next-gen computing, and for some reason, watches. Before all this tech stuff, he worked on a Ph.D. in linguistics, watched people sleep (for medical purposes!), and ran the projectors at movie theaters because it was fun.
For those curious about a video review, we'll be adding that sometime in the next week (our videographer is on vacation). For those yearning for a showdown between Spectre and XPS 13, we'll be doing a video on that too, although, tbh, both are fantastic machines so it's more about preference than glaring drawbacks. Shout out with any questions or things I have missed and I'll try to answer.

any news about an XPS 13 2in1 refresh?

Nothing yet, but probably hear something towards May/June.

Looks great! Another good Windows PC. We're spoiled!

You are right. But I have to say: DDR 3 RAM? What is wrong whith all producers of this type of laptops? They upgrade everything (8-th gen quad cpu, ultra fast nvme ssd, 4k izgo touch screen, hello windows camera so on) but RAM type. This is a drawback of entire system.

Not as big a performance hit as you think. Hell, I think up until last year mac was using ddr2...ha ha ha.

It was a joke steve...Relax.

DDR3, really?! WOW. I guess that they could be banking on DDR4 being a passing thing - the whole RAM technology is getting overhauled - and trying to save some money... However, I *really* wouldn't buy this - if I were getting a PC - even if it "performs well". I mean, why would you, heh. :/

Anything about a XPS 15 refresh?

Likely something mid-year.

I want someone to make the Dell mobile connect for all PC's and phones!

Real0395, It should be baked into Windows at this point. It really is awesome though. I have it on my dell, and it works awesome. Daniel, do you know anything about the 2 in 1 13 refresh? I am hoping to get a white one for my wife this year. Wondering if you saw anything floating about? I am moving up to the xps 15 2 in 1 this summer. CAN'T WAIT!

Both XPS 15 and XPS 13 2-in-1 need an 8th gen refresh; it'll happen likely in the next few months. Rumor has it XPS 15 will be 1050Ti Max Q or 1060 Max Q.

I am hoping that dell will give the xps 13 2 in 1 the white rose gold treatment. My wife loves the look but loves the 2 in 1 form factor. As I do. Come on with the xps 15 2 in 1 now. That's going to be a killer machine.

Hi Daniel, my one-per-thread battery life confusion (on my part) question. Your comment about Dell saying that they are getting the same life with the 13% smaller battery doesn't seem to be a common thread from reading from multiple sources that peg this as a pretty big fall off from the 9360 with Kaby Lake Refresh. When they say "the older version" are they referring to the 9360 with the 7th generation chips?

No compared to 9360 with 8th gen. This is a smaller motherboard that is completely new/reengineered (hence the 4x PCIe for TB3) and soldered RAM.

Thanks, and odd. Perhaps the distinction here is you are looking at the 4K and QHDdisplays for these battery results and the reviews I am recalling were over the FHD variants (with runtimes of 12.5 and 16 hours respectively). Reality says that your times are likely more relevant unfortunately as I cannot seem to find an XPS with FHD and 16G as an option. So in that regard, the 9370 i7 vs. 9360 i7 KL-R are going to give me roughly the same near 8 hours is a helpful takeaway. Again, thanks for the insight and answer.

Dell needs to release the mobile connect for all W10 devices, I'.m sure alot of people would gladly pay for it.

Are you sure Mobile Connect is UWP? Doesn't seem so on the screenshots.

110% sure. For one, I interviewed the Dell engineer who oversaw its development. Number two, it's literally in the Microsoft Store where it can be downloaded if you're using an approved Dell device :) I'd also say it does look very UWP including the menus.

I have an older XPS13 and I'm surprised about its quality. Had it for almost 2 years now, still runs fast and hardware is holding up like new. For comparison I had an Alienware laptop a couple of years back (about 7 years ago) and that garbage self destructed by itself. Had light usage since I only really used it for traveling and when at home it was barely in use. Monitor hinge broke, fan started making clicking noises, and then the whole system just ran sluggishly. I just threw it away as it was worthless. So the new Dell's are actually very good and can recommed wholeheartedly.

FYI since you owned that Alienware dell purchased them and are now awesome systems. Just so you know.

I really hope that there will be an M5-version without cooler again. The 9265 version is just awesome, has enough power office work and Dwarf Fortress and ...is completly silent.

Stopped reading at coil whine. Why? Honestly Dell, it's still an issue?

OH, what, that buzzing in your ear? Nah, it's nothing, don't worry about it! :P:D