New 'Your Phone' feature in Windows 10 further links your smartphone and PC
Your Phone for Windows 10 integrates your smartphone with your PC by showing you relevant info on your phone directly on your Windows 10 device.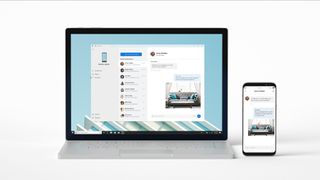 Microsoft has today announced at Build 2018 a brand new feature coming soon to Windows 10 called "Your Phone" that's designed to help further tie your Android or iOS smartphone to your PC. Unlike current implementations of phone integration, Your Phone is a window into your smartphone, right from your PC for instant access to text messages, photos, and notifications.
With Your Phone, users will be able to read and send text messages, drag and drop photos from your phone and place them into documents that you're working on at your PC, and see your phones entire list of notifications. The idea here is to make it so you don't need to keep switching back and forth between your PC and your smartphone when working on an essay or doing research. You can see everything you need to see on your smartphone right through Your Phone.
From Microsoft:
Microsoft says Your Phone will be coming to Insiders for testing very soon. The latest Insider build already has the Your Phone app preinstalled, but it doesn't appear to do anything new just yet. Microsoft has not committed to a release window for Your Phone, so it might or might not show up in Redstone 5 for the public later this year.
Further integrating Android and iOS into Windows 10 is all part of Microsoft's effort of bringing Windows 10 integrations to where people already are. Since Windows Phone failed, Microsoft is now committed to bringing the best of Windows 10 to Android and iOS users, as well as making Android and iOS work better with Windows 10. In light of this, Microsoft has also today announced upcoming integrations with Timeline on iOS and Android, which you can read about here.
Zac Bowden is a Senior Editor at Windows Central. Bringing you exclusive coverage into the world of Windows 10 on PCs, tablets, phones, and more. Also an avid collector of rare Microsoft prototype devices! Keep in touch on Twitter: @zacbowden.
Hmm super interested in how well this will work with android. It would be cool if this was like the Samsung sync or Dell link thing or whatever you call it where you can mirror the phone, make calls, send messages by typing, etc.

Yes this could be quite promising if it's developed properly. I already send and receive texts on my pc from my Android phone using Cortana integration, hopefully this app will build on that

I hope this works well and I wish Microsoft will polish it at leeast. (we have several apps already that still looks and functionality half-baked). I guess this maybe like screen mirroring your Android to this Your Phone app's window. What I just rather want to see is to further integrate and support some Android features like Android Beam with Nearby Share of Windows 10.

Maybe they should first fix this functionality on people who still have Lumia's before making it available for everyone else. I completely understand the monetary incentive, but it still kind of sucks.

Time to move on oolong. Windows mobile has died. get over it. They will be doing nothing with windows mobile.

Something I've missed from my BlackBerry 10 days was BlackBerry Blend, which was a similar goal. A lot of the content on my phone I could also do synced to my computer anyway (email/calendar/contacts), which is not true for everybody of course, but I did use it all the time to BBM and SMS message. Looking forward to trying out Microsoft's solution for this, which will probably come out in the Fall release which will likely be around the time I go to Android.

Something I'm starting to miss for my Lumia.

This is a big reason people purchased Macbooks in the past. Phone to PC integration can't be underestimated. It's such a useful feature to have. I can only wish they'd put out a beta app so normal people can begin using this ASAP.

Wait. Haven't they deprecated the Phone Companion just a few days ago? Why stop developing this one and then, again, announce something shiny and new for the future?

Employee churn.
I can write a better app than this one you've given me to support.

Off road, (cool name btw), This is entirely new, phone companion is only to really link EDGE. This new system will do that, and MUCH MUCH MORE!

I stand corrected, This new system is crap compared to even dell's mobile connect, which I am using now.

i thought there was already a system in Windows 10 to connect phones?

Most boring Build, EVER. No Anromeda, it's official. No mobile future within the Windows ecosystem.

You were expecting something different? Mobile is DEAD in Microsoft world, that's been known for a while now.

Well, technically, it's not dead, since they are whoring themselves out to iPhone and Android. So, it's really not dead. Yet. I just think that most Android and iPhone users will continue to view Microsoft's attempts to play nice as a yawner and eventually Microsoft will just be Azure.

Exactly, They're whoring themselves to the crowd who doesn't like them and never will, instead of pleasing their fanbase. It's such a dumb position to be...

It's not really a dumb position though is it?
If you keep in mind that MS is of course a business, hundreds of millions of users use Windows 10, the users for WP... well that must be in only the relatively low thousands by now. Financially, it makes so much more sense to develop for the many and help hook them in to the Microsoft ecosystem (Xbox, Skype, Office, Bing etc.) by helping them bring their devices together. If they did that for only the few WP users still out there, they'd just be preaching to the converted, surely? And barely anyone would get to fully exploit everything they are doing with W10. Business is business, and Microsoft's interests are in making money.

My take is that of the hundreds of millions of users that user win10, how many of those are by choice? People us PC at work just because they have to, how many turn on their PC after work? Phone/BYOD is me, my pick, I pick ios/andriold/web os/wp because I like it. Satya inherited a gold mine, the next gold mines are data, apps, mobile and cloud. And MS fked the first three, some people don't think they able to recover from it and back into the lead. Yes business is about making money, look at apple and MS earning then tell me whom you rather be?

BUILD 2018 is fairly cool if you're an Enterprise with millions/billions in IT budget and unlimited time to work on sci-fi ready projects cut from minority report. If you're an Enterprise that has a giant backlog of real-world apps, boring old business apps, to write, or if you're a startup (with your office in your basement/garage) banging code out with your best friend, building primarily Consumer focused apps, then BUILD 2018 is an absolute disaster. I think MS as a consumer facing company is not completely dead, but it SHOULD be completely dead. I hope Google releases a Chromebook that can run Android Studio at I/O and releases a game streaming service, and just puts MS consumer completely out of its misery once and for all. That said... Windows Central (formerly Windows Phone Central) is primarily a consumer focused site. The real question is... should they rename the site to "Azure Central" or "xbox Central? I don't know. Azure Central just sounds completely lifeless and boring. "xbox Central" just seems a crying shame to reduce Windows to a gaming only device.

I need you to show me, on the doll, where Microsoft touched you. It's ok, you're in a safe place here. Microsoft can't hurt you here.

Sad part is that Your Phone will be pretty cool in our day jobs. We can just stay on our laptops and not have to dig out our company issued iPhones out every time it buzzes right? But yeah... it symbolizes the death of Consumer-facing UWP productivity apps.

To be fair, UWP was DOA. This was a foregone conclusion.

This was not the place to announce that stuff....IT's been literally SCREAMED HERE by Daniel on MANY occasions. Fanboys...sheesh...

There is a dedicated conference for announcing hardwares - Build is specifically for developers.

Redstone 5 is shaping up to be a big release

Hopefully this works with Whatsapp, the Whatsapp Windows 10 application is far away from replacing the mobile app anytime soon.
What I want in Whatsapp for Windows 10 integration:
1) Voice calls using the desktop app (use microphone of the Windows 10 device, instead than the phones)
2) Record sounds with Windows 10 and send it through desktop app
3) Allow attaching pdf, word, and other Office documents using the desktop app

Depressing. It's all just so depressing.

agreed, i can only see the color grey looking at the current microsoft

I look really good in grey and also green, really brings out my eyes

I have said that for years...cubical grey. All MS is worried about is cloud and cubical dwellers

I've listened to them a couple of times before which led me to buying a Windows Phone. Should I regret listening to them then and buy an android crap phone? Or should I have learned by now not to listen to them? Just kidding. I assume this doesn't support their own Windows 10 Mobile OS. And it's pretty embarassing.

Why? Windows mobile 10 has been deprecated for some time now.
No point in addressing it for a few people. The vast majority use android, ios. That said, I'm still using windows phone 7.5, with no intent on ever switching to 8, 8.1 or 10. later
-1

please don't be half baked
please don't be half baked
please don't be half baked

Would be interesting to see Enterprises push Microsoft Launcher as the launcher of choice for Android based phones...it's almost a no brainer if the app turns out to be great. Edge, Office, Outlook, Continue On PC, Office, Pick Up Where I Left Off, Time Line, Your Phone.

No thanks. I like to keep my phone and PC separated.

This is really cool!
Now do I go Android or IPhone.....?

it depends on how deep the integration you want or how much freedom you desire. I don't see this working with Apple's iMessage at all. iMessage is encrypted end to end, and is carried via apple's servers, not thru the carrier texting system. although, if enabled, iMessage will send as a regular text if apple servers are down. and of course, if texting something other than an iPhone it might work since that would be a normal carrier text message. Android will be more open but more vulnerable.
iPhone is rock solid secure but way less open.
Apps Are more polished on iOS and iOS gets apps first (sometimes weeks or Months before android)
both systems are Great overall. there isn't a bad choice. it just sucks that there is no windows phone anymore.

veep veep, IOS works great with Dell's mobile connect, however, android has Many more features. I expect the same with MS Phone. If you go android, Look at the essential phone. It's the nicest peice of hardware I have seen in ANY phone. Even my beloved 1020. Camera was way better on the 1020 of course. But finally someone built a phone like a tank.

Choose your poison, ratsack or cyanide. It doesn't matter. If you want to support Microsoft in any way go Android because MS got more money per device via patents and licencing than they got from their own baby. So they killed their own offspring and went with the evil illegitimate offspring. Much like the Westworld storyline.

Fanboys are tooooooooo funny. Android and IOS are both miles better than windows 10 mobile.

I really like this feature. During my good, old, golden days, I used Nokia suite. When the phone is connected, all the messages will be on my computer, so whenever there is a message, I can reply from the computer instead of touching the phone. When android world grew up, I missed this feature a lot until Samsung comes with Side Sync. It is some sort of Nokia suite, but this mirrors phone screen on the laptop and enables to reply through the computer keyboard. Now I use it every day and it part of my life. I was not able to switch to another brand android phone only because of it. Blackberry tried with Blackberry Blend. Unfortunately, they could not make it happen with BBOS. If Microsoft does it well by including text messages, notification from ONLY certain apps (like whatsapp) for all phone (i.e. both iOS, Android), this will be a huge success. In nutshell, their continuum should be an app that can be installed in windows machine instead of stand-alone with phone only.

How ******* boring is Build without mobile. MS don't give a **** about anything that's not enterprise. Yawn.

Best news for my L930!!!
What...no?
:D

Hmmm, not sure how popular this app will be and if it makes the Microsoft retirement land in several months.
I still dont understand why Micrsoft dumped the mobile market but its seems anything with the word "Azure" is now king.
Yes, all this AI stuff is fun but for general every day companies not much changes in Microsoft land. Azure and AWS are big game players in this changing IT world and maybe in several years we'll have some skynet system but Microsoft lacks any imagination how it will win consumers back to using Microsoft products, Surface Pro just one such product that has survived. Satya Nadella is too much Azure focused and there is benefit from Microsoft locking companies into the Azure world of business but don't keep all your eggs in one basket rings to mind.

I like a lot of what I've seen so far. Cool ideas that will work great.
But, regardless of how hard MS tries to convince the world that we don't want or need a Windows Phone......a lot of us simply do.
It's still the perfect mobile device.

Microsoft spent billions for years trying very unsuccessfully to convince people to use Windows Phones. Nadella had a choice - follow Ballmer's huge failure and see their services and Office business die or save the services and office business by embracing Android and iOS. Seems like an easy choice to me. Also, Nadella did not have a choice the MS Board made it very clear to Nadella that he had to chart a new successful course. Watching MS' financials since he took over I vote for his approach.

The serious problem is that folks have lost a lot of trust in Ms and nadella because they backflip too often.

The My Phone app is redundant. When i sms, all the Skype apps on my Elite X3 and Lumia 950xl and Surface and Desktop see the sms. When i take a photo on my Lumia 950xl, my PC and Surface gets the photo in the Photo app within a few minutes. I also use my Surface/Desktop to Whatsapp to 2 accounts on 2 separate phones. I watched Day 1 till 2hour mark. Will continue later. What really excites me is the IoT and AI at the edge. And waiting for Hololens 2. I'm into WMR now. Very cool but there's still a long way to go and still very backwards when compared to Hololens. Although Hololens is a lot harder to develop for. A bit disappointed not to see any mobile related news. Hopefully something will turn up on Day 2. No mobile API means no Andromeda. ARM64 compiler for VS is very cool but not very useful except for apps with uses large data sets. IoT usually don't need 64bit.
Windows Central Newsletter
Thank you for signing up to Windows Central. You will receive a verification email shortly.
There was a problem. Please refresh the page and try again.