Microsoft and Samsung expand partnership, including Microsoft apps and services integrating with the Galaxy Note 10
Microsoft's CEO and Corporate Vice President spoke at Galaxy Unpacked about Samsung and Microsoft working together.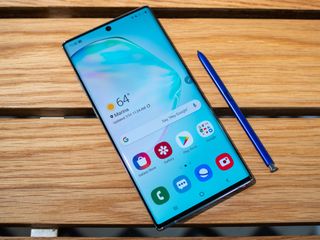 What you need to know
Microsoft and Samsung have strengthened the partnership between the two companies.
Microsoft's CEO and Corporate Vice President were on stage at Galaxy Unpacked to discuss the partnership.
The partnership includes several Microsoft apps and services integrating with Samsung devices.
Microsoft CEO Satya Nadella joined Samsung Electronics CEO DJ Koh to discuss the growing partnership between Microsoft and Samsung. Earlier during the presentation, Microsoft's corporate Vice President, Shilpa Ranganathan presented several aspects of the partnership. Several Microsoft apps will be natively integrated into the Galaxy Note 10 and Note 10+, and Your Phone and DeX will allow users to work seamlessly across their Galaxy and Windows devices.
Your Phone
Microsoft's Your Phone app is natively integrated into the Galaxy Note 10. With this app, users can sync their phone notifications, text messages, and photographs with their Windows 10 PC. Users on Galaxy Note 10 devices will also be able to mirror their phones to Windows 10 using Your Phone. The mirroring supports multi-touch gestures as well as mouse and keyboard. Additionally, Your Phone will support relaying phone calls later this year. Your Phone isn't exclusive to Samsung devices, but Microsoft is clearly working closely with Samsung to make sure that all of its features work well on the Note 10.
OneDrive integration
Microsoft also announced that OneDrive will be natively integrated into the Samsung Gallery app. This allows users to have photos and videos automatically synced across their devices. A OneDrive app is already available on Android, but this new integration makes it easier for Samsung mobile device users to sync their gallery to Microsoft's cloud. The new feature is coming this fall.
Microsoft also highlighted that users can mark up files on OneDrive with the S Pen and that files stored on OneDrive vault have increased security.
Outlook and Office
Microsoft announced several ways that Outlook and Office work well with Samsung devices. Microsoft Outlook is preinstalled on Galaxy Note 10 devices. Note 10 devices also have enhanced S Pen integration including hovering over an email with the pen to see a preview and accepting or declining event invitations by hovering the S Pen.
Outlook also has new features for Samsung devices. There's a new three-pane view for Samsung tablets, and users can open multiple messages in separate Windows when they connect to Windows 10 through Samsung DeX. Outlook is also coming to Samsung Galaxy wearables in the future.
Microsoft Office won't be preinstalled on Note 10 devices, but Microsoft highlighted its mobile suite of productivity apps being available on the phones.
A new way to shop
Microsoft and Samsung aren't just partnering on software. The Galaxy Note 10 and Galaxy Note 10+ will be sold in person at Microsoft Stores and available online through the Microsoft Store. There's also a trade-in program that allows you to trade-in select mobile devices at the Microsoft Store to get up to $650 in trade-in value towards a Galaxy Note 10 device.
Galaxy Book S
The Galaxy Book S is probably hidden a bit by the announcement of the Galaxy Note 10 phones. The new laptop has Gigabit LTE connectivity and the new Snapdragon 8cx chip inside. The Galaxy Book S was developed through a partnership of Samsung, Microsoft, and Qualcomm. It's the highest-end Windows 10 PC powered by ARM and the first to be announced running the Snapdragon 8cx.
A growing partnership
Microsoft and Samsung have worked together recently, but today's announcements bring everything together and expand the partnership further. The fact that Microsoft's CEO and Corporate Vice President joined Samsung's CEO on stage indicates how serious this partnership is. Nadella also said that there was more to come in the future from this partnership.
Noteworthy
Samsung's latest Galaxy Note phone

These powerful smartphones feature an impressive amount of internal storage and come with a pair of USB-C headphones. The S Pen gives you more control with handwritten notes, air gestures, and photo editing.
Helpful headphone accessories
You'll get the most convenience out of your new smartphone if you have the proper accessories to go with it. Here are some that we recommend.
Kimwood USB-C Headphone Adapter (opens in new tab) ($12 at Amazon)
This simple dongle allows you to use your 3.5 mm wired headphones with any USB-C port. It's perfect for use with the Samsung Note 10 or 10+ smartphones.
Anker 10W Max (opens in new tab) ($16 at Amazon)
This case allows you to extend the battery life of your iPhone to a total of 25 hours while protecting it at the same time. The helpful design gives you access to the Lighting port while charging wirelessly so you can listen to music or make calls.
Tribit XFree Tune (opens in new tab) ($40 at Amazon)
This pair of wireless headphones gives you quality sound at a cheap price. They work for 40 hours before needing a recharge and have a comfortable design so you'll be able to use them for long stretches.
Windows Central Newsletter
Get the best of Windows Central in in your inbox, every day!
News Writer and apps editor
Sean Endicott brings nearly a decade of experience covering Microsoft and Windows news to Windows Central. He joined our team in 2017 as an app reviewer and now heads up our day-to-day news coverage. If you have a news tip or an app to review, hit him up at sean.endicott@futurenet.com (opens in new tab).
That's cool but I still cant use android phones for work. Not secure enough.

Yea, I work in government and it's apple only for the most part, barf.

Same here. I have to buy an iPhone sometime before November and put away my Windows phone as they will no longer be supported on our network. It will be a sad sad day. Uhhhg iPhone...

If that "partnership" doesn't include a deeper connection with Cortana so that I have AT LEAST as full support for Cortana hands free as I have on the Lumia devices, then I just don't care. It's all crap.

I'd be surprised if Samsung were to provide specific support for a third assistant.

They support their own Bixby which is horrible. I would rather see Cortana baked into my Samsung phone than Bixby

Cortana is dead. You will never see full support for it again. https://bgr.com/2019/08/05/google-assistant-new-feature-messages-out-loud/

why are you here sorry Cortana is not dead lol I think is time for you to move to android central where you will have a happy life

Check back in a year. No way they still have a service called "Cortana". They are decoupling it now and will eventually just abandon it. Cortana will be completely ignored and rough shape if not outright killed within a year. Since they dropped mobile and didn't embrace smart speakers, there really is no place for Cortana.

This partnership is nothing short of brilliant. Maybe we never needed a MS branded phone after all?

Makes me wonder if Microsoft and Samsung are working on going up against scroogle and Amazon by partnering up?

They could be. But dose this mean that the Samsung mail app as well as others are no longer installed and they use outlook and office as the default apps? If so I may just upgrade my note 8 to the 10 just for this as I have an issue with calander sync when I use outlook now on my ticwatch pro and have to use the Samsung default apps for it.

The article says that Office won't be preinstalled so I doubt that. The Samsung apps will presumably still be there and still not be able to be uninstalled. I imagine that Microsoft are trying to change that but Samsung do love their bloatware so aren't likely to give up their own apps any time soon, if ever.

Are boo well for me as it stands I don't seem anything on the 9 or 10 that makes me want to upgrade from my note 8 at the moment.

It's interesting how Microsoft and Samsung refer to things in the blog and press release. They often say "natively integrated" but don't use the word preinstalled. But then with Outlook, they say preinstalled. With Office they didn't say either. I'm assuming that Your Phone is preinstalled because they said it "natively integrates" and they highlighted the "Link" button.

I see this as something more directed at responding to Apple than anybody else (of course others may get splashed a bit in the wave). Microsoft did make some noises about asking Apple to open up iPhone but that was never gonna happen. Basically, Win10 devices + Samsung (high end) Phones = Apple MacOS/iPhone integration. It is an alternative for high end users who want the convenience of having their mobile as fully integrated as possible to their PC. It likely makes a lot of sense in the corporate world. I doubt that there is anything ultra exclusive about it though. Samsung will continue working closely with Google, and Microsoft would keep their options open if any other party were to rise within the Android maker ranks towards high end.

I doubt that there's anything exclusive either. Microsoft has talked about how certain hardware is to innovate and ensure the best overall experience, even though you can use Microsoft stuff on several devices. I imagine that Microsoft will work with Samsung to make sure things like Your Phone work really well, but the app will remain available for other devices.

The OneDrive thing is cool, but will never make it to Carrier devices unless it's an App Update from the Samsung App Store. Carriers like Verizon have historically removed this from their updates to push their own cloud storage and backup solutions. They did this on many HTC and Samsung phones, and Samsung Cloud is nerfed on these phones, as well. I think the One X had OneDrive integration in the Gallery for backup, and Verizon and AT&T both removed it Could be a killer feature for people who want a reliable native solution, already have Office 365 subscription (with 1TB Storage), and dont want to I stall extra apps like OneDrive (cause not used for anything else) or Google Photos). Outlook in DeX is stupid. Just use your computer. Big issue with Samsung is how they dont backport features. No point in buying their phone if you're basically obsolete immediately, cause they do not backport to the extent that Apple does. Personally not upgrading for this, as I don't use a Microsoft Account login on my PC. That account only exists for Office (and would be deleted if I cancel the subscription, anyways). Nor do I want more services running on my phone. Shaping up to have Galaxy S4 levels of bloatware stuffed onto it.

You still buying carrier devices though? Why lol?

I shifted all my photos across to iCloud just because of the non synchronisation with PC. It's probably a little late for me. But for people who have their photos still in onedrive this would be super useful.

The devices are identical. I'm sure a Foxconn employee would agree...

Non synchronisation? What? OneDrive does this flawlessly for me.

Mainly the inability to have a whole collection from your computer on your Samsung phone. And by that, I mean, you could sync Samsung Gallery to load photos taken on your phone to onedrive, but it was much harder the other way. Maybe I was too lazy to work it out, but I only had photos taken on my Samsung from the day I bought it available in Gallery. The rest, everything already in Ondrive, I had to find in Onedrive the app.

the trend of camera peep holes in the display is off-putting. I'd take notches any day over that nonsense

What I missed at the Samsung unpacked event was Microsoft's efforts of supporting a diverse array of phones. Because it is a Samsung event I can imagine the message would be limited to Samsung only devices. Granted the Note and Book S were the main focus, but it was a generalistic "Samsung Unpacked" title event. MSpoweruser recently had a blog article showing a nice list of curent supported devices for the Your Phone screen mirroring. Something that was not highlighted in the event. I think that is a missed opportunity of mentioning progress. The message of supporting more android phones with Your Phone was left to speculate. And it's far from certain how much resources Microsoft is willing to put into supporting Your Phone for more current android devices. The current list is small and only for a few high end devices. I would have had more faith if microsoft would at least have shown a message to support Your Phone for the Samsung Galaxy A line as well. It's still far from officially clear what features work with other Samsung phones, something that represents a more relevant portion of the global market. The Note is still niche and the price tag shows. In that regard the UN message felt incomplete and not really adressing the globe. But I can imagine they would want to start with a hero device, although that buzz will fase off quickly, with little to show for later as most people won't have the money to buy a Note device. I do think the partnership with Microsoft and Samsung is interesting. They have a long history together. They made a decent windows phone like the ATIV S a couple of years ago and several laptops and tablets. I did find it confusing about the compatiblity of Dex with windows 10. Using two different OS'es on the same device. Fortunately dragging and dropping is possible, but it left me with the question why? Why not one OS instead of having to fiddel with two. I think this shows a lot is still in it's infancy. I think it's good to have choices, but I think that demo missed a real world practical compatibility problems. If it was A form of microsoft continuum on Samsung, as a replacement for Dex, I think it would have made more sense. There has been a lot of comments on the lack of tailored apps for Samsung Dex. I was disappointed not more was said on how Samsung would adress this. If this doesn't change Samsung does not have much to live up to in value. It was the same experience with windows phone continuum. In that sense I see Dex still much a flawed poster child to date. The fact the app support was not mentioned, to me, describes how much Dex is still in its infancy and distracting from real world productivity and usability issues. The presentation was too clean and too good to be true. Wait and see will likely be the right attitude, but I think if this issue is not part of the conversation and presentation from the start, not much will come of it.
For now I think dragging and dropping from Your Phone Screen is a more practical feature with apps I could see me work work interactively and productively than fiddling with two different desktop OS environments. If that was demoed, I think it would have been cooler and more realistic. I wonder how long microsoft will support onedrive with Samsung photos? Will the support go beyond 5 years. Or will they deprecate it over time just like what they did with Groove, Zune e.a. I wish they were more transparent on that. People are holding on longer to their phones, that's what the higher price asks for as return of investment over time.

For true fans we know that windows phones had continuum and the 3D scanning years ago. It's just that Windows Phone has such a small market share but no one payed attention. I'm pretty sure Microsoft is getting paid behind the scenes for the use of these technologies. I will say that Microsoft needed this event to give them "cool points" in the eyes of melineals. Hopefully this did it... 😁

Switching to the Asus Rog 2 phone and not the Galaxy Note 10, which I considered as a replacement for my dying Lumia 930, which by the way, is still buttery smooth even though the apps are falling like a bag of rocks lol. The Asus R2 meets every spec in a mobile device. I wanted the Surface team to build a phone like this and integrate it to the soon to be gaming platform, xCloud, which would have completed the Surface circle, so to speak. This would have shown other OEMs what to aspire to when making their competing devices like the Surface line is doing now. Why Microsoft is holding out on this last piece we will never know but now that they are not going to I have taken the mod approach and picking devices and software that get the job done and most are not Microsoft driven. To me the iPhone and Mac integration is the best bar none. None of the software/hardware giants, Microsoft, Apple, Google or Amazon can meet your entire needs...and maybe that is by design. Regardless, I am sure the Galaxy Note 10 will be a good device for what it is but if I must leave my winphone, it will be for something like the Asus Rog 2...and of course its cool accessories!
Yeah I know its a phone focused at gamers but it is also a productivity device that I will use as my daily driver for work.
Check out unbox therapies vid about the Asus R2
https://www.youtube.com/watch?time_continue=1&v=q3eFXeO62oo

Now if only we could get Cortana back to its "glory days" and replace Bixby. If only...

Actually, you can remap the Cortana app to the Bixby button by certain remapping apps.. But, you'd be better off adding Googles assistant. What windows needs is Googles assistant.

got my Galaxy Note 10+ pre-ordered.. honestly, the combination of the Microsoft Launcher and the actual availability of all the mobile apps you could ever ask for has made my Galaxy Note 9 a better "Microsoft Phone" than any of my Windows Phones ever were.. As the Microsoft Launcher and the Your Phone app continue to get updated with deeper integration with Microsoft services, this will only strengthen this ideal with virtually no compromises

How much did you have to pay for the pre order?

Well put! I'm using a Nokia 8 Sirocco. It looks amazing but I'm disappointed with its performance and camera. The Nokia 9 preview is so sluggish with camera processing so I'm very tempted to pre-order as well!

Partnership inside Google's stomach (platform) is nonsense

There is no way we will shift towards any Android / Google device. At present we are all 5 family members still at MS 950XL. In September my youngest son and spouse will get an iPhone XR. In December my other two sons will get an iPhone XR and me, dad will continue to use the 950XL until it breaks, and then I will continue to use the other 4 950 XL's until they break and hopefully by 2022 or so there will be an ultraportable Surface device with 2 screens and phone capabilities. Google / Android? No Thanks.

Call me cynical but to me this tells me that MS is desperate. Trying to shoehorn your software into someone else's hardware, when you are a seriously big fish looks like the actions of a drowning man.

MS on the whole is doing fine. Far from drowning. However, MS is trying to remain relevant in an increasingly mobile world. The future is mobile and mobile apps, and MS desperately needs a mobile SOMETHING in their stores. The fact that it is an Android phone made by Samsung (yet again) just proves that there is no Surface/Windows mobile device coming for at least the next year. Maybe longer. With "Microsoft and Samsung expanding their partnership", such a device may never come.

I agree with you to a point naddy, because the Financials are looking good at the moment. However, I would suggest that my drowning description is also backed up by your reference to some form of MS mobile device being somewhat off in the future. Therein lies my opinion that, without its own hardware, and shoehorning it's software into another company's hardware is pretty close to a definition of desperate. By the way, will Nadella review his reason for dropping WM now that Huawei has announced its Harmony OS?

So, again I ask... How does this partnership enhance the experience of MS apps? I can already do these things on my Note 8, albeit, I had to download the apps, when I first got the phone. Is this just about app visibility and usability for MS?
Windows Central Newsletter
Thank you for signing up to Windows Central. You will receive a verification email shortly.
There was a problem. Please refresh the page and try again.