Phones4u setting up Windows Phone displays, preparing for launch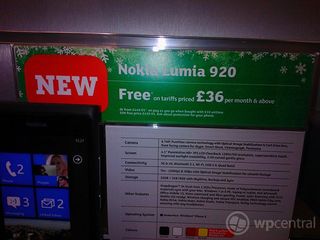 UK retailer Phones4u is starting to prepare for Windows Phone 8's arrival by setting up demo stands and promotion material in stores across the country. We've been sent in a collection of shots that show pricing, availability and exclusivity of the Lumia 920 - it's not all bad news.
While EE holds the Lumia 920 exclusively for its UK 4G LTE launch, both Orange and T-Mobile will sport 3G plans for those who don't wish to use higher speeds, or pay the premium that comes with. If that wasn't enough options, Phones4u is also offering the Lumia 920 SIM-free too, as well as carrying the device for EE and sister networks.
Poor sod has just worked out data limits on EE's 4G plans
Pricing of the Lumia 920 start at free on tariffs of £36/month or above, which isn't such a steep hill until you take a quick gander at what's included. This is what you'd be have on your account, should you take the Lumia 920 or Lumia 820 out on EE (including unlimited SMS and calls):
£36 - 500MB
£41 - 1GB
£46 - 3GB
£51 - 5GB
£56 - 8GB
While unlimited amount of SMS and calls is an attractive setup, the fact that only 500MBs of data is included on the cheapest plan (which isn't 'cheap' by any means) makes one reconsider options.
Thankfully there are no restrictions on how data can be used - VoIP, tethering, etc. is all within the plans. Also, BT Wi-fi is also included at no extra cost, providing access to millions of wireless hotspots across the UK, which will save some MBs. But even then it's a tight restriction level. You could always purchase the Lumia 920 (or Lumia 820) SIM-free and then pick up a SIM-only plan from EE, which will save a few pennies:
£21 - 500MB
£26 - 1GB
£31 - 3GB
£36 - 5GB
Lumia 920 pricing (left) and HTC stand (right)
Purchasing the Lumia 920 SIM-free from Phones4u will set one back by £459. According to material sent to us, the Lumia 920 is exclusively available in yellow and red at the UK retailer (white is reserved for EE only).
We've also been told that the launch of the Lumia 920 on EE (as well as Orange and T-Mobile) is today, October 30th, though the website doesn't yet reflect this. We'll be heading down to one of the stores to confirm.
Thanks, John, for the photos and info!
Windows Central Newsletter
Get the best of Windows Central in in your inbox, every day!
Rich Edmonds was formerly a Senior Editor of PC hardware at Windows Central, covering everything related to PC components and NAS. He's been involved in technology for more than a decade and knows a thing or two about the magic inside a PC chassis. You can follow him on Twitter at @RichEdmonds.
According to EE's site they've added an extra £20 to their sim only packages which is even more of a rip off than their plans with phones :/ as £26 p/m for a gig of data is less than I pay for my contract with 1GB :/ either way I'm ony 1/2 way in my current contract so Lumia 920 unlocked for me anyway.

Scratch that was also for their phone plans, can't seem to find where their sim only plans are on their site :/

wonder if we need to book it first for sim free lumia 920?

I just wanna know how much it will cost Sim Free from Phones4U..

you can see it in the pics... it's 459 pound

Sweet! thats not as bad as I thought it would be!

When I called them the lady wasn't sure if they would offer it sim free for the first couple of days.

I see. Probably I'll go to nearest local store this Thursday and ask whether they'll sell it early or not

So being on a T-Mobile contract it means I CAN actually upgrade to the Lumia 920? Can someone confirm this or not?
I wish someone from the companies would actually give some bloody official information about it. T-Mobile's twitter support has been utterly silent and EE are being idiots, not answering actual questions but just saying "Get it on EE, click here to see our plans!" The whole situation is a complete farce.

I spoke to T-Mobile and they said you can upgrade but you will be passed on to EE's Sales and Upgrades Team, didnt get a chance to speak to anyone as I am in work and spent 35 minutes waiting...

Ah, so finally a slight glimmer of hope, thanks for the info.

This does all sound pretty typical of T-Mobile though. They're possibly the worst customer services I have ever dealt with. They seem to refuse to give any information about anything unless you sit on the phone for ridiculous lengths of time to get through to someone who actually knows, otherwise you just get fobbed off. The only reason I've stayed with them is because I'm on an unlimited data contract for around £26 a month (not sure exactly off the top of my head) and Three is awful in this area.

If I can get a Lumia 920 on my current T-Mobile 3G tariff I will be very happy. Else I am probably going to leave T-Mobile and head to Three (as I'm actually moving to an area they support in a month or two) and getting a HTC8X. I'll be grumpy about not being able to get a the 920, but at least I'll have a WP8 on a carrier who hopefully cares about their customers.

I'm actually changing from Three because I walked in store the other day to see if they were going to get the Lumia 920, I was fobbed off with the excuse "Both Microsoft and Nokia are going out of business so we won't deal with them". I just walked out, never going back to Three, all they do is lie and try to sell me an Android everytime I walk in the shop.

I'm in two minds about whether to get the 920 now and go with EE or wait until 2013 and hope that the 920 becomes available on other networks with non-ludicrous price plans.
Any thoughts?

Yes, I have one thought, the HTC 8X. Nokia have made an error in judgement. I will be getting the 8X.
Its better looking, it was only really the 920 camera I was waiting for. But I'll got HTC now instead.


The display doesn't list Gray or Cyan as available colors for the Lumia 920...Hmmm.

What no grey option? Figures, the only one I wanted is the only one they don't have.

On the EE website they're only listing black and white for the 920 which sucks. I'll be popping into the store to see if I can get more info on upgrading on t-mobile.

This article changes things... looking forward to hearing what people find out about T-mobile pricing and upgrades for the 920! EE's pricing is a total rip. Who cares about unlimited calls/texts in 2012?

Called Orange today they couldn't process my upgrade today but it was £179 for the handset on panther 26. With a loyalty discount to £130 waiting for them to call back to arrange payments and delivery

Fanappy, are you due for the upgrade or are you upgrading early?

For the 920 obviously no colour options atm I'll keep U informed.

I think people would be best off getting a sim only deal from who ever they want to be with and just by the phone out right, EE's price is a joke.

I thought that too untill one of the guys on wpcentral pointed this out :
lumia 920 unlimited minutes+texts 1gb data = 49 upfront plus 51 a month for 12 months
Total cost 661 minus lumia cost 470 = 191 divided 12 = less than £16 for unlimited minutes, texts and 1gb data which is better what i've upgraded to on sim only plan with loyalty discount (600min,1gb data - £15.5) and you dont have to pay upfront for your mobile !!!

Hmmm I guess not too bad when you put it that way... but still a much lower subsidy than is normal (and is the phone sim-locked?). I'll wait til we know what the 3G arms of EE offer before taking the leap. Hope we find out soon tho.

lumia 920 is already out of stock in Uk's EE network lol
forgot to take my bank details with me so had to wait till I come back home.. damn it
7 days waiting time

I'll happily stick my GiffGaff SIM in a new 920 for the time being.. :)

Btw I had a lovely conversation with Orange.. (indai callcenter) girl was trying to convince me that lumia is not available and not compatible with ee network when i pointed it out its bloody pentaband and i saw it on ee website its avaialable its there!!!!! she went to speak with a supervisor just to agree with me in the end and completely forgetting what i wanted her to do (to check if i can go from orange to ee).. lol at least she wasnt stubborn

That typifies everything I hate about carriers. The call centres on every Windows Phone launch knows _nothing_ they should have been trained/educated/enlightened weeks ago. Its the reason I went from O2 to Vodafone last time. T-Mobile lied about LG Optimus 7 availability to me. Orange, well, do I need to say anything. O2 had zero information, couldn't even be bothered to lie. Vodafone staff knew when, how much and even what stores had stock. Vodafone seem like the only grown up mobile phone carrier. But even they are slow off the mark this time. Sad. Perhaps I'll give the nutters at 3 a chance :)

Nokia UK just tweeted that the 920 and 820 will be available on both Orange and T Mobile's 3g plans as well as EE. No confirmation from Orange directly online as you will see.... To 4G or not to 4G that is the question....

Price plans and colours are the other questions...

EE just told me that the only way to possibly get Lumia920 is on EE, it is not available on either T-Mobile or Orange as EE is completely and utterly seperate to T-Mobile and Orange.

They told me this: "T-Mobile is not EE. EE runs along side T-Mobile and Orange. You can only get a Lumia 920 with EE."

not EE, just consultant, like today orange one didnt know lumia 920 was available on ee network - just humans just less knowledgable than us

@wpcentral Question when r we getting lumia 920 review on wpcentral?? you've got the phone come'on people are starving here :)

We've been covering BUILD today! Unfortunately our US brothers have the review device ;-)

Intrestingly so many lumia phones given away and no proper reviews anywhere to be found.. Either everyone really busy with 'build' coverage or trying to kill it/do it really well.
Btw any leaks on when our US brothers gonna do this more than welcomed :)

PS would definitely save my F5 button from wear, as i click it every frickin' 5min XD

You can get the Lumia 920 on Orange and T-Mob through Phones4u.

so can you buy the Nokia Lumia 920 sim free and then stick a vodafone sim in it? And then will everything work normally or is it locked to only EE, Tmobile and Orange sims?

This question needs answering. Is the SIM-free version from Phones4U network locked? Today's Lumia 920 review on The Register seems to imply that it is, but there are a few inaccuracies in the review, so hopefully this is one of them.

When are they getting HTC 8X?
Windows Central Newsletter
Thank you for signing up to Windows Central. You will receive a verification email shortly.
There was a problem. Please refresh the page and try again.