Phonly launches as the most beautiful way to use Feedly on Windows Phone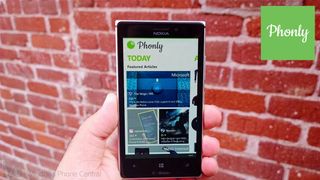 A little over two weeks ago we showed you guys the beta for an app called Phonly. It's a Feedly app for Windows Phone that is absolutely gorgeous. The beta was limited to 1,000 users, so a lot of you missed out on playing with and providing feedback for the app. Well that beta is over and you can all now download Phonly.
Phonly is a Feedly app. What's Feedly? A really popular news aggregator that has only grown in popularity now that Google Reader has been retired. Official apps exist on Android and iOS, but not for Windows Phone. Developer Daniel Berg (the man behind Wodhalla and Weight Story) reached out to Feedly and received permission to build an app for Windows Phone using their APIs. Here's what you get:
Feedly (well, duh)
Pin feed or category as Live Tile (wide or standard)
Lock screen support (detailed and quick status)
InstaPaper support
Pocket support
We created a Feedly account just to use Phonly and we will be the first to admit we're hooked. Feedly is a very useful service to stay on top of your news and any sites you're interested in. Phonly provides a beautiful interface to browse and read your Feedly feed. Pin feeds or categories to your Start screen for quick access.
The app does Windows Phone very well and is excellent for a first version. But the app isn't done, Daniel has a whole backlog of ideas and features to implement in the future. For example, v1.1. will be submitted in a few days and include a dark theme (see image below) and it will bring support for Instapaper. Beyond that, expect the app to bring Buffer and offline support. Have any other requests? Sound off below or reach Daniel on Twitter over at @bergdaniel.
Phonly is available for free on Windows Phone 8. Grab it in the Windows Phone Store, use the QR code below, or swipe to the right in our app.
Windows phone devs are awesome, well done Mr. Berg.

Whoa. I went to download this app. Then while at the store did a search for songza. AND THE ACTUAL APP IS NOW LIVE :)


WP8 apps when doen right can be so damn beatiful. Good day for us WP8 loyalists.

Hey! Thanks for sharing the information. I'm gonna try it later.
They've made an IOS based icon =/

Why does this require a google account?

Hi! The app is a client for the service Feedly which in turn requires a Google account. Right now it's the only way to login. /Daniel, Geek Industries

Damn, I was really close to signing up for Feedly to use one of these apps because Weave is taking quite a long time to create a desktop client, but I didn't realize it still needed a Google account to sign up. I'm trying to get away from that account so I'll have to hold off until they change that requirement.

I don't get the big deal about creating a google account, i myself have accounts on various web sites and services, you don't need to like something to use it.

It's all part of my personal boycott. When they stop being dicks, I might stop boycotting them.

I hear you guys, but it's somewhat of the same thing BrainCylinder said. I have a Google account because I used to own a Droid but I have my own personal reasons for not wanting to using their services if I can help it.

I have and old and unused google account which I used it for google reader back then. So I just use that :)

I've was in the beta group trying this and I can definitely say that it's definitely a great news reader.

To early to say, but might be better than nextgen reader. Definitely way more beautiful though.

Yea, tough choice. I'll need time with both to determine wich I prefer.

Would be nice if there was an option for the tile color to match the selected theme.

I'll consider it for future versions. /Daniel, Geek Industries

I was waiting for the official feedly app to be released but have to say that Phonly is every bit as good as feedly for Android and iOS. Bought it, of course!

Works and looks great, but the live-title sucks. Could it be more like WPC app's?

I wrote you an e-mail. I mean that Phonly could use a picture of the newest article as a background of the live-title. Now, when it's wide, it only shows an empty box with a title.

Ah, I see. Yes, images are limited to secondary tiles at the moment (pin feed or category). The application tile will only show count and latest article title / summary. I'll add it to my backlog. Thanks!

Ok. Looking forward to have an active live-title and shortcut to Phonly, not only selected category.

Very nice. Hated when Google Reader went away, now I'm synced between desktop and mobile.

Good to know there is competition for NextGen Reader.

Agreed. Whenever there are competitions, developers (and any providers) will always improving. And eventually benefit the users :)

In the WPC-article there's a pic showing a dark theme, how do I switch? Can't find it in Settings.

It will be added in a few days.

Great first try Mr Berg. Please incorporate a list view so we can quickly skim articles.

Agreed, need a more compact view to browse faster. With images.

+1 from me. So it'll be done. Might not make into 1.1, but 1.2 for sure. The feed / category view is getting an overhaul. /Daniel, Geek Industries

Nice. I heard about the beta yesterday and tried to sign up. The site said it was full.
I'm glad I didn't have to wait long. Looks great...

How did you get it to a black background rather than the white?

Hi, The dark theme will ship with 1.1 which is currently in beta. Thanks! /Daniel, Geek Industries

I used to never use my WP to check my feeds because other apps either had horrible designs or were not very comfortable to use. Ever since I got into the Phonly beta I check my feed on it every chance I have. Thanks Daniel.

Damnit. Looks nice. But wont use an google account so..
I´ll stick to Weave as I have done from day one.
Looking forward to the google requirement to go away!
Any other nice readers out there?

I'm currently using the beta version of Phonly. It has dark theme and no ads. When the Pro version gets updated with the beta features then I'll be buying it! Thank you for the great app Daniel!

That is one gorgeous app. WP has some amazing devs. Thank you for this!

I have to use explorer to read full article? No reader?

Hi Jonas, Mobilizer support (instapaper) is shipping with 1.1. It's currently in beta, just working on the last few glitches before it's released to the store. /Daniel, Geek Industries

Very nice but please, change that tile to look like a proper wp app, not like iPhone one.

Great App so far, really like the interface and it's free, can't complain.
Anyone know how to browse your Pocket content after you have added the account?

Hi, Pouch is a great App for articles saved to Pocket. Cheers,
Dnaiel, Geek Industries
Windows Central Newsletter
Get the best of Windows Central in in your inbox, every day!
Thank you for signing up to Windows Central. You will receive a verification email shortly.
There was a problem. Please refresh the page and try again.