PhotoScrambler, securing your photos from prying eyes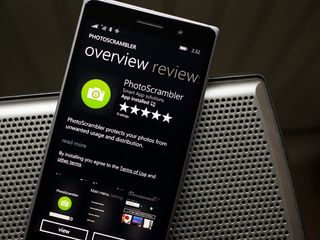 If you have the need to secure your photos from unwanted use or distribution, take a gander at PhotoScrambler.
PhotoScrambler is an app available for both Windows Phone and Windows 8 devices that will encode/decode your JPEG or PNG photos. Images are stored as any other image file but all that is seen is a static image. PhotoScrambler takes a little time to get accustomed to but once you get the hang of things, the apps does have a bit of appeal.
Your first order of business with PhotoScrambler is to set a passcode that will protect the app itself from unauthorized use. Once set, PhotoScrambler has two main pages that includes:
.Main Menu: Here you will find options to scramble photos, unscramble photos, launch a secure camera and a Safe Share option.
.Settings: This page provides options to set scramble codes, change your passcode and change the default image size.
To scramble an image you will be prompted to select images from your Windows Phone Pictures Hub. Once chosen, the next step is to create a scramble code and image size after processing. You will also have the option to overwrite the original image or save the scrambled image as new. Scramble codes can be pre-defined from the Settings page for ease of access.
Scrambled images are saved in your Windows Phone Pictures Hub and can be uploaded to OneDrive or any other cloud service. The image will stay scrambled until PhotoScrambler decodes things.
Unscrambling an image is equally as simple. The unscramble page will have thumbnail images of recently scramble images. Just tap the image from these thumbnails or pick the files from your Pictures Hub (link is at the bottom of the screen) you want to unscramble then tap the unscramble link at the bottom of the page.
The Safe Share option will send your image to PhotoScrambler's servers and generate a download link that can be shared. You can specify the scramble code and how long the image will be available for download. Once the time expires, the image is deleted from the PhotoScrambler server.
PhotoScrambler is available through the Share menu from your Windows Phone or Windows Picture hub. The built-in camera is very basic in nature and offers the encoding options once the image is captured. The only downside is that it doesn't support landscape orientation.
Overall Impression
While I liked the ease of use PhotoScrambler presents, it took a little time to become familiar with all the bells and whistles. The app lacks an onboard help section and I had to piece together the information in the Store description and a little trial and error. There is some guidance within the app to help you figure things out but PhotoScrambler needs a help section.
It is nice to see PhotoScrambler available for Windows 8. The features are identical with the only exception being the main page includes both the encoding/decoding options and the settings.
Beyond the lack of a help section, PhotoScrambler comes across as a solid app for both Windows 8 and Windows Phone. I can see it coming in handy to protect embarrassing or private photos or images of sensitive documents.
PhotoScrambler is a free app with a Premium version available through a $.99 in-app purchase. The free version is limited in the number of scramble codes you can have, the number of images you can process at once and does not give you access to XL, XXL and No Resizing options.
PhotoScrambler, at last check, has a 5 Star rating in the Windows Phone Store and is currently unrated in the Windows Store. I have to gig it a little for not having a help section so I see the app falling in the 4-4.5 Star range.
Windows Central Newsletter
Get the best of Windows Central in in your inbox, every day!
George is the Reviews Editor at Windows Central, concentrating on Windows 10 PC and Mobile apps. He's been a supporter of the platform since the days of Windows CE and uses his current Windows 10 Mobile phone daily to keep up with life and enjoy a game during down time.
Perfect for people with photos of their Richard...

or someone else Dorothy :P

IOS users need this... the celebrities,that is. That'll teach em, shoulda used a window phone. Ya hear that katnip everdean?

I wrote that intentionally , but thanks all the same.

Someone hasn't read to books or hell, seen the first movie. Gale's nickname for Katniss is Catnip. Of course, the OP is making a joke at Jennifer Lawrence's expense here, so there's that too...

I read the book, saw the movies, I'm sure, positive in fact, I'm the ONLY ONE to ever make satirical joke at Lawrence's expense. Only reason most are upset about the photos was the actresses didn't get recompensed. After all, most of the actresses had already bared all... for cash in a film part. No need to feel noble here.

What's the point of this app? Seriously... All you need to do is tap the "unscramble" button. No password to be used so it can be seen by anyone

READ THE ARTICLE CAREFULLY. The unscramble button is inside the app and the app is password protected.

Also, if you set a custom code, even if you have the apps code, you can't unscramble unless you you're in the same custom code

Ah ha.. Thanks for clearing that up guys

Another aid for the perverts and wierdos out there with something to hide

its good if your phone gets stolen.

If you're not a pervert or weirdo, you're a liar. This is is good for the religious US states/conservatives and religious countries as they consume the most pornography.

Yup repression helps the porn industry.

Porns been around as long as the anatomy has existed for animals, humans included, to utilize it. Recording the act was first verbally described, then drawn, followed later by filming the act. Repressions got nothing to do with it. It's all DNA.

Lumiarna, unscramble button is inside app....you need to close app. When you restart app it will ask for security code.
However, I have a doubt of accessability of developers to phone/app/pic. Can somebody put some light on it. Otherwise app is good.

Artur, we are on the same boat....however, my question is same....does developers have accessibility to our pics.....danny, pls put some light on this....

I think this app is for extremely worried people but I understand why. Me and my BF we take a lot of XXX pics of each other. My BF´s roomate paid attention to my BF unlocking his phone and the roomate ended up memorizing his unlcok 4 # code and was sending our pics to his whatsapp and deleting the chat right after. If we had this app this might not have happened.

Awww, what are good friends for? That's what you get.

Moreover, we really didn't need to know any of this. No one will ever see your user name and not think of your sodomatic acts.

Tried to descramble and it failed

Same here. This app doesn't work properly. So now pics are gone and I can't get them back.

Whats the problem of a couple to take xxx pics of each other?!? If you dont do it oe dont like it I respect but I expect you to respect my options too.

If your options (opinions) included beastiality or illegal inclinations, no one has to respect them. Your rights end when they infringe on another. Therefore, your rights are far more limited then you believe. In addition, for all we know, you live outside of a first world nation which has no recognition of free speech, etc.

So if I scramble a pic of my Richard with this app and I send it to my bae (let's say she uses another OS), will the pic remain scrambled on her device or not? Or does she require to unscramble the pic?

She has to unscramble the pic, as u are sending a scrambled photo
Provided she has the code!
She'll need the app on her device though

Ah. Aight then, too much stress though but thanks.

Just unscramble yourself and send her the pics.....

Seems like a waste since mine are auto uploaded to OneDrive ​

I rather prefer a (built into the OS) folder which requires a code to unlock and view the pics "moved into it"

Lumia denim update will allow to restrict access to your apps.

Dear Outsider, If you can't access the image, just delete. Thanks & Regards, Evil Mind.

A bit long winded and not very useful

I was wondering if it was available for window rt, then I remembered windows rt is not a real operating system.
Windows Central Newsletter
Thank you for signing up to Windows Central. You will receive a verification email shortly.
There was a problem. Please refresh the page and try again.