Photoshop Express for Windows 8, it's a good start just a little lacking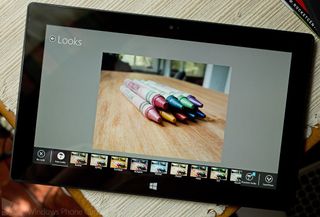 Adobe released Photoshop Express the other day for Windows 8 and RT. Our initial impressions of the photo editor was good. It's a basic editor with the ability to grow through purchasing add-on packs.
After using Photoshop Express for a few days now, while we impressions are still good it's hard to ignore that there is a ton of room for growth. Photoshop Express is a start, a foundation if you will, but Adobe really needs to beef things up to make Photoshop Express a more useful editor.
There's no doubt that Photoshop Express is a light weight editor but it may be too light.
Why the excitement? Adobe is a cornerstone of the digital photography editing business. Adobe's products are used by photographers of all skills ranging from the snapshot shooter to the professional photographer. The companies editing software gets it right more times than not and to have such a resource behind a light editor for Windows 8 and RT (especially the tablet devices) could be advantageous.
Photoshop Express is laid out in fairly typical Windows 8 fashion. You have your editing categories lining the bottom of the screen with your image taking center stage on the screen. Photoshop Express can load images to edit from your Pictures Library (this includes thumbdrives, memory cards, network files, Skydrive, etc.), images stored on Adobe Revel (cloud storage) or you can launch your camera and capture a new image to edit.
Once the image is loaded in Photoshop Express, here is what you can do with it.
Crop: You can free form crop your image or use a series of preset crops. You can also rotate, flip and straighten images. The cropping tool lacks the ability to use custom diminsions (other than line of sight) and the resolution is set at 72dpi.
Correct: Here you will find slider adjustments for your image contrast, exposure and white balance settings. You can toggle between the before/after views and reset the settings and start from scratch.
Looks: Adobe provides fifteen creative filters that range from black and white to a warm summer filter. It's actually a nice collection of effects but you can not adjust how they are applied.
Red Eye: An automated tool to identify and eliminate red eye problems.
Autofix: Here's where Photoshop Express does all the heavy lifting and determines how your image should look under ideal conditions.
In addition to the core editing tools, Adobe is offering two add-on packs that can be purchased in-app. You have a noise reduction filter that eliminates or reduces the grainy effect higher ISO images can create. It's a rather peachy filter that does a good job of things and runs $4.99.
The second add-on pack is an extension of the Looks filters. The $2.99 add-on will increase your filters from fifteen to thirty-five.
So that's what Photoshop Express can do. Here are a few features that are missing and could help Photoshop Express blow the competion out of the water.
Image Re-sizing: Currently any image resizing is done automatically as you crop the image. It would be nice to be able to customize not only the diminsions but also the resolution of your images. This may not be an issue for those who shoot for web publishing, email, etc. (perfect for the 72dpi resolution used) but for those who shoot with intentions of printing, it may be an issue.
RAW Support: Currently Photoshop Express only supports JPEG image file formats. Admittedly the majority of digital photographers use the this format but many opt for the RAW format. The RAW image file is uncompressed and untouched by your camera's in-house processing software. It's a lot like a film negative allowing the photographer more control during editing and arguably better image quality.
Sharpening: While you can adjust contrast, exposure and white balance there is not a tool to sharpen your images.
Select Tool: It would be nice to have the ability to select areas of the photo to adjust or apply effects to. It would help tame the hot or bright spots that may be present and help you be more creative in your editing.
Text Entry: Photoshop Express lacks any tools to add text boxes to your photos. Not a big issue but it would be nice to add a date, caption or copyright stamp on your photos.
In a nutshell, Adobe has released a very basic, entry level editor that can produce some nice photos. The Looks filter set is nice and the editing tools, while a little bare bones, helps to fine tune your photos.
Photoshop Express isn't on the same level as Photoshop Elements or in the same zip code as Photoshop Creative Suite. It does have potential if Adobe will give it some attention. I can see Photoshop Express being a perfect, light weight editor for tablets when storage is limited. It would also make a very nice entry level editor for those who want to fine tune their photos but don't need to (or want to) get too involved.
Photoshop Express is a free app for your Windows 8 and RT devices. For that reason, I would suggest you download it and see for yourself. I'm going to remain optimistic in that what we see today is just the start and after an update or two with a few more add-on packs, Photoshop Express will rock.
You can find Photoshop Express here in the Windows Store.
Get the Windows Central Newsletter
All the latest news, reviews, and guides for Windows and Xbox diehards.
George is the Reviews Editor at Windows Central, concentrating on Windows 10 PC and Mobile apps. He's been a supporter of the platform since the days of Windows CE and uses his current Windows 10 Mobile phone daily to keep up with life and enjoy a game during down time.