Photoshop Express for Windows 8, it's a good start just a little lacking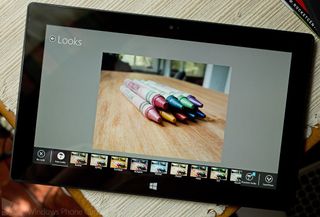 Adobe released Photoshop Express the other day for Windows 8 and RT. Our initial impressions of the photo editor was good. It's a basic editor with the ability to grow through purchasing add-on packs.
After using Photoshop Express for a few days now, while we impressions are still good it's hard to ignore that there is a ton of room for growth. Photoshop Express is a start, a foundation if you will, but Adobe really needs to beef things up to make Photoshop Express a more useful editor.
There's no doubt that Photoshop Express is a light weight editor but it may be too light.
Why the excitement? Adobe is a cornerstone of the digital photography editing business. Adobe's products are used by photographers of all skills ranging from the snapshot shooter to the professional photographer. The companies editing software gets it right more times than not and to have such a resource behind a light editor for Windows 8 and RT (especially the tablet devices) could be advantageous.
Photoshop Express is laid out in fairly typical Windows 8 fashion. You have your editing categories lining the bottom of the screen with your image taking center stage on the screen. Photoshop Express can load images to edit from your Pictures Library (this includes thumbdrives, memory cards, network files, Skydrive, etc.), images stored on Adobe Revel (cloud storage) or you can launch your camera and capture a new image to edit.
Once the image is loaded in Photoshop Express, here is what you can do with it.
Crop: You can free form crop your image or use a series of preset crops. You can also rotate, flip and straighten images. The cropping tool lacks the ability to use custom diminsions (other than line of sight) and the resolution is set at 72dpi.
Correct: Here you will find slider adjustments for your image contrast, exposure and white balance settings. You can toggle between the before/after views and reset the settings and start from scratch.
Looks: Adobe provides fifteen creative filters that range from black and white to a warm summer filter. It's actually a nice collection of effects but you can not adjust how they are applied.
Red Eye: An automated tool to identify and eliminate red eye problems.
Autofix: Here's where Photoshop Express does all the heavy lifting and determines how your image should look under ideal conditions.
In addition to the core editing tools, Adobe is offering two add-on packs that can be purchased in-app. You have a noise reduction filter that eliminates or reduces the grainy effect higher ISO images can create. It's a rather peachy filter that does a good job of things and runs $4.99.
The second add-on pack is an extension of the Looks filters. The $2.99 add-on will increase your filters from fifteen to thirty-five.
So that's what Photoshop Express can do. Here are a few features that are missing and could help Photoshop Express blow the competion out of the water.
Image Re-sizing: Currently any image resizing is done automatically as you crop the image. It would be nice to be able to customize not only the diminsions but also the resolution of your images. This may not be an issue for those who shoot for web publishing, email, etc. (perfect for the 72dpi resolution used) but for those who shoot with intentions of printing, it may be an issue.
RAW Support: Currently Photoshop Express only supports JPEG image file formats. Admittedly the majority of digital photographers use the this format but many opt for the RAW format. The RAW image file is uncompressed and untouched by your camera's in-house processing software. It's a lot like a film negative allowing the photographer more control during editing and arguably better image quality.
Sharpening: While you can adjust contrast, exposure and white balance there is not a tool to sharpen your images.
Select Tool: It would be nice to have the ability to select areas of the photo to adjust or apply effects to. It would help tame the hot or bright spots that may be present and help you be more creative in your editing.
Text Entry: Photoshop Express lacks any tools to add text boxes to your photos. Not a big issue but it would be nice to add a date, caption or copyright stamp on your photos.
In a nutshell, Adobe has released a very basic, entry level editor that can produce some nice photos. The Looks filter set is nice and the editing tools, while a little bare bones, helps to fine tune your photos.
Photoshop Express isn't on the same level as Photoshop Elements (opens in new tab) or in the same zip code as Photoshop Creative Suite (opens in new tab). It does have potential if Adobe will give it some attention. I can see Photoshop Express being a perfect, light weight editor for tablets when storage is limited. It would also make a very nice entry level editor for those who want to fine tune their photos but don't need to (or want to) get too involved.
Photoshop Express is a free app for your Windows 8 and RT devices. For that reason, I would suggest you download it and see for yourself. I'm going to remain optimistic in that what we see today is just the start and after an update or two with a few more add-on packs, Photoshop Express will rock.
You can find Photoshop Express here in the (opens in new tab) Windows Store.
George is the Reviews Editor at Windows Central, concentrating on Windows 10 PC and Mobile apps. He's been a supporter of the platform since the days of Windows CE and uses his current Windows 10 Mobile phone daily to keep up with life and enjoy a game during down time.
To be fair, this is an Adobe Express product on a mobile platform. Aside from maybe adding text, it's pretty much what I'd expect. But it's obviously opens the door to a more complete Elements app, which I will likely buy on release.

You should compare it to Photo Editor by Aviary, seems a much better app than Adobe's.

The problem with Aviary is that it only saves to the device, this app allows you to save to Revel as well.

What's awesome about Revel??

A bigger problem would be that Photo Editor isn't available anymore. It has been discontinued.

I like it so far but I am disappointed with the auto fix. I would expect Adobe to do a good job, but I haven't had a single photo yet where it made the photo look good.

Until it supports raw/nef files I am out. I hate editing jpegs for obvious reasons

you shoot your Nikon in NEF, and yet you don't already own a professional photo editor? how do you even show them to anyone????

Not to sound ungrateful but this app has been out for a while!!!!

It's been available for Windows 8 and RT for about a week.

I'm wondering how this compares to Fhotoroom, which is an excellent editor for Windows Phone and Windows 8.

As much as I like reading about windows 8 I would much prefer the site only had phone related articles. Only a suggestion. :) Perhaps another site called windows 8 central with a dedicated windows 8 app?

And I am glad to see the Win8/RT here. If you dint want to read it just skip it.

Although this app is lacking alot of great features I see it as a positive step that they are actually looking at windows 8 as a viable platform. Maybe this app is the first of many to come from them, hopefully their Touch Apps are being worked on at the moment.

Cant download on my Windows 8 or Surface RT :( (UK)

Fantasia Painter is suppose to be coming for Windows 8/RT ...can't wait.

I can't wait to get that for my Surface. It's the go to photo editing app on my 920.

I realize you're a photographer so lack of RAW is bothersome to you, but really? That's the first one you jump to as a complaint for it? The one that is much more relevant to 99% of users is the lack of PNG support, which means you can't even crop a screenshot taken using Windows' built in tool. RAW support is incredibly niche (and i say that as someone who does occasionally shoot in RAW, though I tend not to have time to be bothered with that these days.)

I would think anyone who needs/wants RAW support is a higher-end photographer who is already paying for the higher-end tools. Just like professional developers tend to pay for developer tools that include features like unit testing, profiling, remote debugging, etc. that the non-pros probably wouldn't use even if they were included.

I shoot raw, and when travelling, it would be nice to take a pic from the slr, move it to the surface, touch it up, and share to social media. Only lack a decent app like this w raw.

I like the app as its supposed to be a quick editor to brighten up some of your personal pics. However I do see the room for improvement being a Windows RT user. I have no access to the full photoshop and there have been a few occasions in the past where I needed photoshop to alter a pick for one of my research papers. This app wouldnt be enough for that. So if they could port over some of the other options then it would be a much more useful productivity tool. Mind you this app doesnt need all of photoshop's features. It remains an express version but even so it could use some more features (without the depth of such features in the full application).

Two things that are my positive reaction to this app: - Adobe is actually developing for the Windows Store
- Adobe "gets" Windows 8. The UI makes good use of Microsoft's modern interface principles.

I believe the thing you want is called Photoshop Touch.

Doesn't even come close to apps like Fotor and Fhotoroom. Didn't even bother with the in app purchases after trying this puppy out on Surface. The editing software makes the photos look rather terrible in comparison to other apps. No png support? Really?

To hell with...adobe...when we have Fantesia Painter for free....which can be used even better then desktop edition of adobe photoshop......who cares...:-/

Lack of sharpening is the biggest deficiency right now.

Anyone knows how this compares to features on iOS?

I expect this to be Adobe dipping its toes in the waters. My hope is that they take AE and use it to work out touch navigation in a way that they could not get done in their other products - ease-of-use. They probably have a 1000+ commands in PS and they are crazy hard to figure out. I really hope they bring a new and easier way to morph those commands into something that does not take a year to learn. I imagine they will leave their legacy commands, but hopefully supplement them with a well thought-out touch plan. I am probably hoping too much for them to work with Microsoft, Adobe being they way they are, but that's what hope is for, right?

I've used it a little on my Win8 PC, and to be honest it's exactly what I would expect from "Photoshop Free Edition". For someone like me who just wants to make my snapshots and panoramas a bit more presentable, PS Express is fine just the way it is. Yes, of course more features would alway be welcome. But I'm actually quite OK with the way Adobe has already included "pay for what you use" microtransactions. I'd be happy to pay a dollar or two for more comprehensive editing features (as mentioned in the article), but I don't really care for filters or RAW. This is like the best of the "freemium" games: you can play and have fun without paying, but if you want a bit extra you can pay a fair price for a more feature-rich product.
Windows Central Newsletter
Get the best of Windows Central in in your inbox, every day!
Thank you for signing up to Windows Central. You will receive a verification email shortly.
There was a problem. Please refresh the page and try again.