Photosynth update for Windows Phone adds support for new Facebook APIs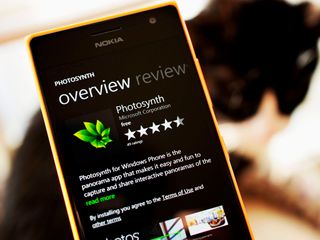 Photosynth, the 3D photo panorama app for Windows Phone, got an update today after a several months wait; the last update was released in November. However, this new version only adds one minor feature: it now supports the latest APIs from Facebook.
Yes, that is all that is shown in the change log for the new 1.9 update. If you happen to notice anything else that's new, improved or changed in Photosynth, feel free to let us know in the comments. If, for some reason, you have never downloaded the app, this is the perfect excuse. Photosynth was designed to let users take lots of photos which the app then stitches together to form one big 3D panoramic image.
Download Photosynth 1.8 for Windows Phone (Free)
Cool.
PS: That was a quick comment XD

Ooo long time no see. Always welcome

Wait so can u upload photosynth 3D images to facebook? What does facebook API support mean?
It would be nice to upload cinemagraphs, living images, photosynth 3D images to facebook so people can know what cool stuffs WP can do

Stitching algorithmsin Photosynth is quite bad, nothing to share

I feel like while MS is working on Windows 10 they are not really updating their other apps. Its like they are focusing on having their apps work on Windows 10 and not improving them for Windows 8. I get why they are doing it I would just hope for both... Anyways, anything is better than nothing =).

Yup. The team seems to be very busy updating stuff for Win10, IOS, Android and Windows Phone.
Update: Please disregard the last OS referenced.

They really work harder on this app, a bunch of rather-easy updates would make this a killer app. As it it now, it is nice to take a 360 from medium-sized room and that's it. Outdoor stuff looks funny to day the least. I'd start from adjustable size of sphere.

It'd be nice if It supported the features of Photosynth desktop,, way more interesting than panos. They could even tie in gps accelerometer gyro to make things even more accurate

Would be awesome to be able to do 3d panoramas looking in rather than out, as in around my car or bike.

Do checkout https://photosynth.net/

Does it actually work now? I lost faith on it and started using the app on my simless iPhone 4s. Worked great on there.

the best 3D app, MS must continue to update/improve this app

It's stitching hasn't improved any - which is not the experience I remember on my old iPhone 4S - so still basically useless.

Still unaligned (indoor is the worst) and blurring...
Need redesign the app Posted via the Windows Phone Central App for Android
Windows Central Newsletter
Get the best of Windows Central in in your inbox, every day!
Thank you for signing up to Windows Central. You will receive a verification email shortly.
There was a problem. Please refresh the page and try again.