PicHit.me for Windows Phone - revisiting the photography clearing house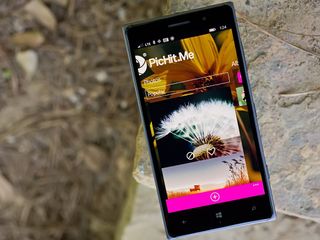 One of the more popular features of our Windows Phones is the camera. The image quality and performance has risen to levels where many have abandoned standalone cameras and simply use their Windows Phone camera instead.
PicHit.me is an online service that provides a huge stock image library that is designed for those looking for images to include in their PowerPoint presentations. The service also presents photographers with an opportunity to upload and sell their images.
The PicHit.me Windows Phone app delivers many of the online features of PicHit.me to your phone. We have touched on the PicHit.me app in the past and thought it was time to revisit the app and service for those looking to earn a little from their Windows Phone photography or those looking for images as they build a PowerPoint presentation.
PicHit.me Website
The concept behind PicHit.me is to create a one-stop source for millions of stock photos for your PowerPoint presentations. There is even a plug-in available (opens in new tab) to access the PicHit.me image library directly within PowerPoint.
PicHit.me services are available at two levels - free and paid. The free subscription has limitations on image resolutions and delays on image requests (24 hours). The paid subscription runs $9.99 a month with access to the full range of image resolutions and instant requests for images.
Along with providing a huge stock image library, PicHit.me also provides the opportunity to photographers to earn a little cash with their photos. If you have a collection of photos that you think others can use with their PowerPoint presentations, you can create an account with PicHit.me and upload your images. When PicHit.me subscribers download and use your images, you get a percentage of the sale. It is not a "get rich quick" venture but it is an easy opportunity to earn a little cash for your images.
You can upload your favorite images, tag them and upload them in response to missions PicHit.me subscribers create. These missions are requests for certain types of images (landscapes, nature, close-ups, toys, etc.) they need for their presentations. Think of PicHit.me as a PowerPoint iStock (opens in new tab) photo service that hopes to eliminate Bing image searches.
Along with the image library, PicHit.me also holds contests on a regular basis for cash and prizes such as the current My World contest.
The Windows Phone App
The PicHit.me Windows Phone app makes it easy to access your PicHit.me account and upload images to the service. Oddly, while you can view some of the popular images, the Windows Phone app lacks the ability to download PicHit.me images. However, if you run across a photo displayed in the Windows Phone app you like, you can double tap it to mark it as a favorite. When you visit your PicHit.me profile from desktop/laptop, the image will be added to your Profile list of favorite pics.
I'm on the fence as to whether or not the inability to download images from the Windows Phone app is a bad thing. Being able to upload images on the run is a good thing and even if you could download an image through the Windows Phone, you would have to transfer it to a PC to use in PowerPoint. So I'm leaning towards this not being a deal breaker for the Windows Phone app.
The layout of the PicHit.me Windows Phone app is uncomplicated with several main pages that include:
Missions: This page will list any active or popular missions from PicHit.me users. It will also list any of your missions and the ability to create new missions as the need arises.
Photos: Here you will find a sampling of Popular and Fresh images from PicHit.me users. You have the ability to report the image as abusive content, a copyright issue or like the image.
Albums: From this page you can view any albums you have created on PicHit.me such as your Liked Photos or the album that contains your uploaded images.
More: This catch-all page includes options to view your PicHit.me rewards, Account settings, your PicHit.me profile and to log in/out of your PicHit.me account.
You do have the ability to upload images through the PicHit.me app but only in response to missions. The online portal for PicHit.me offers the ability to upload images in general to your account or in response to a mission request. From the Windows Phone app, you can take a photo to upload or upload an existing image from your Pictures Hub.
Whether you are uploading images from the Windows Phone app or the online site, PicHit.me has some basic rules to follow with regards to being a contributing photographer.
To be an active photographer you must upload at least five photos per month
You may only upload photos that you have taken. By uploading a picture, you guarantee that you have the right to license it
If your photo shows persons that clearly can be identified, you need that person's signed consent to upload the photo
If your photo has a famous object or art work in focus, you need signed consent from the copyright owner to upload the photo
You cannot use PicHit.me to post or request offensive material, harass people, send spam, fake accounts, commit fraud, steal or do other not so clever stuff
While building up an inventory of stock photos isn't a bad thing, in just tinkering with PicHit.me for a short time it appears your best chance at success is uploading images based on missions. If you have a collection of sunset images, see if there is a mission asking for sunset pics. There's no guarantee the subscriber will use your images but your pics may be noticed a little quicker.
As far as the Windows Phone app's performance is concerned, everything ran smoothly for me. There are a few reviews in the Windows Phone Store noting stability issues but I did not experience such. I would like to see predictive text come into play with writing a description and keywords of your uploaded photos, as well as comma separated keywords. I also wouldn't mind having the ability to upload general photos from the app without having to go through the missions.
Overall Impression
I like the concept behind PicHit.me and the Windows Phone app definitely gives the service a lot of flexibility on the contributor side of things. It makes it easy to find missions and work on capturing photos that may catch the eye of the subscriber and earn you a little cash along the way.
PicHit.me doesn't scrutinize image submissions to the level of other stock photo services. In submitting a few images to PicHit.me, while the service is looking for quality images your submissions won't be picked apart for noise levels, exposure balance and other elements before being accepted. Keep in mind though, if you submit an image with nasty noise levels, exposure problems or other issues it likely will not be picked up and used by a subscriber.
PicHit.me isn't going to be a service for everyone. The app lacks a photo editor or the social networking features you would find with Instagram or Fhotoroom. It is a nice resource to have if you find yourself hunting for images to use in presentations or if you would like to try earning a little cash off your Windows Phone or DSLR photography.
If you've tried PicHit.me as a subscriber looking for images or a photographer uploading images, let us know what you think of things in the comments below.
Download PicHit.me for Windows Phone (Free)
Windows Central Newsletter
Get the best of Windows Central in in your inbox, every day!
George is the Reviews Editor at Windows Central, concentrating on Windows 10 PC and Mobile apps. He's been a supporter of the platform since the days of Windows CE and uses his current Windows 10 Mobile phone daily to keep up with life and enjoy a game during down time.
Great! Congrates NBAN #thelumians

Android app is terrible(not that anyone cares)

I dont have an android device, but wondering what you dont like about the app for android?

How much is the share we will get when a subscriber download our picture in dollars?

Easiest way to break this down is as follows: When a photo is downloaded then 40% goes to the photographer 40% goes to PicHit 20% is split equally between all the users that are deemed 'Active' in that month. In addition to that, the photographer can also make $1 per upload to certain missions. I currently have $31 on my account right now, earned over the last 3 months. It's not a lot of money, but when I draw it down it will go towards purchasing some new kit for my phone, which I like. Finally my phone can pay for itself a little bit.

Offtopic but why 4g on windows phone when you cannot install large apps and updates without Wi-Fi

It's due to the store limitation. 100MB can't be downloaded even if you're on 4G or 5G.

It's the same restriction if you have an unlocked device.

Believe me I downloaded asphalt 8 on 2g

Problem is.. Than what's the need of 4g when u cannot download apps and games.... N plz how can carriers block only windows phone not android or ios

Faster website and video loading.

Don't write a looong article please. Just tell the pros and cons.

I can understand your feelings dude....

Pros and cons are nice, but sometimes it is nice to get a bit of opinion also. I like a balance between both!

I'm sad when I see Windows/Phone site editors use Chrome at home/desk. I mean, ok, I don't expect people to still use IE11 today and keep a straight face, but don't use Chrome ! Use Firefox, Waterfox, Opera, Maxthon. Please?

I use IE11 and I love it!

Chrome eww forgot the last time I used lol oh yeah when I was a Google fan years back.

I use IE11 for everything n chrome only for youtube , coz its adblock works better than ie's (idk why)

What's wrong with chrome? I have it on my bumpers...

Same. IE since I trust MSFT over Google and Firefox for when I trust nobody.

Personally I have never had a problem with IE or Safari and I use both and none of the others. What problems do you find with it!

Use googles services without giving them money

I love their simple terms, except the need to upload five photos per month. This will encourage users to submit junk just to meet the terms and will not help in building a quality resource network.

The five uploads is just to be an 'Active user' That means that you can make additional money for being more active, To be active you just need to be on the site five times a month and that can consist of either: Uploading your own photos OR tagging other people photos so that they can be found more easily by users. The tagging is an awesome way to spend the day, if you are into photography like me!

If this is the case then it's OK!!!
I may have missed this point. Anyway thanks for telling!
You are by the same name on PicHit.Me?

I've tried the app and website and both seem kinda broken to me

If the app isnt working well for you, then go and check the updates on the website. Have a great week bro

Wow that this thing of crap worked on his device otherwise it'll never ever work on my 520. would always crash or wouldn't let me sign in or does both.

There was a few problems with this alright, but there has been a few WP app updates - try it again. Otherwise just use the mobile website which is fantastic and allows for additional features such a multiple photo uploads.

Yes this does work in India. In fact, India, along with Pakistan, Bangladesh and the countries of that region is one of the biggest markets for this app and the response has been fantastic.
Windows Central Newsletter
Thank you for signing up to Windows Central. You will receive a verification email shortly.
There was a problem. Please refresh the page and try again.