Pinterest now officially available for Windows Phone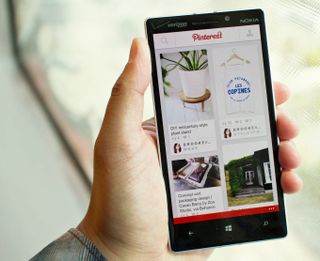 Official apps joining Windows Phone for the first time make us very happy. We've had a few third-party apps for Pinterest, but nothing official over the past few years. That changes today! Everyone, let's officially welcome Pinterest to Windows Phone.
Pinterest is a highly popular visual discovery tool and 'virtual' pinboard. It allows users to create, share and organization collections called boards. Those boards usually have a theme, like dream vacations.
Pinterest (pinterest.com) is joining Windows Phone in beta form today. Here's what we get with this first release:
Plan projects: home remodels, car restorations, garden redesigns and other DIYs
Dream up your next trip: outdoor adventures, road trips with friends, family outings and exotic vacations
Collect your favorite things: illustrations, tattoo ideas, hilarious quotes, tech gadgetry and inspiring art and architecture
Save great ideas: articles to read, movies to watch, gifts to buy, fashion and beauty how-tos, food and recipes to cook, fitness tips and lifehacks
Get organized for a party: wedding decor, birthday themes, costume ideas and game day menus
We've just installed Pinterest for Windows Phone and have been poking around with it. We'll admit we're not the biggest Pinterest users, but this is a nice app and we're sure fans of the service will love it. Look for a hands-on later, but for now take it for a spin and let us know what you think!
Via: @joebelfiore
Thanks for the tips everyone!
So many official apps this week!
Keep 'em coming!!!

New apps coming seems faster.

LOL...! Makes sense this time...

Somebody please slap on Flipboard developers.. They have been sleeping for almost 2 years.

Flipboard has a beta. I got it. WPCentral never posted the link when I tipped them. Search WMPoweruser they posted a story on it with a link to download. Posted via Windows Phone Central App

I've just looked and probably wasn't posted here as it was a fake. They've amended the article at the bottom to say so on WMPoweruser. And to be fair they seem to pinch their correct articles from here anyway.

You don't really think a Flipboard Beta for WP8 would go unnoticed on this site, do you?

It's funny because last week I was wondering if they'd ever release "ooVoo", "Pinterest" and "BBM" on Windows Phone. Come on BBM come to us!

In that case you'd be the luckiest person ever. But I've no idea how long BBM will take...

Really? What apps are you talking about? Besides this one of course

6tindr looked so good :/ Posted via the WPC App for Android!

Lets be honest people.. There is no way around windows. The more we get to complete adopting windows 8..... The big boys need to come if they want a piece of the biggest pie in the computer world.... It's all just a matter of time but since Microsoft is finally showing some balls things are happening..... Quickly!!!!!

This is not an app. It's just the mobile website wrapped.
Html5 is not as good as native.

Yay ! Finally its out on WP. Official apps are on a roll out at the WP store. Windows Phone seems to be getting better and better day by day. ;)

Lol the S is an unknown variable.

Awesome! One more "official" app we needed to gain users!! Lets bring the official Snapchat next! In the words of Icecube, today was a good day.

I didn't even have to use my A.K

Sounds like you get really excited by wrappers.

As Joe tweeted yesterday, I guess it's the beginning! Thanks

The beginning of apps that are not anything more than shortcuts to a website? Yay! I love good mobile websites. But I HATE when they are disguised deceptively as "apps".

Everything started with Microsoft's YouTube app.....

If you didn't know, the app was awesome, but they had to remove it.
Anyway if you want to try it, it's still available from a site (xde developer) or something
But you need to have dev account to deploy the xap

Seriously with apps like MetroTube who cares about official Microsoft App?

Of course it's the APP.
wr'APP'ers.haha

Yet, as I said before, at least we now have a so called "official" app. Be it a mobile web wrapper. Lack of official apps is really something imporatant that needs to be eradicated, in any way. And something is always better than nothing, specially in this platform. By saying it a shortcut to website, you can actually cut down a large amount of android apps that does nothing but links to a website with some minor recognizable UI. Hell, some even don't do that, just pops up a full screen ad and then redirects you to an unknown web forgery site. While they're still counted as "apps".

I wonder what it's the other app in the prophecy \(*.*)/

Awesome ! Been waiting for this ...official apps ..yes yes

Finally my wife will get this one! She's an addict and pin.it did a decent job but her iPad was the only choice for her. KUDOS MS!

I don't care for Pinterest myself, but this is one of those major apps that was leaving a huge hole in the platform's app selection. This is great to see!

It's just the mobile web embedded in an app! :(

Yes; And its a crap! So people will not use it. Then they will drop its support like 7-eleven because people don't use it. Moral of the story: don't give away the crapp in first place.

People will use it, it works fine.

Like so many other apps Posted via Windows Phone Central App

But at least we now have an "official" Pinterest app ;)

A webapp and a poor one. Disapointed.

Go and download Pin.it from the store.

+1 Pin.it is pretty good - easy to use, but data use goes through the roof, so it will be interesting to see if this official "app" is more data friendly when not around wifi.

Pin.it is the best third party but even this web wrapper is on par with it. Pin.I'll probably stick with the 'official' one for now.

Yeah. It looks nothing like a WP app should look. This is literally just the same as http://m.pinterest.com Disappointing for sure. Oh well. It's a checkmark in the list of app, I suppose. Even if it was available all along in IE.

That's not true. They added an About page in the app bar. So it's more than just m.pinterest.com. 1 starring this hybrid web app with no phone features now. http://dev.windowsphone.com/en-us/develop/hybrid-web-apps Hey Pinterest, hire a Windows app developer.

lol... wow what the heck it just a web app.

damn it almost took as long as for pinterest to become irrelevant...or maybe right on time.

Usually they come to WP when nobody cares anymore on other platforms, so I think you're right.

Official, but in BETA.....what a shame.

Beta shouldn't be permanent unless it's Instagram.

Now even the Nokia X phones have the FULL INSTAGRAM app (no beta) with video upload feature.

Maybe because they're ... um .. Android?

It feels very beta too. Google really pioneered the art of everything in Beta, used to be "pre-release", now it's..........

Good! But how can I add a completely new pin of, say, some webpage?

Agreed; seems like functionality is very limited. I believe it is just a web app

Just another web wrapper... :(

Looks kind of like a web wrapper...

No. It's just a shortcut to http://m.pinterest.com in its own little app.

It's good to hear that more official apps come to WP every day!Anyway, concerning Pinterest, i think the third party app "Pin It" it's still better for the time being!

The day MS buys Google, you'll get Candy Crush Saga

Even the sequel of ccs is soft released in android.

I wonder why a web wrapper needs to be BETA?

Lol at upcoming MS 3D phone referral

+Metropolitan Transportation Authority

Let's be positive and hope that this means they are working on a real app... or a mobile website with full functionality. Yeah, I don't believe that either but it's a nice thought.

I'm wondering too... The beta part refers to the webapp or will they bring a native experience someday?

Haven't tried yet, the female led majority in my home have been "asking" about a better pinterest option for a long &@s&*% time.

Flipboard, NHL center ice, instagram update, vine update, twitter update, Netflix update, twitch, stumble upon, probably quite a few more that I can't think of right now.

I hate when people do this. ^

Finally one more official app... I hope BBM is next.

The blackberries won't like their best feature coming to WP.

You don't seem very pinterested in this sort of thing :P

Hopefully there's a Windows 8 version coming soon --- assuming this was built with a universal app in mind Edit: Nevermind, I see it's a web app.

Aaaaaaaand I'm going back to pin.it. This is just the mobile site. No way to add pins by URL or image (unless I'm really missing something on the mobile site). Glad they showed some interest in WP8, but this is a waste.


It's just a web wrapper and that makes me sad.

Same. Its incredibly lazy and shows that they don't care.

Now all we need is 750,049 more apps in the following categories "fart, torch light and more fart" then iVerge, iEngadget, iCnet are going to say "WP usually gets apps last, if you don't mind being last you should consider a Windows Phone. Ecosystem 7" hahaha

Can't even watch a video within it. :-\

This is stupid. It is literally the mobile web experience that already exists. Go to ie, go to Pinterest. Its EXACTLY the same. They did no work to build this app. None.

Yep. Joe B should be ashamed for promoting this crap. Wouldn't be surprised if Microsoft had to beg them and did the "work" for them even.

You have Tile Notifications showing your pins at least.

I'll never get my wife off her phone now! Wait, nvm, its not even a real app.

Awesome :) what about flipboard?

I think they are still preparing the web wrapper for Flipboard Beta in the name of an app. Final tests are going on for devices with at least 2GB RAM. It will land on February 30, 2015.

they are doing intense beta testing......2015 is too early....may be 2050 :P

That's amazing. Although I'm not a fan of pintrest.

Well that's a nice surprise!

Hahaha nice! But I don't use it though....

couple new apps said joebelifore today, now one we got it official pinterest & what will be other one might be BBM or any other official big app lets wait & watch

Didnt like the UI at all.. Badly made...

This is worthless... :/ hope whenever hell freezes over flipboard will be here and be as good as the one on windows 8.1

Why?? Why??!! Why devs dont implement auto-login for Facebook!!!!!!!!!!!! I really dont understand it...

Hmm car restoration. Will check this app aout.

Can you smell it? Yep. Official apps everywhere!

It's not a real app though. Posted via Windows Phone Central App

Dont use it but I dont think WP users are that desperate they would settle for a web app. Apparently Microsoft is though as they are so happily promoting it.

They're like the kid in class that comes in and brags that he just got a Nintendo Wii.

Pocket, Flipboard, Quora, Amazon India official apps?

Hallelujah somebody!!! Remaining Flipboard

Beta!What a shocker ;)Another beta app that won't receive any support.Cough,cough Instagram.

At this point I bet $100 BBM will also be a web wrapper! Place your bets gentlemen Oh, and beta and version 0.0.0.01 /s

It feels very webish. Like it's not fully native. Pinit is better.

Web wrapper alert. Total BS.

Nice, but I have no Pinterest in it.

Now only flipboard, daaamn

Webfuckingapp really? I feel like a beaten up wife who thinks her husband will change and make it up for her... MS I am loyal but throw me a bone and a big one or I go back to IOS. I know this pinterest issue is not MS fault but it is a way or another...

These apps are so claustrophobic. They need to get away from ios/android style and go metro.

Chris Zorn's "pin.it" app is the best and definitely better than this official "app"

Yeah you're bang on... No notifications on this beta, just a HTML wrap app of the mobile website, or so it seems to me...

Pinterestingly enough, this is a web app crap trap pap

wow such beta very website much buggy F for effort wow

Lol! Posted via the WPC App for Android!

All was good until I saw that you can zoom in and then I realized it was a web wrapper. Really? Are they not confident enough to put a real official app?. Ridiculous.

+720 Good to see official app coming to Windows Phone lately

Wow nice another official webapp. We need real functionality, notifications ability to share websites straight from IE, etc.

Really?! Why not just favorite the website link on i.e. and pin it to the start screen instead?

So I emailed them with the title 'Windows Phone App' to pan them for making a web wrapper; they respond in two minutes saying 'we don't have a Windows app'.
At least the reply was fast.

They were correct. Wonder if someone told Joe B?

How do you mean? I was more pointing out that this person doesn't even seem to realize that there's a difference between W8 and WP8, let alone that they just published an app on WP8.

I mean that this barely qualifies as an app.

Nice to see the big boys on deck

Very nice. I'll have to see how this compares to Pin It. Chris Zorn has done a great job staying up on updates and tweaks.

Pin It any day, Zorn's app is just "pinfect"...

Unofficial app called Pinit is still better at the moment. But I welcome official apps!

I'll install the beta to keep the numbers up, but I'm fine with the 3rd party app that I'm using...on the once every other month occasion that I go to Pinterest. Plus now I'm reading that its a web wrapper. The Cult of Official can use this; I'll stick with what works best.

Should I use pin.it or this Official app?

Looks like Pinterest is gonna have to compete with pin.it as a consequence for arriving late to WP

Good news.
Sure it's a Beta and it's a mobile website wrapped in the guise of an app, BUT it looks and acts great. I like some features of Pin.it. I think the performance is better on the official app.


Looks like another lazy web wrapper :( Uninstalled.

It is. But its Beta. Lets see in a few months. Hopefully is updated regularly.

It will be updated....when the mobile site is updated.

I love first party apps so YEA! But in truth I have zero interest....

Per info from Engadget, "...The company tells us that the beta is a shortcut to its mobile web client with a few Windows Phone-native features thrown in. This won't be as tightly integrated with the platform as the Android or iOS versions, then...." So it's a typical lazy first effort.
Oh joy!(sarcasm) Let's see how long until it gets updates with more/better features *cough*official Instagram BETA.

You got it. But at least is a start. It made it to WP. Hopefully this app is updated regularly.

I won't hold my breath though. Look at how long Path took and Instagram is STILL a beta with no updates! The iOS and android versions have gotten multiple updates to their Instagram apps since we got the beta.
Our platform is still a redheaded stepchild to many devs.

Agree. But the names are here now. Not everyone knows is a webapp. Non techies can't tell the difference. Perhaps names can help on m