Plants vs Zombies: Garden Warfare 2 free trial available for Xbox One and PC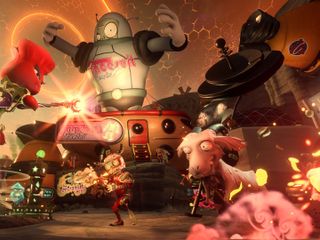 Five days before the full games goes on sale, Xbox One console owners can download a free trial for Electronic Arts' multiplayer shooter sequel Plants vs Zombies: Garden Warfare 2. The trial is available for subscribers to the EA Access service. PC gamers can do the same with a subscription to Origin Access
The trial allows players to check out the game's co-op and multiplayer modes for 10 hours. Any progress made in the trial will be carried over to the full game when it is released on Feb. 23. EA Access and Origin Access members can purchase the full digital Xbox One and PC versions of Plants vs Zombies: Garden Warfare 2 for 10% off their normal price.
Membership for EA Access for Xbox One owners costs $4.99 a month or $29.99 for 12 months, while PC gamers can sign up for Origin Access for $4.99 a month.
Source: Videogamer.com
So tempting to buy a month for $5 to play for ten glorious and entertaining hours before the 23rd!

I have a year, I dont regret it. I know I'm going to buy some ea games like madden, pvz, titanfall, so the discount on those games is nice, plus the 5 day early access, 10 hour trial.

but but but but why buy them, when Maddem 16, PvZ and Titanfall are already free to play with the pass? I mean, if you plan on playing them past a whole year, just renew the subscription and you get to keep on playing all of them for another year...

Titanfall 2, madden 2017, and pvz2 wont be free for quite a while after release. I bought the originals new, I didn't want to wait till they were free.

Yes, I started my download before I went to work. If you've got EA access you can play 10 hours starting today.

So glad I have EA Access. Been looking forward to playing this.
Windows Central Newsletter
Get the best of Windows Central in in your inbox, every day!
Thank you for signing up to Windows Central. You will receive a verification email shortly.
There was a problem. Please refresh the page and try again.