Platinum Games supports Metal Gear Rising on backwards compatibility, but it's up to Konami
At E3, I asked Jean Pierre Kellams of Platinum Games about the status of Metal Gear Rising for backwards compatibility. As you might expect, the ball is firmly in Konami's court.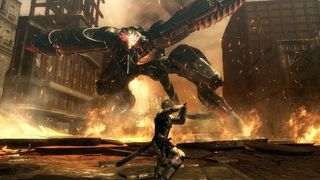 Metal Gear Rising was a Platinum Games-developed hack n' slash set in the Metal Gear universe. Players took control of Raiden, the series' famed cybernetic ninja, as he hunts down a band of rogue cyborgs.
Metal Gear Rising is a personal Xbox 360 highlight of mine, with its dynamic blade cutting, reactive parry combat and insane boss fights. Hideo Kojima consulted on the title to ensure it retained that Kojima-feel, and Platinum produced what is, in my opinion, one of the best games in the series.
I caught up with Platinum Games to discuss Scalebound, which you can read over here, but I snuck in a question about whether or not they had a say in the game hitting Xbox One via backwards compatibility.
Metal Gear as a franchise is in flux at present, with Konami and series creator Hideo Kojima suffering a major and rather public falling out. Hopefully, Konami will consider backwards compatibility for Xbox One, and give the title a new lease of life. Metal Gear Rising is sitting at over 12,000 votes as of writing on the Xbox Uservoice site, which allows players to request backwards compatible games.
Metal Gear creator Hideo Kojima is now fronting a new independent studio, and working with Hollywood actor Norman Reedus on a PS4 exclusive. Konami were hiring for a new Metal Gear title a while back, but it doesn't seem as though the series has any sort of future without Kojima. If Konami's haphazard treatment Silent Hill is any indication, their ownership of Metal Gear doesn't bode well for the series – given the franchises' similar levels of nuance and complexity.
Backwards compatibility could be the only way we see Metal Gear titles hitting Xbox One in the future, and frankly, without Kojima Productions or Platinum Games, maybe that's for the best. Still, I'm sure most of us would welcome Konami to prove the doubters wrong.
Would you like to see Metal Gear games hit backwards compatibility? Let us know in the comments or upvote the game on Xbox's UserVoice page.
Jez Corden is the Managing Editor for Windows Central, focusing primarily on all things Xbox and gaming. Jez is known for breaking exclusive news and analysis as relates to the Microsoft ecosystem while being powered by caffeine. Follow on Twitter @JezCorden and listen to his Xbox Two podcast, all about, you guessed it, Xbox!
Not really see this happening because of Konami.

They did give us Castlevania on backwards compat though... maybe there's hope if enough people express interest.

Didn't know they had a backwards compabiliy with Castlevania.

Aye, they do, fingers crossed for MGR!

And Frogger!!! :-) That's backwards compatible too and Konami published.

8 new backwards compatible games today including fallout new Vegas. I'd love to see metal gear games in BC.

Care to name the others as well?

Fallout: New Vegas
Blood Knights
Red Faction Battlegrounds
Joe Danger
Comic Jumper
Crystal Quest
D&D:Chronicles of Mystara
I am Alive.

I love I Am Alive sooo much. Underrated game imo.

Same, never got around to finishing it either, or Comic Jumper (also a great game) so I know what I'll be installing tomorrow.

Konami doesn't care about video games anymore so I'd be shocked to see any movement on this front.

To hell with this! Give me Ninja Gaidan!

I'd like to see MGS2-3 & Peacewalker come to back com-pat.

Same, that'd be rad. Annoys the hell out of me MGS1 won't ever see the light of day, lol

MGS1 needs a re-remastered next gen edition. And Konami wont do it. Snake Eater pachinko machines for everyone! :P

Re-release the GameCube remaster like Resident Evil 1, that'd do me just fine (although get Gray Fox's original VA...)

Maybe if Xbox One was a pachinko machine. Otherwise, I don't see this happening.

This comment is so true it kinda hurts :'(

Speaking of Platinum, I wouldn't mind Bayonetta on backwards compatibility as well, that's an absolute gem of a game! Still play it on my 360 till today

Not gonna happen. #FucKonami Posted via my Nexus 5X
Windows Central Newsletter
Thank you for signing up to Windows Central. You will receive a verification email shortly.
There was a problem. Please refresh the page and try again.