PlatinumGames' Hideki Kamiya 'totally serious' about reviving Xbox exclusive Scalebound
Scalebound refuses to stay completely dead.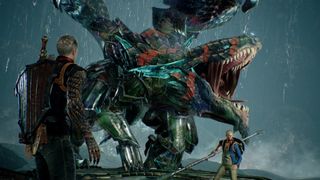 (Image credit: Xbox)
What you need to know
Xbox exclusive RPG Scalebound was canceled in 2017 after numerous complications in development between studio PlatinumGames and Microsoft.
Recently, Scalebound began making headlines after PlatinumGames' president and vice president expressed interest in reviving the title.
On Tuesday, vice president Hideki Kamiya clarified that he's "totally serious" and would "love to bring it back."
Kamiya declined to confirm or deny if PlatinumGames is actively discussing revisiting Scalebound with Microsoft.
One of the greatest tragedies of the Xbox One-era of console gaming for many fans was the reveal and subsequent cancelation years later of Xbox exclusive RPG Scalebound. The monster-slaying adventure title was being developed by Bayonetta and Nier: Automata creators PlatinumGames in partnership with Microsoft, but failed to come to fruition after years of complicated development ended the project in 2017.
Last week, Scalebound made the rounds in the news once again after PlatinumGames expressed interest in revisiting the game. Both the president, Atsushi Inaba, and vice president, Hideki Kamiya, called upon Microsoft Gaming CEO Phil Spencer to reopen discussions about Scalebound, sparking speculation in the video game community.
On Tuesday, Kamiya reaffirmed his interests in an interview with VGC. "Having gotten somewhere with it, as a creator I'd like to see it to the end. And I hear fans saying they really want to play that game, which is too bad, and I want to give that to them when I hear that," Kamiya expressed about Scalebound.
Later, Kamiya stated that he's "totally serious" about the prospect of reviving Scalebound, adding further flame to the dormant IP's story. When asked if any discussions were ongoing between PlatinumGames and Microsoft, Kamiya replied "I can't confirm or deny anything, but we could be talking to Microsoft."
Scalebound was a co-op-focused action-adventure RPG that saw players battle monsters across a magical world with a variety of weapons, abilities, and dragon companions. After the game's cancelation in 2017, Scalebound has been trapped in limbo as part of Microsoft's vast library of dormant IP, while the company sought to bolster its first-party games lineup with acquisitions like Activision Blizzard.
It's not clear if Scalebound would've been a success or considered one of the best Xbox games had it released years ago, and many would-be fans resigned themselves to the fact they'd never be able to find out. PlatinumGames has made it clear it's interested in finishing what it started, but there's still no reason to believe anything is in the works at the moment, or ever will be.
Zachary Boddy (They / Them) is a Staff Writer primarily focused on covering the latest news, the best Xbox and PC games, and the most interesting hardware. They have been gaming and writing for most of their life, and have been with Windows Central and its sister sites since 2019. While originally brought on to write about all things Minecraft, Zachary has since expanded to write about practically everything that Windows Central covers. You can find Zachary on Twitter @BoddyZachary.
I would love to see this game completed. I was one of the many who eagerly anticipated this games release.

Translation: Platinum Games needs money. They saw MS spend 70B on ActiBlizz. Their eyeballs started flashing dollar signs like a Tex Avery cartoon.

Translation of translation: Platinum remains more talented than just about any studio MSFT's acquired thus far and it'd be Spencer's privilege, if not his civic duty to gamers, to work with them and give them whatever they want in perpetuity.

I'd be far more interested in Platinum's take on a Monster Hunter-like, compared to the excessive time grind that we get from the current Time Waster Hunter.
MH games format would also compliment the live service model Platinum are interested in. I'm sure Xbox would love their own Monster Hunter & a Scalebound revision could be just the thing.

If Platinum Games owns the rights to the IP they should look elsewhere for funding if they think they can actually get the game of the ground. Babylon's Fall looks interesting and I think everyone is eager for Bayonetta 3 whenever they will be.

Final Fantasy in cyberpunk universe is the welcome.
Scalebound have a little animal character for assist the principal character, with AI today ?
For a game service as Sea of Thieves ?, Monster Hunter is good and arrived since a long time ago.
Windows Central Newsletter
Thank you for signing up to Windows Central. You will receive a verification email shortly.
There was a problem. Please refresh the page and try again.