PlayerUnknown's Battlegrounds (PUBG) Xbox One update lets you skip matchmaking for Squad mode
PlayerUnknown's Battlegrounds (PUBG) will now let Xbox One players jump into Squad mode without using matchmaking.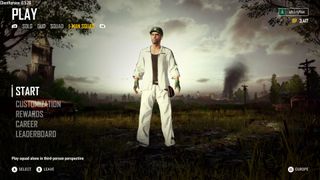 Since hitting the Xbox One Game Preview Program earlier in December, PUBG has seen a number of updates to smooth out the experience and bring it closer to its much more polished PC sibling. Now, the latest update now rolling out to the Xbox One version pushes the versions closer to parity with some tweaks to Squad mode.
According to a recently posted tweet from the official PUBG Twitter, Xbox players will now be able to jump into Squad mode without having to matchmake with others. This lets you play the mode as a one, two, or three-man squad without requiring you to team up with random players.
Xbox players, we will be deploying a patch at 3AM PST / 12PM CET to allow you to enjoy Squad mode in all the ways possible.

You will now be able to play Squad mode as a 1, 2, or 3-man squad without having to matchmake with other players.Xbox players, we will be deploying a patch at 3AM PST / 12PM CET to allow you to enjoy Squad mode in all the ways possible.

You will now be able to play Squad mode as a 1, 2, or 3-man squad without having to matchmake with other players.— PUBG: BATTLEGROUNDS (@PUBG) December 29, 2017December 29, 2017
Squad mode is separate from PUBG's standard free-for-all mode. Instead of placing everyone against each other in a battle to the last man standing, Squad mode places teams of players against one another.
This update follows a much larger one that rolled out to PUBG on Xbox one on December 22. That update mostly trended toward optimizations, improving performance and addressing some minor bugs and crash issues. Considering some of the game's performance issues, expect more optimization patches to follow in the coming weeks and months while it's still in the Game Preview Program.
Get the Windows Central Newsletter
All the latest news, reviews, and guides for Windows and Xbox diehards.
Dan Thorp-Lancaster is the former Editor-in-Chief of Windows Central. He began working with Windows Central, Android Central, and iMore as a news writer in 2014 and is obsessed with tech of all sorts. You can follow Dan on Twitter @DthorpL and Instagram @heyitsdtl.
This game wasn't worth $30 at all.

I just bought it and have for sure gotten my 30 worth out of it. To each their own...

I love the game even though it needs serious improvement. I'm hoping they can get it running smoothly over the next year. I've definitely gotten my $30 worth out of it already.

AGREE!!!!! My friends and I have Def got our moneys worth already! Needs a lot of work still, but I love it!

I agree!. It is not worth $30 bucks because CDKEYS.com is selling the Xbox download version for $26.99 and the PC version for $23.99.

A welcome feature. Hopefully, theyll eventually offer a mode that blends the two (free for all with ability to squad up with only two or three players).

Why would you want to play solo vs squads? Makes no sense. If I'm playing squad, I got back up, you don't. At least that's how we play squads!

I'm currently enjoying this on my Xbox One X, not as my as on PC as it's much more stable, but most of my friends don't own a PC, let alone one with a decent graphics card.
They do though, however, all own an Xbox One - back when the era of PS2 ruled everything gaming, all my mates stuck to consoles and controllers and it seems we've all migrated to Xbox One (some also own a PS4 but that's only for exclusive games - show offs!) Though, the game is only 5.3GB in size on the Xbox. Surely, it would make sense to release an update that's even like 12GB (most Xbox One games seem to be 20GB+ anyway - Fortnite is 14GB) of just textures, etc.
The Xbox One and One X is powerful enough to load these quickly, without having to decompress them like it's doing now, causing instability and lower fps and shocking draw distance. I mean, they've went out to make it 4K but wouldn't it be better to just do a hefty sized update of all the textures so the game is smoother.
I'd happily sacrifice like 10GB of storage for that if it means the game can be less CPU/GPU intensive and increase the fps.
I get, optimization work differently, but to a degree isn't it like video compression in which HEVC is smaller file size for the same quality of h.264, but more hardware stress is caused. Whereas the larger h.264 file will just run smoothly, no?

Just picked this up and am having a blast with it. Hopefully with Microsofts help they can really polishes this for a full release within the year of 2018, but it pretty unoptimized at the moment. Still extremely fun though.