Discover new wine with Plonk for Windows Phone 8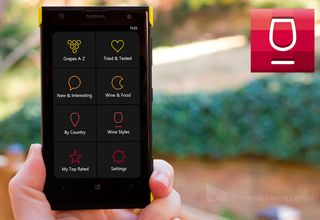 Wine is a pretty popular alcoholic beverage, at least it has been since about 5000 BC. If you're pretty familiar with wine you'd be aware that sometimes a nice Chianti goes well with liver and fava beans. Otherwise you've got a new app for Windows Phone called Plonk for if you're fairly new to wine or want to expand your knowledge. Let's check it out.
Plonk is a pretty little app that comes to us from iOS. It's aimed at being your secret weapon for finding wine styles you might be into. It works by making suggestions for something you might like based off of the grape varieties and wine styles you're already into. It does this in an attractive looking app. Here's all you can do with Plonk:
Learn more about the grapes & wine styles you like
Discover new grapes based on your personal taste preferences
Listen to pronunciations of each grape & wine style
Find out which grapes pop up in which wine styles. Ie. Tempranillo in Rioja or Sangiovese in Chianti
Learn about what types of food go well with what grapes and wine styles
Start your journey in 'Tried & tested', where you'll see lots of familiar grapes and find ideas for other similar grapes you might like to try
Or skip straight to 'new & interesting' for some inspiration and grapes to celebrate with
Rate and star your favorite grapes so you remember them for next time
Share your favorite grapes and wine styles with friends through Facebook, Twitter or email
The app is pretty useful. We're not big on wine around here, but can definitely see the appeal. Unfortunately, the app suffers a bit in the performance department. It looks to be a straight port from iOS, which isn't in itself a bad thing. But it does have some lag when scrolling through the lists.
Hopefully a future update addresses some of those scrolling issues, otherwise you're looking at a pretty good app for Wine connoisseurs on Windows Phone 8. Want to grab it the free app? Head to the Windows Phone Store, use the QR code, or swipe to the right in our app.
Sam, what's your preferred wine?

He just wants to know which glass to drug.

I like the icon they are using. I'm not a big drinker but I might give this a shot anyway.

Just tried this app out. I don't like the UI and it works really slow and "laggy".

Yup. Definitely some performance issues from most likely being something like a PhoneGap port.

I want Vivino! I sent them an email requesting it, ar which they replied saying WP hasn't enough traction, which I then replied with a telegraphic "thanks anyway" and WPCenntral article link about WP being the OS with most growth.

We're really going to finish this year on a strong note, with all these iOS and Android apps finally jumping on board the WP ship. From time to time I go and look at trending app in the Play and App stores and contact the developers on what their status is for a possible Windows Phone app. Today I found out that a Whisk app is coming soon, a pretty awesome kitchen assitant app that's popular on the other mobile OS's. Good things ahead for WP users, it's all really exciting.

Why are WPCentral readers not into wine? The app is ok. Could do with an overhaul to speed it up....

I like me a glass of Port after dinner :)

This app is very poor!! no mention of Burgundy wine, No search and buggy on my Samsung ATIV!!! if I could just get an unlock code for my Lumia 1020 I'll try it on a better machine
Windows Central Newsletter
Thank you for signing up to Windows Central. You will receive a verification email shortly.
There was a problem. Please refresh the page and try again.