Pocket Avenger escapes the zombie menace, lands on Windows Phone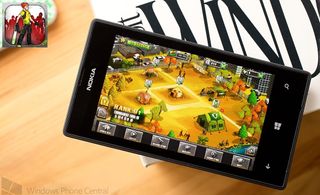 There are lots of ways to discover new games for Windows Phone. We often rely just as much on our readers as we do developers and publishers to find interesting games to write about. There's always a gaming discussion going on in the Windows Phone Central gaming forum, where loyal reader John Lompard has created a thread dedicated to newly released Windows Phone games.
John's initial discoveries include a very cool endless runner called Pocket Avenger from Pine Entertainment, which I've really gotten into after a short play session. Play as a survivor of the zombie apocalypse who must run, jump, and kill hordes of zombies in order to stay alive. Did I mention the game is free to play and prettier than your average zombie?
Stop the zombie menace
Endless runners usually star doomed protagonists with no hopes of survival. Pocket Avenger plays like a 2D endless runner, but it has actual levels so you're not just running till you get tired and die. Select from four survivors and prepare to make your stand.
The hero can even fight back against his zombie aggressors with guns, chainsaws, and other weapons. Weapons fire automatically, so you're free to tap the screen to jump or switch between weapons and items.
Pocket Avenger looks and plays great, with multiple layers of parallax scrolling and tons of characters on-screen at once. Other features include over 200 levels, weekly tournaments and social features, and cloud save support.
The game requires a Facebook account, but you conspiracy theorists out there can always make a fake one for occasions like this. That Facebook integration enables cross-platform cloud saves, which is definitely worth the price of admission in my book.
Pocket Avenger – Windows Phone 8 (including low-memory devices) – 82 MB – Free – Store Link

(opens in new tab)
More fresh game recommendations
While Pocket Avenger is the clear winner of the initial recommendations in John's forum thread, it also lists several more interesting games that have just arrived on Windows Phone. Check out the "Just Released Games" forum thread, and be sure to leave your own suggestions whenever you discover a cool game that's just come out.
Windows Central Newsletter
Get the best of Windows Central in in your inbox, every day!
Paul Acevedo is the Games Editor at Windows Central. A lifelong gamer, he has written about videogames for over 15 years and reviewed over 350 games for our site. Follow him on Twitter @PaulRAcevedo. Don't hate. Appreciate!
But it's not avaliable in Brazil!... o wait... hold on... I'm in Canada... No XBOX Live! No Buy!... (goes and downloads it) But it's free on Android! How dare do they? ... o wait... it's free here too... But ti's fremium! Such a shame... (keeps playing without paying a penny) No try no buy!... (I just had to restart the level... damn...) Did I forget something... (clicks on submit, selects another level to play... Thanks for the post Paul!)

Here you have the list of most annoying comments lol.

The only one he forgot is "No wp7." :-)

Don't forget "Y U NO 512MB RAM SUPPORT?"

Gonna give it a go. I guess I should also throw in the obligatory "I wish this was an Xbox title" comment.

Thanks alot Paul for bringing my thread so much into notice :) I really appreciate it. :D

I actually bookmarked it... keep it up John... we need more of this... WP Central should really have a place where users can point us to a new releases that are worth checking out... even a one liner will do, don't really need a full post...

Not sure if this forum software allows it (shame if they don't!) but I'd like to suggest rather than replying to your own post with new games it would be better to simply edit initial post and add more games. Also, if known , see if you can save trouble to a lot of people and post if game works on 512MB devices and if it's (by any miracle) compatible with WP7. I'm real glad that mods made this sticky. Cheers from Canada!

Yeah,I can edit the post but once the list gets long enough,say 50-60 games won't people find it tiresome to search through them??that is why I am doing 5-6 games in one post so its easier to navigate.ALMOST all the games I add are 512mb ram compatible because I check them from my own 620(512mb ram).however from now on I will try to find and add whether a game supports wp7 or not.thanks for the useful suggestions. :)

Sort them by date you discover them. New dates on top. State the date, list the games. Yea the post will get long eventually but those who saw the list already will have easier time checking what's new and those who don't we'll be able to see what they missed (by scrolling down to earlier dates reported)...

Not available here in Brazil. Developers: I can help you to get your games available here.

Any news on assassins creed pirates??

No, but it will probably come some time after Rayman releases.

O the Rayman! I'm starting to get GTA avaliability date flashbacks here...

And injustice lets everyone mail warner bros

Why don't you e-mail developers and let us know. ;-)

Same formal letters from them bro i have mailed many developers of fun run,injustice gods,pvz 2 etc.

This s..ks... It's amazing how many of us are "no xbox no buy" but none whatsoever ever mention "no support no buy".

Look cool. Posted via the WPC App for Android!
Windows Central Newsletter
Thank you for signing up to Windows Central. You will receive a verification email shortly.
There was a problem. Please refresh the page and try again.