Pocket Casts picks up 'refresh artwork' settings option and more in latest update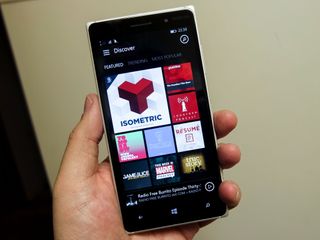 Pocket Casts, the popular podcast app that recently made its Windows Phone debut, nabbed an update today that adds the ability to long-press an episode to add it to "Up Next," a new settings option to refresh artwork, and a number of bug fixes.
Here's the full breakdown of what's new in today's update for Pocket Casts (bonus points to Shifty Jelly for making changelogs fun):
You can now long press on an episode in a list to add it to Up Next.
Added an option in podcast settings to refresh artwork, also tweaked the way artwork is loaded. If you had issues with that, they should now be gone.
Called your mum and wished her a happy mothers day. You're welcome.
You can now download episodes even when 'stream by default' is on. Oops.
Fixed some crashes that have been reported.
Fixed font sizes breaking bits of our app.
Fixed your relationship with that person you've been ignoring. Again, you're welcome.
Custom skip times now work via BT and other external controls.
Fixed issues with speeds higher than 1x, reverting to 1x.
If you haven't given Pocket Casts a go yet, we'd definitely recommend trying it out. If you've already purchased the app, you can grab the update from the store link below. If you're a newcomer, you can give the app a shot for $3.99.
Thanks to Zapella for the tip!
Dan Thorp-Lancaster is the former Editor-in-Chief of Windows Central. He began working with Windows Central, Android Central, and iMore as a news writer in 2014 and is obsessed with tech of all sorts. You can follow Dan on Twitter @DthorpL and Instagram @heyitsdtl.
Yeah I'm so glad he called my mum.

I'm convinced, just for this changelog I'm gonna buy it! These guys are hilarious!

Right? I read it twice lol

They've been doing this on android for a long time. Best devs ever!

I bought it just for that reason.

Another reason I have zero regret buying this on all 3 mobile platforms.

LOL! Very nice changelog! Wish there were more developers doing this!

When I started reading "Called your mum..." I thought they were gonna make a dirty joke... And that would be awesome! xD

everything I've wanted in a podcast app.. Love it.. And the fixed the crash bug that was impacting one off my casts... Rock on!!!!

Need better filter option per podcast.

I love Pocket Casts! I used my Bing Rewards, but this is worth every penny!

More people need to do this. Maybe, just maybe, we would hear less whining about the cost of great apps.

I use Bing so much, but I'm in India :( No Rewards here, my only option is carrier billing, which I'm waiting for....

I really like this app and am anxiously anticipating the day the team include video podcast support. Once they do this, I'll make the switch to Pockets Casts fulltime. :)

Read their full amazing change log in the Store. At the end, they say, "Next on our to-do list is video playback, world peace, and allowing you to pin ALL THE THINGS."
-----
XD

Digit❗ Microsoft gives advise on marketing... Really.....
...........
https://readytogo.microsoft.com/en-us/Pages/MarketingSureStep.aspx?CR_CC...

Question. Based upon review and the fact there was no trial or demo version I did purchase. Am I missing something, or am I correct that this doesn't support video podcasts?

Not yet. It's a pretty new app, but they've told me that it will be implemented in a future update.

Thanks for the reply. I also do not see an option to stream. Until it shorts my video subscriptions and streams, it is an also ran, but I will keep my eye on it.
Thanks again.

Also no scrubbing control in playback, i.e. slider to select playback position. In fact no real 'now playing' playback controls at all?
Text for podcast descriptions is cut short.
Pretty disappointing altogether.

When you play, there is a box at the bottom of the screen showing now playing. Click it to go full screen with scrubbing controls etc.

Thank you.
I'm not sure if that was working before, maybe I just hit the play button but you are right and I take it all back. Thank you for the post to correct me.

Does this app actually download in the background?! Alot of podcasts promise this but it doesn't actually work. I'd pay for the app if it works

Yes, it does download in the background. Works like a charm here, unlike every other app I've tried.

I might get this even though I don't listen to podcasts that much

This app is great, I use it both on my Motorola Moto G2 and my Lumia 830. I love how it synchronizes across both platforms.

Any chance the developer will make this a universal app?

Every chance. Baby steps though. This is their first so for Windows.

Unless this gets a trial mode I see no point in paying for this app...

It *IS* a good podcasting app, but I'm pretty surprised there aren't any automatic clean-up options other than for downloaded episodes that have been played already. It really needs something like "clean up all downloaded episodes older than a week", or, "only keep X episodes". Until then, it takes a back seat behind Podcast Lounge.

that feature's even on the default podcast app, lol.

I'm glad there's an update. Currently still waiting for the option to keep downloaded only most recent episode and erase the rest.

Nice app... And looks like app build for windows 10 ... Like hamburger buttons etc.

please share, what is the new fashion? is it's hipster to plain read news and opinions, then call me a hipster. though I wish you wouldn't.

Loved the change log made me smile.
So I have just bought it

Is there a live tile showing the number of new episodes?

I bought this app based on this site ranting and raving about how awesome it is. This is my first app that ive ever purchased and to my suprise what a waste of £2. Initially it will work, however as soon as i want to change the podcast it just freezes and closes. It will not let me open it back up unless i restart the phone. What kind of BS is this? Have you guys actually even bought the app, feel like ive just fell in a vicious marketing trap. The free podcast app that was preinstalled has not let me down yet. Really really dissapointed.
Windows Central Newsletter
Thank you for signing up to Windows Central. You will receive a verification email shortly.
There was a problem. Please refresh the page and try again.