Pocket Tanks finally makes its Windows Phone debut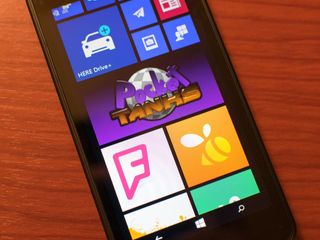 The classic artillery game Pocket Tanks, which was first released for the PC way back in 2001, recently, and very quietly, made its debut for Windows Phone devices. The game has also been available for some time on Windows 8.
The game, developed by Michael P. Welch of BlitWise Productions, is described like this:
The free version of Pocket Tanks includes 35 weapons, along with support for Wi-Fi real time matches on a local network and online turn-based matches. You can also upgrade to the Deluxe version in the game for $4.99 that will remove its ads and throws in a bunch of new content:
105 brand new weapons
Jump Jets for moving your tank around
Bouncy Dirt for creating reflective terrain
Digger for tunneling your tank underground
Support for weapon expansion packs, both paid and FREE!
Let us know what you think about Pocket Tanks for Windows Phone in the comments!
Looks like Broiled Earth which was around during the WP7 days.

Dude this game has been on desktop since 2001

I send them and email around a year ago to ask if they will realse it for WP, but they said they don't have time and resources to do it. finally they managed to make to WP. i love this game so much

Same here...used to just go kaboom on my desktop...highly addictive

I love the sound track of this game

I just got it on my Lumia 1320 and there is no music, even with the music setting turned on. Only sound effects.

Wow.... WP is gaining traction!

This has been a very "appy" week when it comes to windows phone ;)

Yes indeed. Plus alot of what's going to come in windows phone and app family :D

+1 ALOT OF APPS ABD GAMES ARRIVED AND IS ARRIVING!!!

No traction.Still lot of apps like instagram nd fully functional facebook missing.

ok.. what does it have to do with this artical? is't there already topic on forum where you can go and talk about it? now plz lets us who played this game on pc rejoice this app

Instagram? Wait I'm pretty sure I've been using instagram for months now..

Try using 6tag. Then you will never use instagram official app again ;)

Preach. All my friends using iPhones and androids constantly ask me to save pics for them using 6tag.

What's wrong with Facebook?

Today is rain of games for WP ;)

Damn! Windows Phone is on fire! It's on fire! This is App of the Week, no... Week of the Apps!

I dont understand if wp os is failing miserably then how come famous android game ports coming to WP.I believe MS is splashing a huge amount of cash.

Generally more android fanboys come than apps, but not now :D

Look at Europe. We're doing just fine :)

What are you talking about? WP makes up 10% of the market in multiple countries, so how you say it's failing?

WP is starting to kick ass.

If they were splashing cash it wouldn't be for these apps. They would target the top 100 apps from ios. Is this game in the top 100? You don't need every app. Just a few top apps that would be considered deal breakers for anyone thinking of switching.

This Christmas is for WP users... So many apps coming... Seems like Santa already started giving the gifts...

Wow...... Finally for windows phone.!!!

Awesome. I used to love this game. Immediate download

My favourite pc game back in 2004, me and cousin loved to play this game.

Does any one remember a game that is named "Minecraft"? I remember that Microsoft bought mojang :)

Finger crossed for Minecraft please bring it Microsoft ;)

They ( Microsoft) said that they already making the game for Windows phone..

Gajomau , they "Microsoft" said its coming very soon back then !

You know, it takes some time to port a game.. I prefer that they take some time and make a good game than a crapy one..

You're right with this one G

You gotta play the game of patience first

Survivalcraft is much better than minecraft.

I contacted this developer a year ago and asked him about porting this game. I promised that I will buy it

But you don't have to, now that it's for free ;)

I think I can donate on his website. I will check it out

Looks today is a good day for wp. First sonic dash and candy crush then pocket tanks

Best game I m gona install my phone after asphalt 8!!

I love this game on PC!!!!!

A lot of apps and games in theese days!!
Very good ;-)

I've reicently bought a asus transformer book t100 and when I click on the link for this game it just takes me to the stores homepage. when I search for it on both the t100 and my Lumia 1020 it doesn't come up. whats up with that?

Bought the deluxe. Have to show devs we're here.

Ive played this years ago, loved it on the pc.

Omfg am I dreaming this ... Hell yaa ... Finally yayyy

Why I can't download this game via cellular network? It's just 25mb. It say download via wifi.

Daaammnnn... Are all the devs suddenly enlightened or is MS splurging a bit..?

BlitWise, if you are seeing this please make this game available here in the Brazilian WP Store. I can help with this. You can use PEGI or ESRB certificates to publish it here.

Why dont you just change the region?

Its not about him!! Its for his countrymen... Who cannot or do not want to do that.

Oh, and of course: Huehuehuehue brbrbr

It made me nostalgic .... Really it was one of my favourite childhood time killer. Simple yet elegant gameplay. Most minimalist game ever made.

Lots of app coming to wP... :D

Windows phone on full acceleration

Whoop! I missed this game so much!!

Lumia Refocus and Ringtone updated.

Just played a game of it.... the computer gets a hit EVERY time... pretty lame, as is 99.9% of mobile phone games. Vita & 3ds for me

Was waiting since long time. Thank you so much. My wish is that we should get limbo, 18 wheels of street hauling, Pac man, Super Mario, GTA, and need for speed most wanted as well.

Btw, there's already an update. Lol

I've been playing this game since forever on desktop, this is exciting!

Wuhu I cant believe it. Wuhu baby yeah!

Excellent Downloading +920 :D
Thanks Windows Phone Central

This looks like a ripoff of scorched earth, which was a rip off of Tank Wars from 1990, which was a ripoff of Tank Wars from 1986. I would do anything for a totally faithful port of the Tank Wars from the early 90's. Complete with "PC speaker" sound, and the big blocky 320x200 resolution.

Day by day windows store is evolving.. COOL!!

Windows phone store is skyrocketing.

No screenshot? I know I can click the link and go to the store but we usually have a screenshot so that a reader can see if they are even interested in going to the store for the app.

A piece of my childhood....*sniffs*....

Awesome game.... Love it....

I'm too not able to download it.... Tried several times... Stops in between n den when i try it again it stucks on pending... Lost my valuable data on it... My region is set to US...

I think it has been removed from the store!!

Hmm. Getting error 80060206 while downloading. India

Couldn't download from store directly..so I installed manually but now it shows an update which is again impossible to download.

I love this game, I remember playing it on my PC, & now on phone, its just great!

It's not downloading due to some error. :(

Its not getting installed!!!

Some connection error is occurring, right?

Its just says pending...and doesn't download...

Pending! I'm getting this message all the time. It isn't downloading

I can't play online match.

It don't install on my Lumia 630!!! Any body help me
Windows Central Newsletter
Thank you for signing up to Windows Central. You will receive a verification email shortly.
There was a problem. Please refresh the page and try again.