Podcast Lounge updated but runs into BBC legal conundrum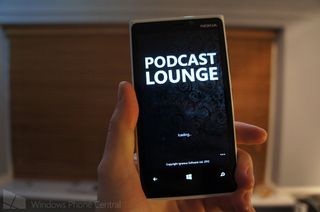 BBC Podcast Lounge, now known as Podcast Lounge, has been updated for Windows Phone. The app, now bumped to version 1.4 is a well rated podcast player that enables users to stream and download shows from a number of sources, including the BBC.
The British corporation has long been shy of Microsoft's mobile platform with lack of iPlayer support, as well as podcast, radio and other media. Consumers have relied on third-party developers to bring support to the platform.
Speaking of which, Windows Phone itself lacks full podcast support for a number of markets, which this app helps address. Igneous has proven their worth by offering such functionality and opening up content for those who have no official means to do so.
Users of Podcast Lounge can enjoy adding favourites, configuring auto-downloading of shows (this occurs even when the app is closed - usually when the phone is charging overnight, a feature Igneous Software tells us is presently a unique feature for a Podcast app on Windows Phone) and viewing available podcasts in an intuitive user experience.
Control is available for manipulation of settings that govern downloads, storage, podcasts and more. It's a fully featured media player too with background podcast playback. So what's new in the latest release?
Background autosyncing is now checked and disabled for 256MB hardware
Social media commenting support added
Notification of downloaded episodes now present when user starts app
All references to the BBC removed (more on this below)
Auto-sorting of episodes in download manager now implemented.
A large number of bug fixes and optimisations
But what's all the 'BBC references being removed' all about? We've been in touch with the developer, Richard Castle (from Igneous Software) who revealed to us complications that has arisen between the BBC and himself regarding compliance with the corporation's third-party business license. It's a complex situation, one which Castle is determined to either workaround or locate a viable solution.
Future of Podcast Lounge and Radio Player
What does this mean for the future of Podcast Lounge? Well, as can be seen with this latest update, development is continuing and the developer isn't ready to give up hope either. The BBC has requested that all references to its brand to be removed from not only the Podcast Lounge, but also the array of Radio Player apps that Igneous Software has published for Windows Phone.
It's not all doom and gloom, though. As mentioned above, we've been in close contact with the developer, stating that a future version of Podcast Lounge has a catalogue of over 20,000 unique podcast programmes - that's quite an advancement. What's more is that our very own Windows Phone Central podcast is included!
We can expect to see another update released for Podcast Lounge in due course. This will look to solve the non-US issue with lack of podcasts. As for Radio Player, we'll see more programmes from other sources be included with BBC content, which will be available for consumers to enjoy without any future problems or constraints arising.
We'll keep you guys posted with any future updates to both the apps and situation between Igneous and the BBC. You can download Podcast Lounge from the Windows Phone Store. It's available for both Windows Phone 7 and 8 for $1.99 (£1.49) - free trial available.
Rich Edmonds is Senior Editor of PC hardware at Windows Central, covering everything related to PC components and NAS. He's been involved in technology for more than a decade and knows a thing or two about the magic inside a PC chassis. You can follow him over on Twitter at @RichEdmonds.
Some companies just seem to have it in for any Microsoft product.

The BBC have a sick love affair with Apple products. In an episode of Click they used the Surface as a dumbbell to falsely demonstrate how heavier it is than an iPad. Of course the iDiots believed it when in reality the difference is around 20g.

Totally Agree. I noticed it and people on twitter shared the same view. Just submitted a huge complaint to the BBC about this and other topics.
Awaiting their response.

So now tha BBC join SKY in not only refusing to develop for Windows Phone, but actively hamstringing third party developers that fill the gap.
Topperwares' Sky+Remote app hasn't worked properly for a while thanks to Sky. Whom I have spoken to and they couldn't care less.
And now the BBC continue to show what total Applephiles they are. Licence fee? They can stick it.

As the developer of Podcast Lounge, I just wanted to comment on the situation reported above. The BBC is funded by the TV licence and therefore has limited resources in which to bring its services to different smartphone platforms. It actively monitors market share and invests its time and efforts accordingly. In the case of Podcast Lounge, they have been very accommodating in letting us transition our apps to versions that fully comply with their Terms of Business Use. They could have had the apps pulled immediately, however they chose to work with us in agreeing a change-over plan. I'll talk more about it soon.
The BBC content will still be in Podcast Lounge as their Business Terms let us do that, it's just that they objected to us actively using the BBC name when it was something they didn't have control over. I think that is fair enough don't you?

Ya sounds fair to me as long as they don't ask to remove the podcasts alltogether, which in any case they haven't.

Very magnanimous of you Mr Igneous. However I still think that it is wrong for any large corporation to, on the one hand, refuse to develop for a platform, and then on the other, hamstring 3rd party devs that are willing to do the work.
I do not buy the limited funds argument. The BBC's remit is to cater for minority groups. The simple fact is that it is obsessed with ios and Apple and, as such, refuses to sully its hands on anything out of Redmond.
Thank you for the Apps that you produce. I just hope the BBC stops this bully boy tactics. As a UK resident I can't even voice protest by refusing to pay the Licence!

Hello, Igneous Software- just wanted to say bravo for a mature and incredibly smooth suite of apps. I use your Radio Player and this app daily, and you are a credit to the platform. It was infact the first paid app i downloaded on WP7 and the experience on WP8 is even better. More power to you sirs!

It sure would be nice if there were a trial version. I hate buying without trying. When I have time I'll reread the review, and may buy, but I would have downloaded instantly without reservation had there been a trial.
Why don't people get this?

Automatic downloading of podcasts without the app open?! Other app authors have stated this wasn't possible. If this really works then it's a huge win for the developer and a great step forward for non-US users.

As a developer, I will say that there are background tasks that allow this since Mango. I don't have any apps that use any of them, but from what I understand of them, I don't know why it wouldn't be possible, and therefore why any dev would say it isn't.

I contacted the developer of wpodder (I think) and he explained to me that there were restrictions in what background tasks could do and the memory they were allowed to use that meant downloading a podcast using them wasn't possible. Hopefully the other podcast app developers will see this and take another look at what can be done.

There is another kind of background agent, I think called ResourceIntensiveTask, which requires, unless overridden, that the phone be plugged in and on WiFi for it to work, and it is allowed a lot more memory and resources. This task type was designed just for this kind of thing. It has been around since Mango, and was covered in more than one seminar that I've attended (but it's been a while). The reasons for the limitations are for battery and data use, which is why a ResourceIntensiveTask requires power and WiFi.

It does sound fair enough, from IgneousSoftware's comment. I'm not sure about their limited resources though. Their FAQ regarding an WP7 iPlayer app is as follows:

"Are the BBC developing a Windows Phone 7 App for BBC iPlayer?

The BBC want to bring BBC iPlayer to as many audiences as possible, across a range of devices. Unfortunately, as the Windows Phone 7 doesn't support HLS or Adobe Flash, the formats we use for streaming videos, we can't make BBC iPlayer available on this phone at the moment."

They may well have limited resources, and it would make sense, but they're claiming a technical issue is stopping them and don't mention resources.

I'm not sure of the technicalities, but does WP8 have the same issue as WP7? Anyway, I've just contacted them with this message, just to try to get some response and make them aware there is some kind of demand for a WP8 iPlayer:

"Windows Phone 8 IPlayer app

When will you be releasing an app for Windows Phone 8 devices. Your FAQ states that you couldn't create one for WP7, but now WP8 is out it should hopefully remove the technical issues that you mention.

WP8 is one of the fastest growing mobile platforms now that Nokia, Samsung and HTC have released flagship phones and shouldn't be ignored."


I'd suggest that more of us write in to them to enquire about this, hopefully it would make them more aware.

Their contact form is at https://iplayerhelp.external.bbc.co.uk/templates/bbciplayer/emailForms/emailPage

Very good Peter. I'm afraid to say, I wasn't nearly half so polite in my letter to the Beeb.

Nope the BBC IT dept is stuffed full of Mac and Linux zealots. I've even hear them slag off NTFS for goodness sakes.
Complete bell ends. Typical of a public organization where the real work is done by Siemens and 3rd parties but the organization IT choices are steered by morons (and I don't use that term likely)
Left wing biased, juvenile and mismanaged.
I resent paying the license fee to fund these pillocks. I'd rather give my money for TV solely to Murdoch (and thats saying something) than the prize charlies over in Shepperds Bush.


It uses the same interface that everyone likes, and it becomes a better product as a result. - Michael Courouleau
Windows Central Newsletter
Thank you for signing up to Windows Central. You will receive a verification email shortly.
There was a problem. Please refresh the page and try again.