Pokémon Go cheating app Find 'em all for Windows 10 adds night mode, filters and more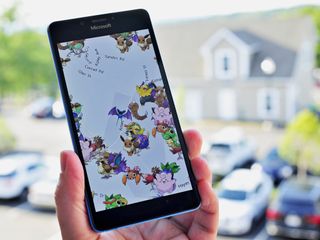 The recently released third-party Pokémon Go cheating app Find 'em all for Windows 10 PC and Mobile has been updated. It adds features such as night mode, a way to filter by Pokémon type and more.
Just a reminder: This app from developer Daniel Gary allows users to see in real-time where Pokémon in the game are based on their current location. The new 1.3.11 app update adds these features:
Night mode
Filter by Pokémon type
Watch for certain kind of Pokémon in background and get a notification when they are spotted
Custom notification sound
Fix for passwords longer than 15 characters
Roads/Satellite/3D Images
Player location indicator
Keep in mind that to use the Find 'em all app, you still must have a phone that can run the Pokémon Go game itself, and be signed up for the Pokémon Trainer Club.
Download Find 'em all from the Windows Store (opens in new tab)
Best comment so far this year.

Comment is now deleted :(

Now, if only the game was on windows 10, you would have something!

Why was that deleted Posted via the Windows Central App for Android

Seems like this would need to have access to some API tp the game servers... How else does it get the info? And if it does how long until the game maker notices what's going on shuts it down? Maybe this sort of thing is considered acceptable to the game maker though... With no android or IOS device around I haven't got to try the game so I am far from an expert.

I read on the net that's possible to hack the servers of niantic to obtain this info.

If they don't think there's enough market to merit a Windows Mobile version, then why would they be worried about this app?

Because even a tiny number of users with an unfair advantage can ruin the experience? My point probably isn't valid because if there is this app there are no doubt 200 android and IOS apps that do similar stuff but from a purely hypothetical standpoint it is possible for a very small group of windows users to ruin the game for a larger group of others if they truly did have an unfair advantage (like people who cheat in online shooter games... Tiny minority but very annoying)

Why bother publishing it on WP? Posted via the Windows Central App for Android

Because it is a windows mobile app - Der !!!

Yes, but Pokemon Go isn't a Windows Mobile app... Posted via the Windows Central App for Android

"posted via the windows central app for android"... Yes yes we know: wp is dead, no apps et cetera et cetera. Can we just enjoy this app (which is actually pretty decent!)

I wasn't trying to bash WP. There aren't many people who are bigger supporters than me. (even though I'm currently on Android, which I hate) I was just questioning the logic of releasing a companion app to an app that isn't on this platform, but Dan addressed that in several posts. Posted via the Windows Central App for Android

Plus one for your explanation. :)

Cool, hope add more features, more functions.

Perhaps Google released this on the down low in order to mock us. HAH.

This makes no sense - YOU CAN'T EVEN PLAY THE GAME on WINDOWS PHONE. SMH.....What's the point? I applaud the developer for their efforts, I would redirect energy/resources elsewhere.

Why do you even care is the bigger question?

Curiousity doesn't require much care.

@daniel So because I'm constructively giving feedback I can't care? That seems odd. I'm a big fan of Windows Phone in general.

It's better to catch them on another phone and find them on another
Better than switching apps Posted via the Windows Central App for Android

Your right. I put on a review on this app the other day, the developer thought i was reviewing pokemon go! LOL! I wasnt, was only reviewing what he thinks the app does, it doesnt really help anyone with a WP. should have put this apps energy to iOS or Android where it would be better suited. We cant get pokemon go so theres no reason for this app? Unless your gonna allow us to catch and battle daniel maybe direct it to actual users of pokemon go!

The developer uses it on a Surface tethered to an Android phone since the map is bigger/better to use. Many of you folks seem to forget that there are tablets that run this app or that some laptops have SIM cards in them. So you're right, it's not about Windows 10 Mobile, so you need to think beyond it.

So I have coworkers who play this game. They'll go out during lunch and play and I'll join in just to get in a bit of a walk. Well, now I can, in a way, participate in the game with them instead of just walking around eating snacks. So it's not a complete waste. It allows Windows users to join in with their friends.

Yes, but only as Hero Support.

So i install this on my WP and go and buy an iphone or android phone to play it. Cool, why can't i just lose the WP and go for ios or android directly? Nice one

To help somebody in a group of friends that have android to let them join in slightly, to be the map holder... Better than jack ??

And why bother, because he is able to and enjoys developing apps, only took him 1 day for the first release... Great job in my opinion

Good jod for the app, just not the good place to release it

Great app Daniel and keep up the great work! Some of us actually appreciate it.

Microsoft. Not invited into party but selling party pooper with ads using intellectual property rights without permission. Well Nadella needs to get money to pay for 30 billion acquisition of loss making website somehow.

Any chance of this making its way to iOS?! That would be awesome.

Anyone know why this app stopped working since yesterday afternoon? Pokemon don't show up on the map anymore when I click on it.

Nevermind. Found out that I needed to update the app...

He needs to allow us to capture like a vide that I saw in Reddit

Why create an app like this on windows mobile? When windows mobile cannot get the pokemon go app? This app is asking too much sounds lile they are assuming we all have a second phone such as iphones or android? This is asking too much and the app isnt worth the creaters time.

As I mentioned above, it's only on Mobile as a UWP. You can run it on a Surface with a bigger map tethered to an Android phone. Or maybe run it on a laptop with a SIM card for better mapping (map is bigger, faster). That is what the developer did. He uses it on a Surface with an Android phone with his kids, decided to release the app to a bunch of people who can't get beyond that. I'm not sure many of you really understand the implications of UWP. You seem to think it only applies to the phone.

Well, I'm sure he did walk around the streets with a laptop and tethered phone - but I think he is the only one on the planet that would! I see a lot of kids (and adults) around looking for Pokemon - guess how many using anything other than a mobile phone? I would not think anyone here has a misunderstanding of what UWP is, just by asking about the practicality of this Pokemon helper app - that is a bit of a stretch :-) As for me, I used it today a little, to find some nearby critters - which I then relayed on to my wife who was using the app on - guess what - her iPhone. But without showing your current position it had limited use (now addressed I see). In any case, since the original app also has a 'critters nearby' feature, my wife didnt even need me really.

The iPhone also has an app called Poke Radar, which is the same as thi developers app.

lol. if someone is that crazy about pokemon go he would definitely want a piece of that cherry in his own smartphone. just saying. UWP hurraayyy.. all our problems are solved they have the app we have uwp companion app..its just like apple saying u are not using the thing right. May be we are not using UWP right. For the record i dont care if the app is uwp or made seperately for each form factor that is to help the developer. its not that i dont care for the developer its just that it doesnt make any difference to the 'consumer'. by the way i need that thing u are smoking.. its gotta be too damn crazyy...

This app is great, i can finally join my friends playing the game. (its also great to finally see a UWA exclusive that people want to use!) I'd love to be able to hide certain Pokémon (like all those pesky ratatas) so Im eagerly looking forward to the updates!

So ,when officialy Pokemon go app will come ?

Officially they are talking about 2021/22. Ballpark.

Pleas do not call it cheating app. Call it, guidance app

An app to cheat on a game I can't get? Am I missing something? Is it coming to WP?

Why not create Windows Phone Go! You run around the city geolocating apps we dont' have! (ha ha...kidding....)

Well played Veep. Good one!

No use maintaining this app now, some nerd already found em all in the US lol

I just want to say that this is cooler then I thought. What I'm about to say is anecdotal but my sister has a 950 and her hubby an Android. They go out together and my sister uses this app while he uses the Pokémon Go app. They have a great time together.

Daniel and the creator of this app is trolling us so hard. Come on Danny admit it ! Posted via the Windows Central App for Android

Yes mark........ It'd kinda of be like if Microsoft had a small team of developers creating apps that wasn't available on a Microsoft product. Posted via the Windows Central App for Android

First we need Pokémon go... Please
Windows Central Newsletter
Get the best of Windows Central in in your inbox, every day!
Thank you for signing up to Windows Central. You will receive a verification email shortly.
There was a problem. Please refresh the page and try again.