Poki 2.0 for Windows Phone 8.1 due for release on October 2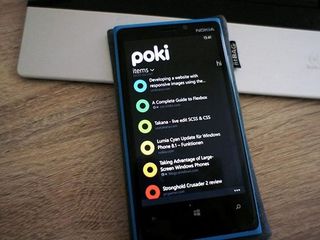 The 2.0 version of the popular Pocket third party app Poki for Windows Phone 8.1 now has a scheduled release date of October 2, according to a post this week on its official Twitter account.
We have already posted up a preview of Poki 2.0, including a big change lof of all of its upcoming additions, improvements and other changes. All in all, we are pretty excited about its launch and we can't wait to get our hands on the final public version next week.
Just in case you are unfamiliar with Poki, it's basically a third party client for the Pocket online service where users can save web articles to their device and read them later without the need of an Internet connection.
You can check out the 1.0 version of Poki right now in the Windows Phone Store. If you are a current user of Poki, are you excited about the 2.0 version coming on October 2nd?
Source: Poki on Twitter
Windows Central Newsletter
Get the best of Windows Central in your inbox, every day!
And yet we didn't see any major update for whatsapp, instagram, twitter, skype. Microsoft is really fucked in mobile world. I know its not their fault and its not mine ether. So hopefully I wont regret buying a wp at the end. I always supported and used lumia but I think this year is the last year I will ever use a lumia unless something extraordinary happens to the wp space.

It might be fast and beautiful but the apps quality and support is crap. You cant say no to that.

You are 1 out of 100. I guess

What I mean is that I won't ditch WP because of that

WhatsApp lives in private beta, it's gonna stay like that for life. They will keep on testing and testing and testing.....

I'm afraid I'll have to agree with you. I moved from Android to WP 3 months ago, and although I love the speed and the live tiles, I'm starting to feel the lack of app updates. Apps on Android look and work much better most of the time. It's as if the apps on WP were unfinished Android apps. Spotify on WP looks hideous and is very buggy, for exemple. Oh well, since I don't have the money to keep buying new phones every 3 months, I guess I'm stuck with my L925 for another year at least. Lets hope things pick up in this time frame. Else I think I'll have to go back to Android or try the iphone thing.

I agree with the lack of updates, but disagree on looks. Spotify is definitely, not the best looking app. In my experience many of the Android apps did not do anything for me visually. There shouldn't be a trade-off, but it definitely exists. I think Ballmer didn't take things seriously at first and dug a huge hole.

Same feel here bro I'm 1st year med student and I have a lot of ebooks on my 1520 the adobe reader app on my phone sucks huge balls it was 1 fucking year since 1520 came out and they haven't even optimized the app for 1080p displays all the med books I read looks blurry WTF? even the pdf reader from Microsoft is the same I don't know what the fuck is wrong with ms app developers why cant they simply optimize it for 1080p screens only solution I have is taking my gfs nexus 5 and reading my books on it to be truthful the adobe reader app on nexus 5 is fuckin awesome the same app on wp store looks like a beta version of 2 year original app everytime I take my gfs phone i only feel one thing when is note 4 going to release I'm gonna buy it and root it and fucking enjoy it bye bye 1520

Totally agree with you, most of the apps in wp store do not work well with large screen devices like 1525/1320. I always get a black bar at the bottom of the screen and text looks blurry as fuck. Ms need to now stop focusing on new apps and work with dev so they could update the current apps.

Me too. My contract will end within two months and I'm gonna get me some fine android smartphone, probably Nexus 5. It's just pointless to hope that some big name apps will ever come to WP or if we are ever going to see some big updates from existing big name apps. I mean, like, instagram and vine for example have been updated once or twice from their release and those updates were literally nothing. I'm done with Windows Phone.

I'm done too. I think i'll get nexus or new Moto G for my next smartphone. New Moto G is freakin awesome for dat price. Apps is the only thing make me "i'm running but not going anywhere. I'm stuck and i have to stop it". #IAmDoneWithWindowsPhone

Apps don't make a phone. Twitter and facebook don't rule my experience with a device.

If app doesn't make a phone then we all should probably get a Nokia 3310? No? Come on. Apps are the reason why phones are called "Smartphone's" today.
You are right Salah19, apps on WP sucks. They are laggy, buggy and slow. Although it's not Microsoft's fault, because they can't force devs to make/optimize apps for their platform.
What their fault is that they can't even make their own app for their own platform e.g "Skype" which is much better on Android and iOS.
And we still don't have few basic features on Windows Phone e.g "True Multitasking" no I don't want to see the "loading" everytime I switch apps. It's annoying as hell. Even iPhone 4 is better at Multitasking than Lumia 1520.
And please don't say that iPhones are better at Multitasking because they are very restricted. Because Windows Phone is also very restricted.

very much agreeing with Salah19 .. lagging apps (and apps updates) is just killing the WP awesomeness .. i don't think my 1520 will remain as my main phone in 2015

Even the start screen has to load apps in the tiles now and resumes sometimes when you hit the home key. I guess the question is it right for Microsoft to expect us to just be happy when we don't have any news of another flagship coming when the likes of of the iPhone 6, Sony Xperia Z3, LG G3 and Samsung Galaxy Note 4 and even the Moto X continue to be released before we even get rumors of what their doing next? They need to be upfront and transparent with their consumers so we can at least know if it's worth the wait. They can't tell us to "keep patient" forever.

I started Pocket with Poki, it is my must have apps now :)

Love this app so much, I use it every single day!

will it be free or paid version?

Poki 2 will be a free app!

When I say it will be free, than it will be free ;-)

After release of windows phone 8.1, cant the apps access the file picker to share or upload any file, like instagram sharing a video file, and WhatsApp sharing an mp3 file, and other apps. I hope you get what i mean.

We can save EVERY web article on poki? Like we press share and choose poki?

c101a006 this is the error I get when trying to download this app. What is it? Why can't I download it?

One simple question:
WTF, is happening with the developers of the official apps????

One simple other question: WTF does this have to do with Poki 2?

They're celebrating the success of their apps on iOS and Android, of course. I was always hoping that the app gap would improve over time. Unfortunately, we're getting nowhere. My 930 is my third and also the last WP. I almost cry every time I go to androidpolice.com or toucharcade.com. All those polished apps and games, it's like a unicorn land we will never see on WP.

Poki2 is a universal app, right?

I believe so. I know the beta for Windows 8.1 will start soon.

Awesome! Been looking for a good Pocket client for Windows

It's an Universal App, yes. The Windows 8.1 version will be released in November!

What this discussion about apps has to do with Poki. F*** sake, just get an Android, you whiners.

Has anyone heard of owl reader? Not as beautiful as poki but definitely more functional. I tried owl reader and had to uninstall poki. That app simply poked poki out. Should try out it, paid but trial is fully functional

You will have to compare it with Poki 2 again. ;-)

Poki or Pouch? Anyone tried both?

Definitely Poki, it's one of the best and most beautiful apps on WP.

I tried Pocket desktop version.. I hope poki 2.0 will be free

I bet Sam Sabri is excited about this. It's his favorite app on Windows Phone.

Why is everyone bitching about apps, you knew the app problem while switching to a WP. All the apps I use work fine for me cause I don't thrive off apps. We wont get updated apps cause you people complain too much and switch to another device. Sorry for the rant, it just bothers me. Lol.

I have paid for, and really like, Owl Reader.
It has the following critical functionality: Ability to edit tags, assign tags, etc from the phone without having to memorize them.
For any non-trivial use of Pocket, the intelligent and convenient use of tags is critical. (it also works with Java applet favorite to save pages from the phone)
No other Pocket client for WP does this as well, & I've tried them all. Looked at the other way: Please tell M how you use Pocket *without* extensive use of tags?

Just revisited Poki ver 1 - does not have ability to select group of articles (just saved, for example, from the phone) and tag all of them with one tag.
If Poki ver 2 does this, I will take a serious re-look. Promise

Take a look at the new website: http://pokiapp.com/features It lists the new features and multi-editing as well :)