First look at Poki 2.0 for Windows Phone 8.1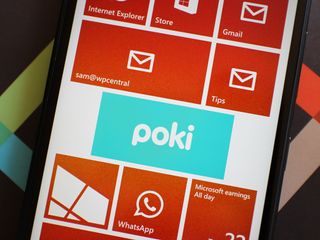 First look at the next big update for Poki. The refinement of an already beautiful app.
Ask me my favorite app on Windows Phone, and I might reply Poki. It's a third-party Pocket client for Windows Phone that I really like. Pocket is the service where you can save articles to read later and offline. They don't have an official app on Windows Phone yet, but that doesn't matter at all since we've got a healthy selection of apps for Pocket from the Windows Phone dev community. Poki just happens to be the one I use daily. It's also getting a big update in the near future. Here's a sneak preview of Poki 2.0 for Windows Phone.
Poki 2.0 is coming out to Windows Phone 8.1 in the near future. It's been completely rewritten from scratch for WinRT. That means we'll see Poki on Windows 8.1 sooner than later. The interface has been revamped, and the database engine is newer and faster. In short, Poki 2.0 is going to be awesome.
Here's the full changelog of that awesomeness coming your way soon with Poki 2.0:
Rewritten from scratch for WinRT
New and faster database engine
Revamped interface
Ability to update (add, edit, delete) items when offline
Automatically sync in the background while Poki is closed
"untagged" tag category
Search input above tags
Search results are not cleared when navigating away
Ability to logout
Share from other apps to Poki (using the new share contract)
Replace custom parser with the official parser by Pocket (custom parser is used as fallback (e.g. wpcentral))
Account + Achievements are saved and restored across installs
A lot faster on startup and runtime for large lists (e.g. 10.000+)
Tutorial for new users
Removed "pin article" feature
Promo code feature
Favorites replaced with highlights view
Improved layout for large screens
Allow badge notification on lockscreen (shows newly added articles from background task
Those are just general changes coming to Poki 2.0. You'll also find many changes throughout the app. For example, lists have been improved by giving you the ability to scroll to the top by tapping the Poki logo. Or you can sort the entire list by reading time.
The reading view has also been improved. The entire display is occupied now when in reading view. Images will only load when they're in view, you can share the full text, and videos can be viewed directly in the reading view, through third-party apps or with Internet Explorer.
Achievements is a feature that I really liked in the first release of Poki. I'm really happy that achievements earned in Poki will now be saved and restored across installs. I'm also looking forward to viewing my overall reading time and overall progress.
There's a ton coming to Poki 2.0, and we can't wait to share more as the app gets closer to launch. There are about four weeks of beta testing left before you'll see Poki 2.0 in the Windows Phone Store. The beta is closed for now, but you can check out Poki 1.0 in the meantime.
Looking for articles to add to your Pocket? Don't forget to check out our weekly recap of the biggest articles – ICYMI.
Windows Central Newsletter
Get the best of Windows Central in in your inbox, every day!
Love using Poki! Also, that change log is HUGE! No transparent tile though

That's just the general section too. Killer update coming. We'll have more on Poki soon.

This is the full changelog: http://pokiapp.com/beta-changelog.txt ;-) There is a transparent tile for sure!!

Transparent tile is already there.

Eh? I don't have it. But they're saying 2.0 has it so I'm good.

Poki2 does support transparent tile. (trust me, I'm in the beta ;)

Poki already has a transparent tile technically, so they don't need to add it with the update.

Technically, poki 2.0 is a whole new app, so nothing from the old app will be there automatically

Now is it just me or that Poki tile, which is usually transparent, sometimes becomes non-transparent?

I don't have it at all. Maybe because I'm not enrolled in the beta.

Hands down the best (productivity) windows phone app. I use it everyday.

I saw Poki 2.0 and I thought someone made an app to turn your phone into a pokedex.

What are those screenshots from? I'm one of the beta testers for Poki 2.0 and it looks nothing like that.

Wrong screenshots. Uploading 2.0 right now.

Thaaaaanks <3 (my heart stopped for a second :D)

I prefer Owl Reader, it's simple, minimalistic & extremely fast. It also provides some features that Poki doesn't, anyways I'll try Poki though, and if I like it, I will switch to Poki.

Owl reader has always been a favorite of mine, but poki's listening mode won my heart. Poki2 is even better!

Hey twentythreee, How do I become a beta tester for Poki 2.0?

Beta is private, sorry. I can't manage to communicate with hundreds of testers.

Read the article maybe? Beta testing is closed now....

I might be missing something here. I understand the concept of saving something for offline reading but what are the real life uses for this? I've never had the need to save articles in large quantities so I'm a bit lost but intrigued by the enthusiasm and have downloaded the trial. What am I not getting?

I use it daily. Come across an interesting article from someone on Twitter that's too long to read right then and there? Just save it to Pocket. I don't save short articles to the service, just really long ones.

I've moved all my read later stuff to Reading List.

I've got a lot of respect for devs that create apps that look and function this well.
But, having not used the app myself (will do after typing this) how is this different/better than pinning to your Start Screen?
I pin everything I want to look at later; articles, web pages, youtube videos etc it's one of my favourite parts of WP.
Educate me please.

Offline reading. Syncing across devices. Etc

Ah-ha! Saving for the 'mans quiet time' ;) Downloaded!

...is this better than Pouch?

I like this version, but poki 1 is more beautiful.

Yeah, I think so too. I really like the different colored icons next to each article. A little splash of color like that goes a long way I think.

Hey twentythreee, just wanted to let you know your app is amazing and I look forward to having it on my phone and laptop! Keep on keeping on.

Are you taking away the colorful circles in Poki 2.0? I really like the circles to be colorful indeed, otherwise it just looks bland.

I am experimenting with the colors, but I guess they will come back in the final build ;-)

Will this be a free update for existing users? Or a new purchase because it's been rewritten? Have been looking at buying this app for some time, but won't at this point if I'm going to be charged again in 3 or 4 weeks.

Nope, free update. All existing users will get BOTH the Poki 2 for Windows Phone AND Windows 8.1 for free.

Thank you kindly for the reply!

Really love Poki!! The developer is awesome and very responsive to feedback too. Awesome to have such a great dev on-board.

#teamOwlReader Poki looks cute tho, I've purchased both. Those little colorful circles on Poki blows my high

I can't get this to work on Lumia 620. Great looking app though.
Windows Central Newsletter
Thank you for signing up to Windows Central. You will receive a verification email shortly.
There was a problem. Please refresh the page and try again.