Poll - Are you enjoying Halo 5's campaign and multiplayer?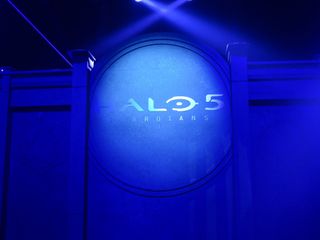 Xbox's biggest title of the year is here and millions are probably playing it as you read this. Despite the game's high scores, Halo 5 is being debated about more so than any previous game in the series. So we've decided to jump in on the fun and see how you, our readers, are feeling about the game.
Many of you are used to taking polls here on our site, but we're going to do something a little different. Instead of just having one poll, we'll have two. One for the campaign and the other for multiplayer.
I myself am enjoying both modes and understand the complaints that have been made about Halo 5's campaign. I think I enjoyed it because I feel as if Halo 5 is more of a set-up for a much bigger Halo 6. Something like a prologue. As for multiplayer, I can't remember the last time I've played something that's competitive and fun at the same time.
But enough about what I think. Check out the polls below and let us know how you feel about the game's modes. If using our app, just swipe to the right and choose More > Show in browser or just navigate to m.windowscentral.com/poll-10536
In the meantime, don't forget to check out our full review of Halo 5 if you haven't done so.
Note: We're trying Straw Poll this time around instead of Poll Daddy. You can also use and share these links for direct voting strw.pl/5e7e2a2d and strw.pl/a0cf28aa and we'll see how it all goes! Remember, you can always download the Straw app for Windows Phone here in the Store too!
Windows Central Newsletter
Get the best of Windows Central in your inbox, every day!
...i enjoy the graphics. Getting my ass kicked online- not so much. Campaign is just ok so far (5 missions in).

Funny, the graphics is my least favorite part of this game. I feel like older halos have looked nicer in their times than 5 does now by comparison. Its by no means ugly, just not as impressive as say, the first time I played reach. Multiplayer is really fun, has a higher learning curve though with many changes. Campaign is a nice change of style but all of these things are imho more impressive than the graphics to me. I still think Crysis on the 360 looks nicer but to each their own haha

Which Crysis? I'd you mean 3 then yea it was impressive graphics. If you mean one then idk what you're talking about

Yes halo 3 had realistic graphics they were great. Halo 4 started going down hill and not halo 5 is just like every other game. Looks cartoonish and not real. Don't appealing.

They wanted that 60frames per second framerate for fluidity. So they had to cut down the detail. I prefer their strategy.

So Xbox One is really just a 360 able to give 60fps in alot bigger box?

And 1080p. 360 did 720 as far as I know. Plus way better graphics rendering and hardware. It's not that's simple haha.

360 if need only more memory RAM and maybe not limited transistors then at today could be still playable for new game titles. Engineers create hardware for business that's a job plan.

Why do you mention Reach? Reach was a huge let-down graphic wise and has not looked nearly as good as many had expected. Even by comparison to other games at Reach's time it wasn't impressive at all. Only when you were pausing in theatre-mode the textures were quite great, and the shield / explosion effects were really well made. The overall impression was more of a letdown, though ...

They really halo 2'd it that's for sure!

Its hard being a number 2 middle child, but I think a 15 mission run is pretty epic either way... =[

Been a huge Halo fan for a long time as well as a competitive online player. Was involved in MLG when they hosted Halo Reach along with ESL & PGL for competitive Halo 4 tournaments and such. I've also played through each campaign in every single Halo game countless times. So I have alot of Halo experience from both the storyline side and multiplayer side ---- In my opinion, H5 is overall a bit of a disappointment unfortunately. Campaign wise, I wish it had more of the Chief and less of Locke. Not being able to split screen on the same TV in campaign is also a disappointment. You have to link everything up online now. The storyline is quite the change up from past Halo games. Still trying to decide if it's a good thing. As for the multiplayer side of things, it has lost the classic Halo feel in my opinion. Leaning toward the COD feel more and more. They need more gametypes and way more maps. Which im assuming is coming. Like others have said, it definitely looks more "cartoonish" than other Halo games. Which bothers me. 343 has also put AR starts as default for every match which is super annoying. BR starts would be appreciated. Also, radar is essentially useless now and the Spartans have way too many abilities in my opinion. Would really like a classic Slayer gametype where its BR starts and all abilities are disabled. I do realize that 343 can't keep making the exact same game every time, but Halo is starting to lose its classic "Halo feel" unfortunately. But that's just my opinion.

If I'm not mistaken, there's 20 something maps I'm the game right now, and another 15 on its way. Don't quote me on it though.

Why is the radar useless?

Well for one the radar is kind of odd. It only sporadically actually shows where the enemies are at. It didn't use to act like that. It's hard to describe, but it's like it only polls for enemies every 10 seconds and will only show them for 1 second.

oh. Have not played Multiplayer long enough yet to verify this for myself, but that is indeed odd. I like, however, that it does not tell you anymore whether an enemy is above or below you.

It doesn't specifically but it is greyed out if they're not on the same level as you. E.g. on spire of you're on the ground level and there's a guy 2 floors above you, it'll show up as a greyed out red dot and gains full colour once you reach his level.

Well, after playing for some time now, here's what I noticed: They greatly reduced the radar-range. (Except for BTB)

Yeah you pretty much have to be standing right in front of them for them to show up on the radar. Finished out the game but I was not very impressed. Makes me question whether I will preorder for Halo 6. I heard sales were well below forecast for Halo 5... I think there's a reason for that.

Yeah ... the Campaign was quite a let-down. I mean, it was good but it did not last very long. Also the major cliffhanger at the end was a no-go. Also the whole "#huntTheTruth" thing was nothing more than a big scam ... I really love the multiplayer, however. Still some things missing (especially forge) that will come later-on, but the gameplay itself is soooo good. Best halo multiplayer I've played in a long time.

I'm really enjoying the campaign so far. I don't play multiplayer so I can't speak to that.

Gameplay is fantastic, multiplayer is full of vets who play respectfully so it's enjoyable and the story keeps me guessing, So far it's great. Posted via the Windows Central App for Android

Respectfully? It's always been a teabag-fest whenever I play online :P

It's like a party in the Spartan's HUD and everyone is invited... =D

Done with campaign......wish it was longer, but that is every game. Multi player is fun, I just play it as a break from dragon age though.

The problem with multiplayer is that halo 4's multiplayer was a step in the right direction it was a natural step. Halo 5's multiplayer makes absolutely no sense in terms of direction. Having a jump pack in halo 4 was great the new one isn't as good.

Halo 4 multiplayer was a step in the right direction? Halo 4 singlehandedly wrecked the entire competitive scene Halo has had for so many years. Halo 4 was even worse than Reach. It got immediately dropped by MLG and its population went down significantly in only few weeks ...

Longest campaign so far of all them which is nice.

Yeah they said this is their longest campaign so far.

Really? I just finished mission 5 and I've only been playing campaign for two and a half hours. So far I'm enjoying it though, the wave based battles are brutal as hell and feel like they just never end, which I like. It really pushed you as you begin to scramble for whatever ammo or guns you can find. Also knights are cool even if they are kinda Destiny-ish.

What difficulty were you playing on? 2 & 1/2 hours through 5 missions on easy or normal might make sense but deffinitely not heroic. For goodness sakes I was playing it with two other quality players on heroic and it took way longer on heroic than that.

Heroic, I did look for some Intel but I didn't go overboard searching. That being said mission 4 only took me about ten minutes setting as it isn't really much of a mission at all, so I suspect things will take a bit longer for the remainder of the game.

Hell, I can't find any of the Intel. I think I found 1 or 2 on each mission except the first so far. I'm playing heroic solo though.

There's 15 missions, and some missions are much longer than others. I beat the campaign on Heroic difficulty and it took me 13 hours to solo with above 50% accuracy. I drug it out a little longer looking for the Intel. Great campaign, can't wait for 6.

I've liked the campaign so far.

Campaign: not enough spartan ammo, bots are dumb and useless... Disappointed but still enjoying the co-op. It's quite hard on legendary mainly because the friendly bots are useless. 4 players coop would probably make it too easy even on legendary. Multiplayer: warzone is boring and way too slow paced. Arena still enjoyable but I don't see myself playing it much longer. Overwatch on PC will be my goto game. Posted via the Windows Central App for Android

Campaign feels pretty much the same to me in terms of what they do to make it difficult. Arena is the only true multiplayer experience. Feels like the olden days

Agree with the bots. They are just ... gnahhh They said campaign would scale in difficulty to accommodate more human players. Haven't tested it, though.

Weird. Most comments so far are positive about the campaign but disappointed is winning in the polls.

That's because Halo has always been popular to hate. There's no way to even validate that many of the pollsters have even played the game. That's the internet for you, negativity is always the better choice because it's cool to hate a widely popular game with such a huge following. Don't forget that it's also Microsoft's IP, that alone will garner some hate and vitriol.

I just don't Like it. Never liked halo. But I didn't vote either :P

I would mostly agree, but when you have a wife who loves to play Halo with you on split screen (and she's good too!) and then 343 just makes this random decision to get rid of it without even asking the population that loves Halo there's going to be some flak. And rightly so. Thus the reason I gave this one a negative rating. I can't say for the others who voted, but for me I've been a diehard Halo fan for a long time and was looking forward to another game to be able to play with my wife... 343 did not follow through with creating a good game (and right now having to trade off controller at each new mission). I remember when multiplayer games meant playing each other from the same couch (N64 Goldeneye anyone?). Now those were good times... Really hope 343 reads these comments.... lol

Loved the campaign. I don't really play online much, so cannot give an opinion on that, although I would like to play co-op. I definitely feel like I should go back and play 1-4 again, just to brush up my halo-lore.

Is there a way to add a final option that says "I dont have Halo" and isnt counted into the stats but allows the people to see the graphs? =) I dont want to screw up the stats =).

Big Halo fan from the start.​ But not interested in this one because it doesn't have local co-op. That's the only mode my family plays.

Damn! Didn't know that! Same with us, we always play local co op.

I agree. This to me is the biggest letdown.

Same here. Friends an I have been doing coop and custom games since halo 1.. I didn't even bother buying halo5...such a let down..

Yep, wishing I hadn't bought it now

I didn't know that either. Just assumed because all the others had it. That really sucks and leaves me severely disappointed.

Yep, that's why I'm not getting it

No local co op has stuffed this game up for my family as well, Had I researched the game better i would of learnt about it before purchase and would of saved my money for something else. Game is fun though.

Agreed. Did not know this when buying the game. I am a huge halo fan, never cared for mp and only played local co-op. The lack of local co-op/mp is simply a slap in the face.

If only there was a little box on the back of every game that told people things like this.

I think that's the point...

Yea, the information is there, but you can't blame people for assuming the game would have the core elements of all the previous games in the series.

I didn't grab it... I might later. I like Halo but, it's not my favorate game by any means. Different games for different strokes... I do plan on getting it later and going through the campaign but, not now.... In the middle of playing the Uncharted collection on my PS4..(played them all on the PS3 but, wanted to play through them all again, great series).. getting ready for Uncharted 4...

They brought back Nathan Fillion. Every game is improved by adding Nathan Fillion. Ask Destiny.

That being said, I would've liked more Chief and less Locke.

We definitely need another game featuring Buck. Less Lock, more Buck. Posted via the Windows Central App for Android

Buck ftw! Where is my ODST 2?

He's a Spartan now so maybe there wont be. Also how did he just become a Spartan, is there any lore on that?

Spartan IV's are not being kidnapped anymore. Same goes for III's afaik. They are simply volunteering for becoming a spartan and were talented soldiers before. Halopedia surely has more information on that. Still, they could do a game on another ODST squad or make a sequel in the same time-period where buck was not yet a spartan.

Campaign is way to short I got under 12 hours gameplay, the joint storyline didn't really help just as it didn't in H2. To much Locke not enough chief. Interesting move making Cortana (apparently) evil given Microsoft are pushing PC usage :)

On legendary? Posted via the Windows Central App for Android

Need section for: not on PC, would buy otherwise XD Posted via the Windows Central App for Android

lets not lose hope comrade

Loving it! Although I do have my issues with the campaign like the fact that I think 3 or so missions should have been part of their previous or following missions(for very good reasons). And the fact that the main villain has no real explanation yet(only on mission 11 or so, although some people who are more invested in the canon than I are feeling more salty about this than I).

Is there a way to see the results without voting? I don't have Halo 5, but would like to know if people like the story.

This! Don't want to know how many users voted just to see the results (to decide on buying the game or not) - and what should the users choose, that they are enjoying the campaign they aren't yet playing? ;-)

Campaign has been a blast. Not looking forward to getting worked by mouthy 12 yr olds in multiplayer :-o But it is what it is...

Looks like some angry fanboys are trolling the polls. Posted via the Windows Central App for Android

I don't get it... People say positive stuff in the comments but bad votes for the polls. It is true that the campaign could have been a bit more eventful but you can't say it was uneventful... That's completely unfair!

Anyway vote what you want you'll still buy the next game

Don't trust the polls. Most reviews have around a 9/10 for scores. Sony Fanboys are the worst.

I wouldn't give the game a nine, although it is a good game.

Opinions are like buttholes...everyone has one. My butthole says it's a 9.2

I give it a 7.8/10. If I am going to pay $60, I expect more.

Fanboys trolling polls. Posted via the Windows Central App for Android

Honestly, it is opinonated but there are some truth in those polls.

Where's the I don't have money for a next gen console choice ? Posted via the Windows Central App for Android

The multiplayer is very good, but the campaing.... 343 destoyed the story. Halo is now a generic FPS. So sad to see this. I do miss Bungie.

How exactly did they destroy the story? By making it deeper and more exciting? I honestly don't understand what you think Bungie would have done differently. I think it's better off, seeing the story of their current creation, which destiny is an abomination when it comes to story and the story telling itself...

I don't know... maybe EXPLAINING WHO THE FUCK LOCKE AND ALL THOSE OTHER CHARACTERS ON HIS TEAM ARE!? XD

You're kidding yourself of you think the story telling was better at all when Bungie was at the helm. Because they never invited anything from the books into the games, not even a mention. 343 on the other hand introduces new concepts in the books and then uses them in the actual game. An example of that being the Didact, who was introduced over a year before Halo 4 in the forerunner trilogy.

I agree with you, but I gotta say, the marketing for the campaign, which I think was very good to build the hype, is misleading as hell. This for me is the biggest let down. It's like they had prepared a longer campaign with chief helping the dark side and Locke hunting him, but at the last minute someone decided Hey, perhaps this is too dark, having chief as a real traitor. Then a substantial part of the hunt got cut from the game.

Just finished it on Legendary.. The game is simply epic un every aspect. From gameplay mechanics, which was a huge risk for 343i and a huge applause for pulling such a successful change to halo formula. Takes a lot to manage it but all changes just feel natural yet impactful on the gameplay to a big degree. The multiplayer isn't something I have unvested a lot of time on yet but my small experience of it so far makes me wanna log in and jump in just typing this so it's obviously great :D
P.s. For those reading that the ending is something not great keep in mind that it's like hunger games type of deal. You know there are follow ups so yeah. You do feel it's gonna be long before you know wtf is gonna happen next! For me that's just great too.

My friends said it was disappointing smh idk if I should get it now.

I can't see what is disappointing about halo... Just make sure you play it on heroic cause its easy. But that's about it. Everything else about the game is top notch. Got nothing to gain by lying to myself about it. I'm more happy about halo than ever tbh.

Compare the older Halo games to this one and see what is the difference.

I am enjoying both campaign and multiplayer, specially the warzone... it's addictive! The dynamic resolution works pretty well and deliver smooth gameplay and good graphic.

Glad to hear that. Just please don't buy any of the microtransactions. This trend is starting to grow like a virus in almost every new game coming out.

Did it become a pay to win game???? Now I'm definitely skipping this... Pay to win lets spoilt 10 year olds rekt u cause they are rich. Im passing this game

Im kicking some ass online. Prefer Swat, only cause the kids who play all day and know all the spawning spaces and where all the weapons and right corners are. I was just roaming around custom game to know where the hell one gets a DMR and Battle Rifle lol. My younger brothers are playing campaign. I just went straight to Online. The only set back here is I long the Split Screen. Else the game is smooth. Not too impressive graphics (Comes from a guy who just finished all the Riddler Trophies in Arkham Knight) so yeah. But been playing this since part 1. Love it. Except some of my guys are now married, need to find a clan.

This is one of the reasons why Halo is fucked right now. Before you know it (mark my words) Halo 6 is gonna be ONLINE only just like boring old Destiny. XD

Cmon Lockout Vanhallah and all thr other golden arenas!! Where the F are they?!

No, halo reach is better.

Its still the king. Damn I miss that game.

Why cant I pick the type of game I want to play like capture the flag? It randomly picks maps and games for me, this game is a let down so far for me.

I´m reading comments saying about the graphics look cartoonish and that the ones on Halo 3 are realistic....
Halo 3 (TMCC)
https://youtu.be/JPqD-w3q3uo?t=59s
Halo ​5 Guardians
https://youtu.be/LQd233cAjgc It is obvious that H5 is waaaaay better.


Yeah, I don't get the comparison either. The graphics as a whole are better and the most natural looking to this point. It's not quite SW Battlefront good, but they do look good.

Loving it so far. Lack of couch co op is disappointing in the least. I'd gladly buy dlc to make it co-op.

That is what 343 wants you to do. You do that and the series is going to be in trouble because millions will do the same thing. We should not need DLC for offline multiplayer.

I think that when you stay put and see around you you can really apreciate the environments and I have to say that the graphics are very amazing. I've been with halo from the beginning and I've seen the evolution and this it is very impresive how they achieved everything containing the frames per second but those that say the story is not understandable and subpar don't really know what there talking about. The game is explained in almost complete detail plus they have to let some details for the next installment and is by far the best halo impression since Halo CE and Halo 2 and I enjoyed very much. It deserves higher praises than it's getting. The reviewers are concentrating mostly in details of graphics and texture that they really loose the poi t if every game and that is the fun and feeling you're left with playing and after playing the game for future reference. Love this game very much compared to past halo editions and can't wait for the next release. ;)

Lol you could be waiting a very long time

Email 343 Industries. Sadly, that is never gonna happen. Look at Halo 3/4...those games never got a PC release. :(

Liking the different styles between Osiris Team and Blue Team. When playing the Osiris missions it feels more like run and gun and just keep moving, with Blue Team it's like your a tank - just plow on through whatever is in your way

343 fucked up. XD *starts ECW chants* But no seriously, this is disappointing. :( 343 should be ashamed of their motherfucking self.

I played through the campaign on Heroic, I just have mission 15 to play through. Graphically it's buttery smooth but the cut in detail is noticeable. The very first level it was a bit jarring to see the enemy animations cut at a distance. The Sanghelios missions are my favourite, still not convinced by the 4 player thing and team revive...think the revive mechanic should have been left out. I miss the tactical battles you had taking on enemies solo. Heroic isn't that difficult...only died really when facing the Warden in the latter levels. Despite all this, I'm really really enjoying it!!! :D

The campaign was a lot of fun, the maps were huge, and playing with a team was much more fun than I expected. The classic Halo music combined with new music was amazing as well. Really impressed with that. However as a long time halo fan, the story felt so stupid. The cutscenes gave me a feeling that I was watching Spartan Ops rather than a real Halo game. The past year I have only seen commercials where Locke 'hunts down' the master chief, however the worse thing that happened (spoilers) was a slap in his face what made his visor crack. Three missions with the master chief? Unbelievable... and the main caracter should have been a 'distinct contrast' from the master chief, however he did not say shit either, his armour is bad ass, his voice is good, but Tanaka probably had more lines than Locke. That Locke saved Master chief from the Cryptum of the didact made me think of a good old Disney story. So yes very dissapointing at times, but its very fun to play compared to Halo 4.

and dont let me start about that ending...........

The ending was actually the best part about the game because the campaign was just so God awful and confusing. It has its good perks but come on 343. Really?

This. Agree 100%. The plot itself is the biggest let down. Trailers were misleading. Even the arbiter rescue and battle of sunaion, which was the best part, were not climatic enough because at that point, the covenant remnant stood without their main antagonist, Jul Mdama leadership, killed like a noob right in the first mission

Halo 5 made me appreciate Halo 3/4 more.

I agree about Halo 5 being a stepping stone to some big changes in Halo 6. Chief gets listed as MIA, Spartans don't die.

You lot are crazy. Halo 5 is amazing the online is the best it has been. Break out mode it's so tense and comparative. Warzone has this big team battle with titanfall style extras. And the story is just awesome. Is fun exciting and I just want to know more. The graphic are the best in any halo and the cut scenes are epic. Makes me wish we had a halo film.

This! Absolutely love this game, feels epic in every way, the multiplayer has managed to entice my old clan back from halo 2, many of them have just bought Xbox ones just to join in the fun! Not sure why there is soo much negativity towards this game however? I don't think there is a better shooter out there? Must be those Sony Fanboys..... Listen.... Killzone sucks... Get over it.

If you seriously think that having an ONLINE only multiplayer is the best thing in the world, please look up other gameplay videos of older Halo games and compare the two. YOU ARE GETTING LESS THAN WHAT YOU ARE PAYING FOR!

There are already comic adaptations and animated films on Halo. Please look them up. Look up other Halo campaigns online and tell me if Halo 5's campaign is better than any of the campaigns. I could never connect to anybody but those that knew from Halo 3 ODST (Buck), Master Chief and anybody else that is NOT apart of the comics or prequel movies.

Oh well :( from reading the comments above, I don't think I will be going out this afternoon to buy the console and the game, guess it will be a dirty weekend in Blackpool

You will have more fun with Fallout 4. Trust me.

I don't doubt that, I think 3 may be my favorite game of all time. But I am enjoying Halo quite a bit.

If you pick up a console at some point, pick this up. I finally started playing tonight and I am loving it. I am really surprised by the poll. As you can see from a lot of the comments, there are many of us that are enjoying it quite a bit.

Should also have option for Poll, Don't have Console or Play FPS on PC instead ,waiting for Collector's Edition release on PC

One of the reasons I have always loved Halo is for the Local Multiplayer Co-op, as I really enjoy playing this with my kids. We have two Xbox one's and Two copies of Halo 5, but plan was to have two people on each xbox and then enjoy the campaign. My kids and I were all bummed when we discovered no local co-op mode.

That is the fanboys/fangirls fault for not wanting it or taking advantage of it in Halo 4. 343 saw this and took it out completely which is absoulutely mind blowing. Sadly, 343 is NOT gonna patch offline multiplayer in or offer expansions in the campaign so we can have a better understanding of WHO LOCKES TEAM IS???

Very disappointed with the campaign. I like the gameplay, but the plot is garbage and the ending is horrible (almost as bad as Mass Effect 3). And I really don't Blue team with Chief. I can understand Locke having a team, but I like Chief better as a lone wolf.

Thank you. WTF is wrong with these fanboys and fangirls defending this shit? This is why we are in the mess of having microtransactions in almost all of our new games because these fans and paid reviewers are SCARED to say anything negative about this game. These fanboys are cancer and before you know it...HALO WILL BE FUCKED/ONLINE ONLY! :(

I loved the team aspect in the campaign but the ending was garbage it was literally like halo 2 why!!!!!! Lol

I bought the game, stuck it in last night to play with my boys (who are just now old enough to play) and come to find out that it is a no go to play with them. I had no idea they would take out the most fun part of the game which is to play it with fam and friends sitting in the room having a good time together. I guess lots of people already knew this but, you know, I have a life, I work I got life to live. Just a waste of money at this point. Both my boys were bummed so it was back to the master chief edition to have some fun. They struck out on this one before I even played the game.

How do I see poll results without voting? I'd like to see what people think before I buy the game.

Internet poll results are statistically meaningless. They're fun, but that's it. You should never base purchasing decisions (or any other decisions, for that matter) based on the results of any online polls. As for Halo 5, I haven'​t played the campaign yet, but the multiplayer--especially Arean--is fantastic. It's easily the best multiplayer FPS game of the year.

If you are only basing this game on the online multiplayer, then it should have just been free 2 play. The game would have sold millions. This was just pure greed from 343!

Please compare all the Halo games then come back and see if this one is TRULY the best Halo game.

I don't know. I am mixed but I am loving the fact that some of the Halo fans are being honest towards 343 Industries. Hopefully...Halo 6 will be amazing and have a more epic story and some OFFLINE MODES ALONG WITH FIREFIGHT! I honestly don't know how to feel. If I defend it, I am a fanboy and if I diss the game, I am crazy. Fuck these delusional fanboys/fangirls. This Halo is a step in the wrong direction and before you know it, this whole franchise will be online only and YOU will all be the ones to blame. I mean for GOD SAKES.. .the game has FUCKING MICROTRANSACTIONS! In a Halo game??? And it is rated...T???? T for Teen!! But whatever. -_- Waiting for a huge price drop.

Well God Damn! XD https://www.google.com/search?q=halo+5+sucks&newwindow=1&source=lnt&tbs=qdr:d&sa=X&ved=0CBUQpwVqFQoTCNuW5PC568gCFYo1JgodPHEKew&biw=956&bih=689

SPOILER ALERT!!!!!!!!!!!! Halo 5's campaign is exactly like Halo 2's at least the ending reminded me so much of it smh

Agreed, that epilogue mission, I still feel it man

I really enjoyed the campaign and I'm loving the multiplayer. Halo 6 will be better. I cannot wait for Forge, although I am surprised that there is still some 343i haters. 66% don't like the campaign?! I found it better than Halo 4's. It doesn't beat Reach's campaign. #ILoveHalo5

The game was ok. I'd probably like it if it wasn't for no split screen. Rather lazy excuse, and after playing the game, I can honestly say that with the free time made by nixing split screen...i didn't notice...i guess im glad the game at least works. Game must have been utter rubbish, trying to force family/friends to buy a console and game so that they can play together, or just lazy and wanted to save money by not hiring a team to work on co-op split screen. And who cares about 60fps. It better for pro gaming, but unnoticeable for people just wanting to have fun. I know it was alot of work, but even COD has split screen and they only want your money anyway they can get it...then again, that's probably why they kept it. Well at least we know they will make a halo 6, maybe ill be able to play with my brother on that one.