Popular Add to Contacts app returns to the store, available for free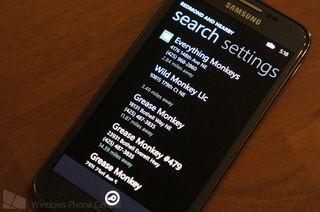 Liquid Daffodil has once again published its Add to Contacts app to the Windows Phone Store. You may recall our previous coverage, where we went into quite some detail as to exactly why the developer pulled the app and how those who continued to use the app ran into issues with the integration in Local Scout. It's an odd situation that started with Microsoft revising Bing suggestions for third-party apps.
The way Microsoft lists apps in Local Scout meant that with Add to Contacts being no longer listed on the store, it disappeared for users who had it installed. Not good. The app has now returned and the plan is to continue competing against Microsoft's unfair suggestions that favour prestigious apps, such as Nokia HERE services.
So what's Add to Contacts all about, and why should you take a look at the app? If you've never used the app before, or have never even heard of the name, it's an incredibly useful app that we believe should be baked into the OS itself. The idea is to add basic functionality, enabling consumers to save Bing searches to their Windows Phone.
A perfect example would be a local search where the user can actually save contact details and other information to the People Hub without having to manually enter any data into fields. It's handy for those who head out to multiple restaurants or have children and need to easily store and access local facilities. It's not everyone's cup of tea, but for those who require such functionality, it's available once again.
Add to Contacts will remain free, so be sure to take advantage of this offer. The developer, Liquid Daffodil urges everyone to download and install the app so it's displayed once again in Local Scout, so if you're even not going to use it often, it's worth noting that more usage will help make it easier for others to use in the end. You can download Add to Contacts from the Windows Phone Store.
Windows Central Newsletter
Get the best of Windows Central in in your inbox, every day!
Rich Edmonds was formerly a Senior Editor of PC hardware at Windows Central, covering everything related to PC components and NAS. He's been involved in technology for more than a decade and knows a thing or two about the magic inside a PC chassis. You can follow him on Twitter at @RichEdmonds.
Damn i bought it two weeks ago and doesn't work as promised. :/

App still doesn't appear in apps when navigating a Bing card for a location. Canada on Rogers

Works on my l900 windows phone 7.8 perfectly

It's always worked on my L900. The problem is that it has never worked in WP8. I used to see lists of apps in the apps tab on the bing cards but in WP8 no apps show up at all. In fact, it doesn't even find "food nearby" when I swipe to that pivot. It's related to changes made in WP8 that WP7 doesn't have.

It is a pity that such a useful app doesn't show up in the "apps" section. It ruins the experience for me. Right now, when I search for a local business and go to the "apps" section, I can see apps like The Coffee Bean, Evernote, Here Maps and Here City Lens (apps that I have) and a whole bunch of other apps that I haven't even installed. (like Yelp, Foodspotting, local deals, Poynt, Translate This, HopStop, etc) but I can't see "Add To Contacts" although I have it installed and it IS supposed to show up here. Moreover, how can apps like Translate This, local deals and HopSpot be in there if MSFT's algorithm only displays highly rated apps? Some of those apps have very few and very low ratings.

Microsoft Premier Support has admitted that they can't figure out the logic of the WP Team on this, but heavy downloads will force it.

Your lucky to get anything. Because mine shows nothing.

The apps that do show up for me are useless for my requirements.So, I am as unlucky as you.

Folks, what we're trying to accomplish is TO HAVE IT SHOW BACK UP IN LOCAL SCOUT, as designed, overcoming Microsoft's changed logic. It WILL start working again when enough people download it...so get downloading...so everyone else can use it, too. :)

will my uninstalling and re-installing count as a new download? :D

Whats in it for me...says grumpy old man.

Codesmith will begin mercilessly liquidising all daffodils until you do - Don't let more innocent daffodils suffer and die! Oh the daffodility!!

Downloaded to support liquid daffodil.

Works great for me (Wp7.8, Lumia 900), both ways, always wanted this functionality, can't believe it's not in the OS. Thanks for highlighting this app!

Really stupid. Should work like lenses. Should shoe all apps that would work, very useful app when trying to add contacts. Yet a calculator toolbox shows under. Don't think I would need to use that when searching for places on local scout.

Yes Microsoft knows their change is silly, but not a priority.

downloaded and uninstalled soon after. When localization is on, nothing is found. If i turn it off, search doesn't even work. Useless App for me

Downloaded but doesn't work on my lumia 920

Why do wpcentral use now only samsung phone for posts?

Really. Last 6 posts are only samsungs

Works fine for me (unlocked AT&T 900 US). Having said that, I downloaded it on my wife's 710 to support the app.

Folks, let me be CLEAR HERE: Downloading this great little app DOES NOT HELP Liquid Daffodil, but HELPS USERS on Windows Phone 8. Liquid Daffodil is giving this away FREE, and actually still has costs to support and maintain it, as a gift to users. The results won't be immediate, but if ENOUGH PEOPLE DOWNLOAD THE APP IT *WILL* start showing up for EVERYONE in Local Scout. This post is asking you to help each other. Get it?

From some of the comments here, I doubt they get it, even now. My apologies if the shoe doesn't fit.

Great app, has worked for me for years.

Why don't they just remove it and bring it back when it works. Or just develop the app for the more mature OS's.

It isnt upto the dev to "get it to work". Its MSFT's werid logic that wont let this app show up in the "apps" list.

Then the developer should say "screw MS" and develop their apps for a more mature OS, as I stated above.

The developer (Liquid Daffodil) would never do that, as Windows Phone is a far superior platform. They are part of the movement to HELP, not whine-and-run, like some developers. (Carbon is as Carbon does.)

Because when its removed, the other 90% of users (for which it shows up) can no longer see it either. Not sure why this is hard. Get it free. Love it, keep it, don't need it, uninstall it. Easy.

There's nothing to suggest that it is working on 90% of devices. And to call WP a superior platform is laughable. Although I commend Nokia on its efforts, WP8 has a lot of catching up to do.

Bummer local scout still not available in my country

If everyone downloads it, it will get a higher "ranking" algorithm from Microsoft, which will restore it to the Local Scout part of the OS. Which will restore its functionality, which would be great because its a fantastic app. Reading comprehension 101.

Downloaded...the app instructions seem to suggest opening a few times to

FINALLY!
previous versions didn't scrape enough data - IIRC it got the address, but not the all-important phone number!

Now it works as you might expect, and it's bloody great. I can see myself using this a fair bit!

Hmmm... it managed to get the phone number once, but now it's not doing it. C'mon, this is why I uninstalled it a long time ago!!

We, my friend, seem to be facing the same issue. I had similar issues quite some ago too, and had reported it to Liquid Daffodil via Twitter.

This is the issue I was facing: When I searched for "Children's Primary Care" in San Diego, one of the results was this: https://twitter.com/aaa6112/status/303647318404653056/photo/1 Note that there's a phone number in there. But when I scroll over to the apps tab, and click on Add to Contacts, it doesn't pull in the phone # as seen here: https://twitter.com/aaa6112/status/303647595908194304/photo/1

Liquid Daffodil, is this issue due to Bing API changes or due to the "suggestions" problem?

Works fine for me in NY on a L900.

Defeats most of the benefits when you can't use the addresses in your contacts in Nokia Srive (Here)

Yeah it's fine on WP7. The issue is with WP8

In WP8 the Suggestions button is in Settings/Store. Not Search.

Not working on Lumia 920 in Australia.
Have the Portico Update (OS:8.0.10211.204 FW: 1232.5951.1249.1002)
Add to Contacts explain to Turn Suggestions Off and On a few times. (Settings > Applications > Search > Suggestions).
Thing is I don't have that 'Suggestions' within the Search Option.
Windows Central Newsletter
Thank you for signing up to Windows Central. You will receive a verification email shortly.
There was a problem. Please refresh the page and try again.