Popular password manager Enpass goes universal on Windows 10 with Windows Hello support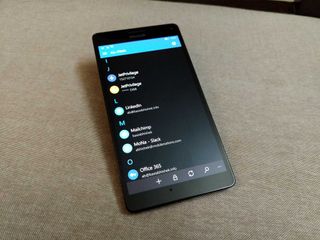 Enpass is a popular, cross-platform password manager that secures all your data locally on your device. It allows managing your passwords, login details, credit card numbers, bank details, ID numbers, and more and there's a wide range of categories and customizable templates.
Enpass doesn't store any of your data on their server and encrypts your data using open-source encryption engine, SQLCipher. You can sync data across devices by backing up to your cloud storage service of choice, including OneDrive, Google Drive, Dropbox, Box, or WebDAV.
The latest update, version 5.0, is built on the Universal Windows Platform, and available as a universal app for both Windows 10 tablets and PCs as well as Windows 10 Mobile. This release brings in new UI elements based on UWP design principles and a preview of Windows Hello support.).
Enpass continues to develop and deliver a traditional x86 app (available for download from their site, enpass.io) that is available for all users with Windows XP SP3 and above, and packs in many more features including browser extensions – something Windows Store apps currently limit.
While the full-featured, desktop version is free with no hidden or subscription fees, the app on Windows Store is available as a trial that allows you to sync up to 20 items free, and then costs $9.99 for the upgrade.
Do you use any password managers? If yes, which one? Enpass is a solid password manager with a comprehensive feature set. Big props to the developers for delivering a UWP app, one of the few with support for Windows Hello at the moment. Give it a whirl, and let us know how you like it.
Download Enpass from Windows Store (opens in new tab)
Love Enpass! Simple yet flexible and most of all consistent across platforms. Looking forward to this updated app.

Good to see hello support, this is the future, more early adoption the better it can become

Anyone closely compared it 1Password's UWP/Win32 apps on Win10? (on mobile & larger form-factors)

Installed the update 20 hours ago. Works way better than the WP8.1 version. Just no transparent or translucent tile yet.

Yes, we need that transparent tile back. But I love that I can finally use Enpass with continuum.

Well no continuum for my Lumia 730 DS. Ancient hardware

When continuum was announced I thought to myself, "cool concept, but I'll never use it." But now I use it almost every day. It's nice to see more and more apps being updated to work with it. Now just waiting on Nextgen Reader for my daily use apps.

Am I the only one that actually dislikes the transparent tiles? I actually prefer the multi colored tiles on my phone.....there should be a built in toggle switch that the user can just click on or off to make all the tiles transparent or colored....great app though.

I don't like transparent tiles either

Yes sometimes even i feel the same.

They both have their uses. Right now Enpass is on my transparent tiles row, but not being transparent anymore is quite jarring. I agree, there should be an option to turn it on or off.

Translucent tiles would be nice..

They updated Enpass and re-introduced transparent tiles. Do check it out if you already haven't.

Tipped windows central about this app update yesterday. Sent using Lumia 640 xl running stupid w10m build 14295

Would it be possible fora Windows Store app to have a global auto type funtion like KeePass.info currently has to just paste context in any windows open on the screen? Nothing beats that functionality really. No need to extensions and Systemwide auto typing of just anything reallly

Nope, can't do that in UWP, can only copy to your clipboard. Though soon enough Edge will get extension support so you might also see a KeePass extension arrive at some point which then has the ability to autofill in Edge, otherwise you could use chrome with said extension.

I use RoboForm for ten years and like it mostly because I'm used to it. RoboForm has lagged behind others forever and the WP app is terrible. Keep going they will revamp themselves... But tired of waiting. Do you folks think this new app is the way I should go or lastpass or something else? 950XL here. Thanks

You can use Enpass on all platforms :) It has browser extenions and is alsoavailable for android and ios.

I use enpass and am very happy with it

Does this app support auto fill like lastpass does on Android?

I may have to try this out if Password Padlock doesn't go UWP by the time I upgrade to W10M.

Does it support .kdbx files? If not, can you suggest an app that does for Windows 10 mobile and desktop?

I was using keepass before i moved to enpass. You can export your keepass items and import them into enpass. However, won't read .kdbx files natively.

Won't show up in store search for me, if I link to the store from their website, store says "not available" .......

Me too...
Please let us know when it's available for download.

I mean, you could also try the download link in this post. ;-)

Link doesn't work either. . . .

Hmmm. Guess it probably depends where you are then. I just installed it again from the link in the post.

Can't download in Canada.

It's available for me and I'm in Canada

Not sure if it was pulled because of technical issues. I updated yesterday and now the app won't open...

This app is awesome. It's my go to Password manager on my phone, tablet and pc.

KeeWeb for the win! https://keeweb.info/ Open source and built with electron!

Well, KeeWeb seems nice ... although there is no Windows app !?! So why this recommandation in a Windows website ? Trolling ?

No trolling. It has a Windows Desktop app but isn't universal. Once an Electron application can be compiled to a UAP then we'll have a Store based version of the application till then we just have to wait and make due by using our normal desktop. I love the app, hoping for a UAP version of it soon.

The only password manager I use is my brain.

I use mSecure, it's decent. :)

Says not available right now in the store..

So... I go to the store and search for Enpass. Nothing. I guess the Store index hasn't updated yet?

Anyone else unable to download? L950

Unable to download in UK. Also I couldnt find it when I did a search in the store, I only found it when I followed the WindowsCentral link.

I have been using this for about 8 months. Love it on my PCs, Surfaces and Windows Phone. Looking for the update now on my phone...

No love in the US. Tried both store search and link without success. What regions are able to download? Update: Link does work from new version of WC app. However, MS store then says "enpass is not available" and download option is grayed out.

Yup shows not available where I am too... Bay Area , CA

Nah, will still be using KeePass as It's open sourced and free with no fees.

Is anyone else seeing that the app is 'Currently Unavailable' here in the US?

Been using Password Padlock for a while now. It also has mobile and PC versions. Been working great so far and get updates every now and then. Conveniently backs up to one drive and uses AES-256 bit encryption. Free to download..... What other phone would you be using beside the L640? I'm just sayin.... *One Windows*

I updated and now the app just closes whenever I try to start it... Frustrating!!

I'm using KeyRing because I can be sure my secrets don't leak into the net/web/cloud.

Wow, that is a nice lookin' app! I currently don't use a password manager, but might try this one out...

Empress is currently not available in Boston! Jim

Unavailable for me as well in Maryland

I use SecureWord on all my PCs and my 950 (and before it was on my 1020). It's easy to use and you get strong encryption too. https://www.windowscentral.com/e?link=https2F%2Fclick.linksynergy.co...

Guess its for specific countries. Phil... Not yet available Posted from Windows Central for Windows 10

It's in the Windows Store now in the U.S. Just downloaded it.

I am a huge enpass fan. Great support. Always improving. Cross platform goodness... Only very annoying thing is that they dropped Amazon Fire support... Posted via the Windows Central App for Android

The killer featuer of Enpass is the support of Windows Hello. 1Password beta has this but the application is really barebone at this stage with no possibility even to edit entries on Windows phone. LastPass is great but the Windows phone application is old (they just refreshed the UI) and it is lacking Windows Hello which honestly is a must have. That would be like having a password manager for iOS that does not support TouchID. I have therefore moved to Enpass and like it very much. Now, I am just waiting for Edge extension (that should be straighforward as there is a Chrome extension) and Form filling. Otherwise, the best application so far for someone with a Windows phone and wanting something cross-plateform and cloud support.
Windows Central Newsletter
Get the best of Windows Central in in your inbox, every day!
Thank you for signing up to Windows Central. You will receive a verification email shortly.
There was a problem. Please refresh the page and try again.