The popular tower defense game Bloons TD 5 is a universal game for Windows and Windows Phone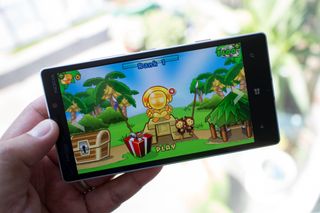 Another popular iOS and Android game has made its way over to the Windows Phone Store. This time, the game is Bloons TD 5, a tower defense game with a cartoon art style. It has been released from publisher Ninja Kiwi for the price of $2.99.
21 powerful towers with Activated Abilities and two upgrade paths
10 Special Agents
40+ Tracks (plus their Reverse versions!)
10 Special Missions
250+ Random Missions
New Bloon enemies - tougher Camos, Regrower Bloons, and the fearsome ZOMG
3 different game modes
Freeplay mode after mastering a track
3 difficulty settings and family-friendly theme so anyone can play
The game is compatible with 512MB devices, by the way. Bloons TD 5 is supposed to be a universal app, but so far we have yet to a link to the Windows Store version. We will update this post when that link goes live.
Update: Link fixed, sorry for the inconvenience,
Download Bloons TD 5 from the Windows Phone Store ($2.99)
Download Bloons TD 5 from the Windows Store (Not yet available)
Windows Central Newsletter
Get the best of Windows Central in in your inbox, every day!
Sssssshh! WP Defence Army is on your way!!

This game is actually a very popular game on ios/android so its not obscure at all. All I got to say is if you don't like what WP has got to offer go to iPhone or android its not about the windows defense force or anything like that but some of use like windows phones and we come on here because its a windows website for WP and windows fans we get tired of trolls that always come here and bash on WP I don't go to android sites and bash android or on ios sites and bash iPhone I and alot of other people would appreciate it if the trolls would just go away why are you here in the first place. Do you really deal that threatened by some people because they like another OS then you do they don't see the need for every app you do not everyone's the same. Some people like to be original not just follow the crowd.

Relax. You're missing my point. It's never a bad idea to welcome the games that the platform and people need but on the other hand, to belittle apps and games just because they're not available on our platform makes no sense. For example, I'm tired of seeing people claiming AoE to be better than clash of clans and hence concluding they don't care about clash of clans et al. I have two friends (one using a Nexus 5 and one a Moto G) would jump to windows phone any day if CoC is made available. Same goes for other apps, too. And it's true, people make comments like they don't care about the apps whenever they're pulled from the store but in reality, it matters a lot, and hurts the platform too. That's why I called it defence army. They'll defence no matter the reason.

You're focusing on CoC too much.. Not because your friends will transfer to Wp if we have CoC mean thats how other people thinks. Don't be a single minded person :-) God Bless.

It's always funny to see people who waste their life making comments like yours...

The game has 98,000 downloads on Google Play. It sounds like a large number until you look at the tower defense games that are quite popular.

Downloads, or reviews? Big difference.

98000 reviews, the number of downloads is around one million

wpkevin: it's actually a very popular game, do you even know what you're talking about?

And when a new game is released, folks are just crying and whining, and it's just like you.

Trolololololololololol!!!!! I played it in version 4 online a long time ago. I might buy it

NOOOOO! I FINALLY HAD MY LIFE BACK! WHY, NINJA KIWI, WHY?!

I feel your pain. Like an alcoholic after a liquor store opens across the street.

Am I the only one who wants ported APPS or rather, newly developed, WP ready popular android/ios apps rather than Games?

I am okay with ported games as the games developed carry the same user interface for all the OSs. But apps should be native and WP ready rather than just the clone ported either of Android or iOS.

I don't want apps to be ported,they should be native with a Windows UI. Games however, they can port them all they want :)

Now wheres gem tower defense

You don't want apps to be ported. Cool, let's be picky when our store is lacking compared to others.

What are you talking about? Apps ported will have native Windows UI of course because they will be built in visual studio. In fact, I cannot wait for have Facebook app ported over from iOS/Android. I'm really sick of the WP version.

Yeah. People need services to switch, not really games.

Services are actually there. I am in process of switching from Android and TBH I do not suffer from the lack of apps on Windows Phone platform. So far I managed to find evrything/equivalent but one app...

I agree with you, but I wanna look at it as a bigger picture. Some poeple might come over to, or back to, WP as the games selection gets bigger (even if it's a tiny bit). The larger the userbase will eventually bring the more native apps. Slow and steady sometimes does win the race, I'm not sure if it'll work out for WP but I do enjoy following the story lol.

Y u do dis :'( I have no credit card, paypal. Also my country and carrier doesnt support carrier billing. (Tırkey, avea) I was waiting for this and plague, but both are not free. I am not whining about the price. I would pay it happily if i can. But it seems I cant

What is the problem? Get a PayPal account, it's for free

By a Microsoft points card, its a combined account, Xbox, windows and windows phone. So if you only find Xbox cards buy one of those its the same account.

I remember this from iOS 3GS! Nostalgia

well, there goes my phone battery

Yes!! I was always so jealous of my Android user friend playing this game. He asked me why I didn't have it,and I didn't want to admit that it wasn't available on Windows Phone. So glad it finally is :)

There was a cheap, version if this game on the store and I used that to say we did have Bloom Tower Defense

Who said that new tricks are for amateurs??? Seasoned players are also porting their apps and games.Sometimes we just need a push and MS had pushed something really hard that hit the devs on their nuts.Barring google as it hasn't any.

I was just looking for this game yesterday... and today it is here, awesome

wow what is going on this week developers are attacking to us please we want mortal kombat x

no, we just had an error with the link. Try again and it should take you to the Store listing.

Great. I needed a new TD game after finishing Crash of Atlantis.

Redeeming Bing Rewards points now! :D

Anyone outside the U.S. Doesn't know what this comment means.

I'll buy it when they update it with multiplayer.

Multiplayer is a separate game, I think

Dang $2.99 that's too much ha ha. Is this game working?

Do we know when the Desktop version will be made available?

Right, but it isn't on the desktop store yet.

It is live in Windows store now Bloons TD5 http://apps.microsoft.com/webpdp/app/be8fe726-2639-4801-b5b6-310ae5f60946

Thank you for the reply. 9.99,wow. Not sure it is worth that to me. Field runners, maybe.

If it had Xbox Achievements I would buy this again, otherwise I will just keep playing on my iPod.

Awesome. The original bloons game is so buggy. Presumably this one will be much better.

I don't recall Bloons ever being released as an app on any windows device.

All the new app are now money.(Most of them). :(

I just installed this on an iPad for my kid and it was free. Honestly I have no problem paying for the product I want if it furthers the goal of apps and games getting on the platform as a whole but I hope it means that for $2.99 I get updates on somewhere near the schedule for iOS and Android.

Needs a trial (edit thx) though

If you want to get a feel for the game, just go to their website (ninjakiwi) and play online for free?

Good point. Doesn't tell me if the app runs smooth though.

Amazing game. So glad developers are starting to release new games to Windows Store... really hope Supercell will do the same soon... I love Hay Day...

About friggin time!!!! Now all I need is Plantz vs Zombies 2.

I have waited so long for this!

This is no longer a Universal App, they made the tablet version 9.99 and the phone version 2.99 and removed the universal status

Yeah I noticed this too, not Universal. Perhaps that was an error in the original Windows Central article. Anyone know if there is sync btw. the Windows Phone and Windows App. Would love to jump between versions depending on where I am.

Bloons TD! New game. version for developers. Full Beta. Push - https://drive.google.com/file/d/0Bw3dEodtNBglVUFSVEJVRkxqY0U/view?usp=sh...

NEW Bloons TD 5! Download and play. Free Full version for developers. Push - https://drive.google.com/file/d/0Bw1VAZ9EGotddWZjdmpUMzBEX1k/view?usp=sh...
Windows Central Newsletter
Thank you for signing up to Windows Central. You will receive a verification email shortly.
There was a problem. Please refresh the page and try again.