Hands-on with the luxury Porsche Design Book One Windows 10 PC
The Porsche Design Book One is unique and amazing, thanks in part to the power of Windows 10.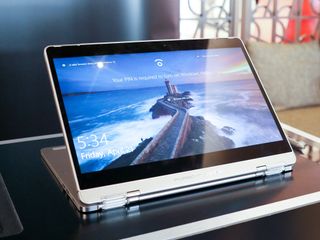 Announced at Mobile World Congress in February 2017, Porsche Design came storming out of left field with its Book One. And it's far from just another expensive laptop. The Book One is the world's only fully convertible and detachable 2-in-1 notebook.
The fact that this can be achieved, and to such a high standard, is a testament to what Porsche Design does best: designing.
Porsche Design isn't new to tech
The Book One is the latest in a long line of Porsche Design products, and it isn't the first tech product the company put its name on, either. It has had partnerships in smartphones with BlackBerry and more recently, Huawei, and now with a dedicated computing division.
The project was two years in the making and was a result of a collaboration with three other companies: Intel, Microsoft and Quanta, the manufacturing partner putting each Book One together.
From the outset, the desire was to create a product to meet the needs of Porsche Design's traditional customers, or in other words, business folks. The brand has always commanded premium prices for premium products. And those products are unmistakable, just like the Book One.
Image 1 of 2
The key to the convertible aspect is the clever hinge. True to the Porsche heritage, the hinge on the Book One was designed with similar principles to a gearbox. It looks like two cogs turning together, and while it's beautiful to look at, the function is what's most important.
It allows the display on the Book One to fold completely around and sit perfectly flat against the keyboard base. Each portion is perfectly uniform at 7.9 mm thick, and using it like a 13.3-inch tablet is comfortable. The weight isn't excessive and considering the anodized aluminum construction, that's a pleasant surprise.
Like the Microsoft Surface Book, the display portion of the Book One lifts completely away so you get a 13.3-inch tablet. Naturally, that means all the internal hardware is in the top portion of the device, with the keyboard housing nothing but keys, a battery and some ports. The two batteries on the Book One combine for 70 Wh, or up to 14 hours in real world terms.
Book One is high-end inside and out
Inside the top portion, you have first the 13.3-inch QHD+ 3200 x 1800 resolution display. Beneath that lies 16GB of RAM, an Intel Core i7 "Kaby Lake" processor and a 512GB PCIe solid state drive (SSD). Besides a headphone jack, the solitary connector on this part of the Book One is a USB-C Thunderbolt 3 port.
The keyboard base also has a USB-C connection, but it's not Thunderbolt 3, so if you're hooking up to external displays and docking stations, you'll need to use the port at the side of the display. The keys feel a little like the Surface Book's buttons and are every bit as high quality feeling as every other aspect of this laptop.
Speaking of external displays, Porsche Design includes a USB C-to-HDMI adapter in the box with every Book One. There will also be an optional docking station, which is essentially a similar piece of equipment to the latest Surface Docking Station.
This laptop isn't for everyone, and it will never have mass market appeal. But that's not a reason for it not to exist. Devices like this are a showcase of what you can only achieve in a laptop thanks to Windows 10. A MacBook is expensive, but you can't draw on the screen with the (included) Wacom pen, or fold the display around, or pull it away altogether.
Image 1 of 5
The target Book One buyer is going to be the same sort of person who spent a ton on a Porsche Design BlackBerry. That's professionals, fans of the brand, or folks who invest in the premium end of the market. Not everyone wants or can afford a Razer Blade Pro, either.
The Porsche Design Book One is expected to be released soon and will be available in 17 countries — mostly in Europe, but also the U.S. and Canada — for €2,795 (roughly U.S.$3,030). It will be available from Porsche Design directly as well as via select retail partners. In the U.S., for example, you'll be able to get one at Newegg and the Microsoft Store.
The Book One leaves a strong first impression. On the outside, it's exquisitely designed and constructed, while inside it's everything you'd expect from a 2017 high-end Ultrabook. Every detail has been carefully thought out and executed with perfection in mind.
And I (really) want one.
Windows Central Newsletter
Get the best of Windows Central in in your inbox, every day!
Managing Editor - Tech, Reviews
Richard Devine is a Managing Editor at Windows Central with over a decade of experience. A former Project Manager and long-term tech addict, he joined Mobile Nations in 2011 and has been found on Android Central and iMore as well as Windows Central. Currently, you'll find him steering the site's coverage of all manner of PC hardware and reviews. Find him on Mastodon at mstdn.social/@richdevine
I wish it had a 3:2 aspect ratio display.

what advantage does that serve? Just curious. Is it for designing?

Some people like watching all of their movies in letterbox format... probably.

Ahh I guess that would make sense. I don't really watch movies on small screens and if I do I'm already making a compromise by watching on the smaller screen, black bars won't bother me.

The 3:2 ratio comes close to the ratios of actual paper sizes such as letter and A4. The 16:9 ratio that has been popular in past years was driven by the movie industry standards, but with advent of tablets and touch, the screen was used for doing things we do with paper, such as reading and drawing.

This is pretty much it. For drawing, reading (especially with PDFs) and writng on a tablet the 3:2 ratio is far superior to 16:9. The latter is better for video consumption and creation via keyboard and mouse, though but not by much.

That sort of makes more sense. Especially if you want to have it as close to letterhead as possible. You jot stuff down and know if you print it will only use 1 page. Unless of course windows ink compensates for it the ratio and does all the work for you. Then it becomes preference for what you prefer holding.

3:2 is the ratio of dimensions of a full frame camera sensor, the same as a frame of 35mm film. No cropping needed when selecting wallpaper from your family photos!

I mean...if that's the best reason for it ;-)

Well... if your family photos are on 35mm film. All my family pics are digital, and mostly 16:9 Personally, I have always enjoyed 16:10 as the best compromise aspect ratio. A little taller for productivity work, and when watching 16:9 content it is just enough height where the playback UI doesn't get in the video frame

vertical height so valuable. So much to me that one of my two external displays is set to portrait orientation.

I never thought that aspect ratio would be that important to me, but after using the 3:2 ratio on Surface, I honestly cannot go back to anything else (well, at least not comfortably) looks sleek, though

I think the choices in the premium market are getting really great. A testimony to the tech manufacturing world's evaluation of Windows 10. All this will help Mac fans as well because Apple has to respond with comparable features and quality, as would any manufacturer. This is a really interesting time in personal tech.

Was there going to be a video to go along with this hands on? I was looking for one here but I don't see it!

Nope. It's due for release soon and we'll hopefully be getting one for the full Mark and Dan treatment.

Article doesn't deserve the title "hands on."

(insert eye roll) Comes for the content, stays for the armchair editorializing about titles.

Assume that's because this post doesn't have a video and there's actual reading to be done.

A very nice device. The only thing that would make it better is if they offered it in Guards Red.

In Ferrari colours? Don't think so ;-)

Where did you get that??? Porsche has been using guards red since the 70's. http://paintref.com/cgi-bin/colorcodedisplay.cgi?color=Guards%20Red

Porsche Design is not Porsche.

They're a subsidiary of Porsche.

Porsche Design doesn't do red.

Nice looking device. Good thing there is a SB competitor. Gives buyers more options in the premium market. Both of these devices are cooler than a macbook.

Microsoft was involved in this project throughout, helping there be an alternative to the SB :)

It looks nice. I like the clean lines. It seems to fix some of the design issues with the Surface Book hinge and gap. It's nice to see another capable 2-in-1 device with a good stylus. The system is under-powered though. HD Graphics 620 pales in comparison to Iris graphics or dedicated Nvidia graphics. There are also a lot of other 2-in-1s with the i7-7500u CPU. It seems like an HP Spectre x360 would be a better buy. Same power, good design, and a much lower price. If this had discrete graphics or a quad-core CPU I'd take it more seriously.

Cool! I'm glad Porsche got on Windows. Probably, they will also make some Windows Phone instead of that Android sh*t. Switching from BlackBerry to Android killed Porsche-Desgin for me.

Switching to Android probably killed it for you but I think everyone could understand why.

Why on Earth would they waste time on designing a WP? Even Microsoft treats this like a red headed step-child. It's a shame as Windows 10 is incredible and iOS 10 finally got me to change to the Google Pixel XL. Love the Porsche design. Shows you what can be done with 2 years on a CAD package and some collaboration. Shame about the choice of graphics though.

Reading this I must admit to being pleasantly surprised when I got down to the price given this is the same company that sell ludicrously expensive kitchen knives and writing utensils, one could argue that a chef or professional may see that differently.
Anyway for this spec a comparable MacBook Pro [which I'd guess most people will compare this too] will cost more, so really not that costly. My only complaint would be with the white keyboard as I find these harder to read in sunlight.

Shut up and take my money :)

How does does the battery last in the tablet-alone situation?

Porsche must try make windows phone. There's one thing I don't understand. Microsoft and Porsche partner in certain things. However, Microsoft cannot convince Porsche for Windows 10 to be in there cars. There's only Apple car play and Android auto.
Windows Central Newsletter
Thank you for signing up to Windows Central. You will receive a verification email shortly.
There was a problem. Please refresh the page and try again.