Get access to over 300 photogenic poses in the Posing App for Windows Phone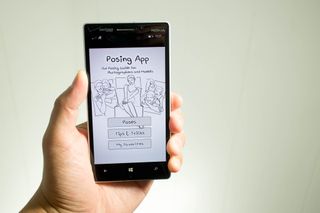 If you like shooting portrait photos, then you're going to love the Posing App. It's a "posing cheat sheet" you can use to help you before or during a photo shoot. It includes over 300 poses with easy to understand descriptions and hand drawn illustrations. In addition, there's a collection of tips & tricks about people photography for easy reference. We've installed it on our Nokia Lumia 930. Check out our hands-on video to see if it's something you might be interested in.
Poses are grouped in seven categories:
Children
Women
Men
Couples
Groups
Weddings
Glamour
After selecting a category, thumbnails of the photos are shown. Clicking on a thumbnail displays a bigger illustration and a brief description. Instead of real photos as samples, hand-drawn images are used. Swipe left or right to see more poses. If you see a pose that you really like, click the star button on the lower left corner. This adds the pose to your favorites list for faster access.
Here are some sample poses:
In addition to the poses, the Posing App also includes some tips and tricks. There are seven categories:
Basics
Head
Hands
Legs
Body
Composition
Equipment
Here are a couple of tips from the Posing App:
A recurring question might be "Where shall I put my hands?" The solution is actually quite simple. There are four places to keep in mind: in the hair, on the shoulder, on the hips, and loosely by the side. These can be mixed in any combination utilizing both hands.
Ask your subject to slightly pull back the shoulders. It will straighten out the back and lift up the chest. Be careful not to overdo this, though, since pulling them back too far will end up looking comical.
The Posing App costs $2.99 at the Windows Phone Store and there's no free trial available. It's also available on iOS and Android. The price might turn away many people, especially without a free trial, but the Posing App provides an excellent resource for photographers or models who want quick access to poses. Are you buying the app? Let us know in the comments!
Windows Central Newsletter
Get the best of Windows Central in in your inbox, every day!
This was free a few days ago with myAppfree, picked it up for future reference.

Good for you. Looks like a handy app. Should have tipped WPC when it was free.

I did, they did not care.

WPC tip section I crap,its like they say:oh what a useful information you have,share it with us!
But you hear nothing about it after :(

This would be awesome but don't think I'm willing to pay

Got it free on myAppfree a coupla weeks ago. Quite a useful app. Would spend $3 on this

Wouldn't worry much as long as you don't mind bad and unimaginative poses

Finally! For the photogenically incompetent

Still won't help those that are just not photogenic though...

Wow, app developers must be running out of ideas.

Why would you say that? I think they have actually done something quite neat as not everyone is professional or good at photography.

Thanks I really needed this.

Why? It's an app that is for reference purposes and considering how much people use their phones for photography, especially us WP fans, it seems like something that would come in very handy.

Its for most of us who run out of ideas when taking photos or making poses. Its indeed a great idea to delivery ideas!

This is actually will be handy.

I already downloaded it. Now it become paid !

I like the new 512 MB logo. Nice and big for those vast Lumia 6xx and 5xx users constantly asking these questions

Download ProShot, It's FREE for few times :)

Haa! Sweet! Been waiting for this.

Used this on IOS 2 years ago, they have a lot more categories now, I'm buying it :)

'Listen' try this music player

Thank God I downloaded it when it was free on myAppfree

Free few days ago? Oh boy... I missed the boat then..

Yea, it must have been on the weekend. I always forget to check on the weekends for some reason... :(

It was on myAppFree the 8/8/2014 and it was free two, three days.

Looks like a great app. Making a DIY studio in my house and this will help with my photo shoots.

Got it free on myAppfree...

My first post as a lurker in WPC.. Is there a specific version or region to install this app? I'm using 8.1 update 1 dev preview.

This is a useful app, shake it wasn't topped when it was free

For the people who want to some inspiration but don't want to pay $2.99, Digital Photography School has features some of the poses from the app, 21 one for each categori (double for women). http://digital-photography-school.com/8-posing-guides-to-inspire-your-po...

Someone needs to get paid for their work. But anyway, you should really use myAppFree, as this has been free 3 days because of them.

You can find a lot of posing guides on internet for free. It would have been more intuitive if the app was integrated into the camera. So that you could make people pose in real time with the opaque posing images on the screen like gridlines. Oh well, maybe someone will implement this idea in future too.

The meaning is that the photographer can get inspiration as well as look at the poses with the model. It would also often be the case that the camera is a DSLR. "Previously published articles in the Posing Guide series contained hand illustrated posing samples as a guide for your photo shoots. Based upon feedback and questions I received about these guides, I wanted to describe the process in more detail and show some real photos created while using these posing techniques. The main purpose of using posing samples is to give your model some starting points. You don't need to precisely recreate even the simplified illustrated pose. This will be a three part series looking at standing, sitting and laying down poses for female models. For the the first article I chose seven sample standing poses and by slightly adjusting each pose I got 21 different photos. --- Kaspars Grinvalds is a photographer working and living in Riga, Latvia. He is the author of Posing App where more poses and tips about people photography are available" See Posing Guide for Photographing Women: 7 Poses to Get You 21 Different Photos http://digital-photography-school.com/women-posing-guide-in-action-7-sam...

I am boy and i like poses like girl on camera thats it

What? No fake gang signing poses?

As a photographer, this is interesting to me, and id like to take a quick glance at it out of curiosity, but not for $3. I already know a million poses (and teach posing workshops to other pros) but am always looking for more. Who really needs this app is the crazy onslaught of wannabe models around these days. Selfie syndrome is making every attention seeking person advertise themselves as a model, except they have ZERO modeling skills. Makes my job a lot harder when I'm trying to put together a shoot and need models.

If 3 dollars hurts your budget, I understand why you don't want cell phone camera competition.

Good find Mark. Grabbing this one.

I too got this when it was free, can't imagine spending three quid on it though, doesn't seem worth that amount of money

I already have it and its very good app specially for those who are not good at photography of portrait and 'WOMEN' lol

Does the app have the option to mirror the pose? Eg looking over left shoulder would become looking over right shoulder. That would be an added bonus.
Windows Central Newsletter
Thank you for signing up to Windows Central. You will receive a verification email shortly.
There was a problem. Please refresh the page and try again.